3-Ingredient Strawberry Dip | Simple Snacks for Kids
I love making fun snacks for my kids when I can – especially when they're as easy as this 3-ingredient strawberry dip recipe! It's delicious, simple to whip up, and perfect for busy homeschool days, afterschool, or any day you want to give your kiddos a delicious treat.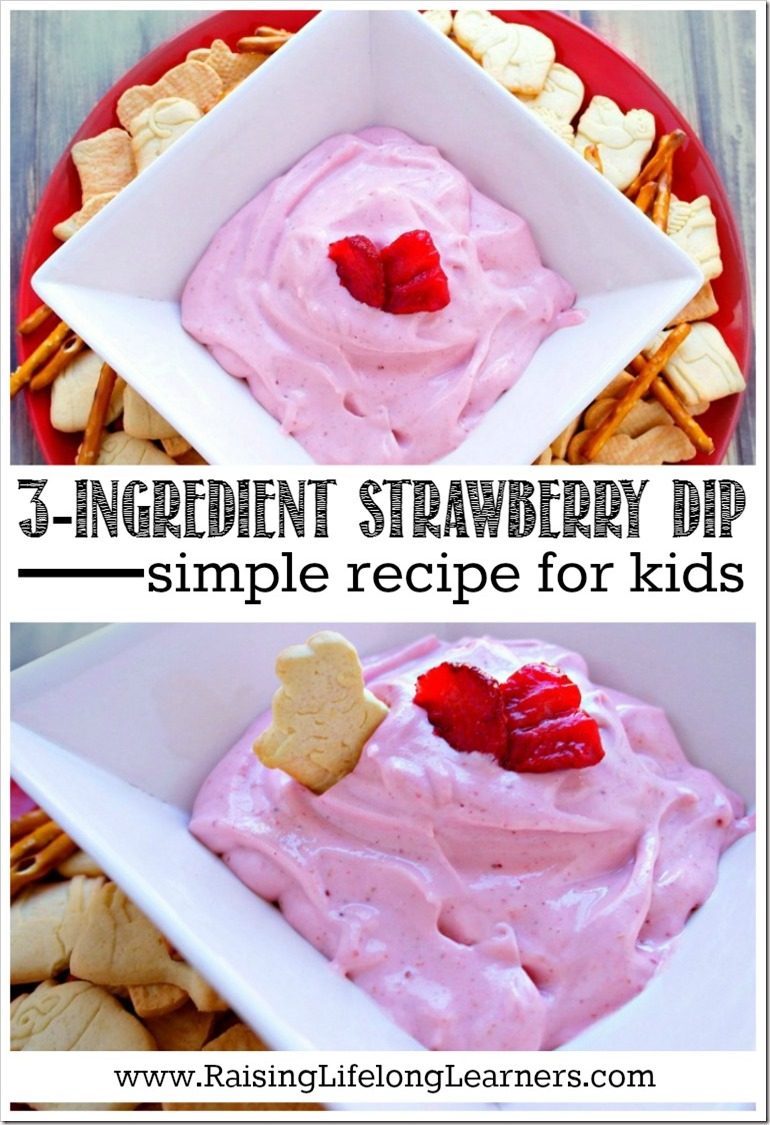 This fun dip is perfect to go along with a lunch of cut fruit and cheese, or for a yummy snack of animal crackers, graham crackers, and pretzels.  Change it up with different dippers, or add additional fruit to it. Your whole family will love it. Our favorites are Clancy pretzel sticks and Benton animal crackers — both from Aldi. The pretzels are cruncy and the sweet and salty combination is fantastic. The Benton animal crackers have a slight lemony taste that goes really well with the strawberry yogurt dip.
3-Ingredient Strawberry Dip Recipe
Ingredients
8 oz. cream cheese, softened
8 oz. sweetened, sliced strawberries (frozen)
1/4 cup powdered sugar
Instructions
Using an electric mixer, beat the cream cheese until it is creamy.
Add the strawberries with about 1 tablespoon of the juice.
NOTE – we used a container of frozen, sweetened, sliced strawberries because I like the flavor. You can certainly use fresh, but you'll need to macerate them for about 15 minutes in 1 tablespoon water and 1/4 cup sugar before adding them to the cream cheese.
Whip the strawberries into the cream cheese.
Hand fold in the mixture into the powdered sugar and then whip on high again until all of the ingredients are completely combined and smooth.
Tip – if your cream cheese will not whip, you can add all of these ingredients right to a blender, Vitamix, or Ninja single and it will do all the work for you.
That's it! Serve your kids this yummy dip with fresh fruit, Benton animal crackers, and Clancy pretzels for a delicious lunch or snack.
What else might taste good served with this dip? Leave your ideas in the comments – I'd love to know what you think.
Do you create and share content like this? Are you interested in working with brands on sponsored content opportunities? If you answered yes to either of these questions, apply to join the TapInfluence marketplace and connect with hundreds of brands and agencies who power their influencer marketing campaigns through TapInfluence.
This is a sponsored conversation written by me on behalf of TapInfluence. The opinions and text are all mine.