Amazing Science Games Your Kids Will Love
Every child is a natural scientist. Our job is to foster that and keep their wonder alive. We can encourage that wonder with with some amazing science games. Everyone likes gameschooling, right? Add a little science into the mix and we have a great combination of fun, learning, and all things scientific.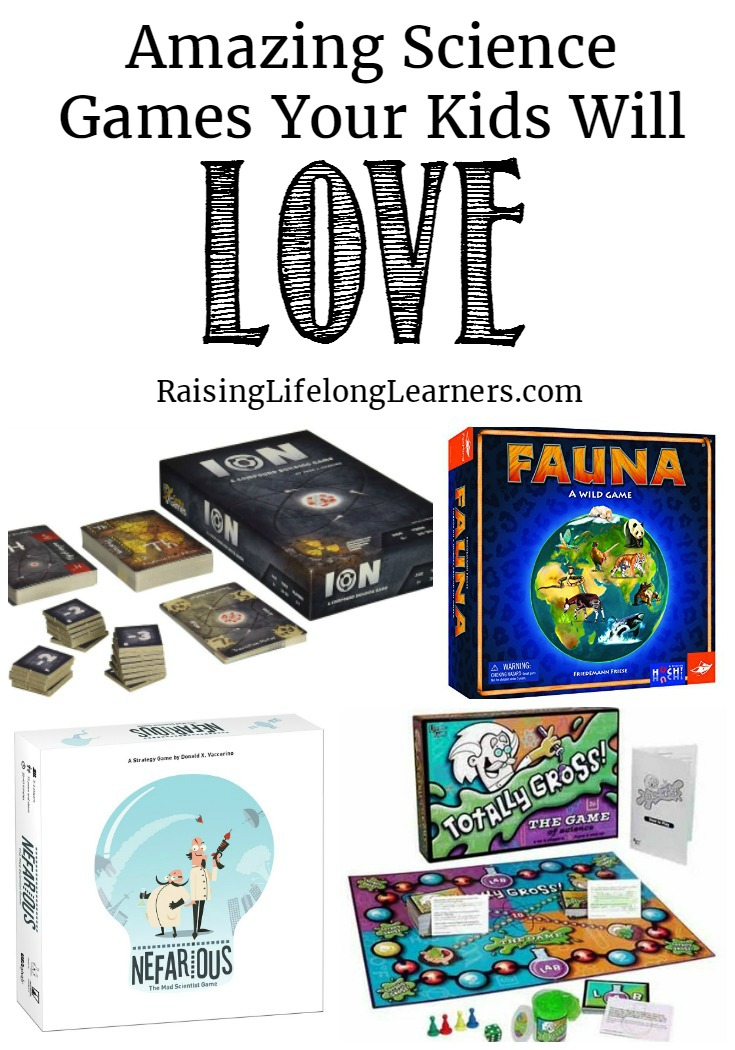 From computer science, geology, and even to gross science, I know you will find some great games to add to your game closet. Take a look at all of these amazing science games.
Amazing Science Games Your Kids Will Love
Dr. Eureka Speed Logic Game: Solve the equation by moving the molecules from one tube to another. Don't take too long, as the person who is fastest will become the winner.
Ion: Build compounds with this card game that shows us how ions bond and form ionic compounds.
Cardline Animals: This science game challenges your knowledge of animals. Great fun for the entire family. I think mom and dad could even learn a thing or two with this game.
Hit the Habitat Trail:Learn all about the habits of the earth including the ocean, forest, desert, wetlands, and more. Will you be able to answer the questions on the knowledge cards?
Rock On!: I think the entire family will enjoy this geology game. It comes with a nice collection of rocks and cards which all fit nicely in the carrying case.
Cool Circuits: A great way to teach kids about the elements of an electrical circuit. Once you make the circuit the entire board lights up.
Totally Gross!: Indulge in the gross side of science with this amazing science game. Both parents and kids will enjoy some great laughs while taking on the science challenges.
Nefarious: The Mad Scientist: This strategy game always ends up with a twist thanks to the action cards.
Science Bingo: The whole family can play this game together. This gives parents the opportunity to teach kids about the variety of cards that pop up. Great conversation starters.
The Magic School Bus Science Explosion Game: If your kids like the Magic School bus, then they will love this game. There are two games in one with this board game, a strategy game on one side and a memory game on the other.
Professor Noggin's Wonders of Science: Discover the wonders of science by sparking the light to learn more. Use this game to spark a love for science.
Escape E.V.I.L.: Using chemicals from everyday life kids can discover just how fun chemistry can be with this science game.
Xtronaut: Explore the solar system by developing space missions and building rocket systems.
I Have Who Has Science: This is the perfect game for a group of people to play.
Fauna: Do you know where every animal lives throughout the world? You don't need to know their exact location. A good guess is better than none!
Compounded: The race is on to see who can build the compound first… or who will be blown up by their creation first.
Linkage: Perfect for beginners or advanced players, this DNA card game is fast paced.
Code Monkey Island: This is a wonderful way to teach kids about computer science and programming.
And here's something fun to share… way back before I started this site, I was a freelance science writer for the educational market and got to work on a few fun projects including some games. Yep! I wrote all the question and problem cards for a series of games for EduPress (which has since stopped publishing things) and still see my games at stores and homeschool/education conventions from time to time. You can find Earth Science for Grades 2-3, Earth Science for Grades 4-5, Physical Science for Grades 2-3, Physical Science for Grades 4-5, Life Science for Grades 2-3, and Life Science for Grades 4-5 online if you're interested in checking them out.
These science games are a great way to engage kids. They will help open a curiosity for science that can only come from within. Thanks to these science games, that should be easy! What science games are a must have in your home? Did it make my list? Share your favorites with us in the comments.
More Gaming Fun: