Apple Pie Cinnamon Rolls Recipe
There is nothing I love more than warm cinnamon rolls for breakfast. Except maybe leftover apple pie (I can't be the only one who eats leftover pie for breakfast…). This recipe combines my love of cinnamon rolls and apple pie into the most delicious breakfast ever.
You have to try it.
Apple Pie Cinnamon Rolls Recipe
Ingredients
For the rolls
1 frozen bread dough loaf, thawed and proofed
½ cup of butter, softened (I do not recommend margarine)
1 tablespoon cinnamon
¼ cup white sugar
¼ cup brown sugar
For the apples
2 medium apples
1 teaspoon cinnamon
1 tablespoon white sugar
1 tablespoon butter
For the icing
1 cup powdered sugar
1 teaspoon milk (add a drop at a time more if it's not the right consistency)
2 tablespoons butter
1 teaspoon vanilla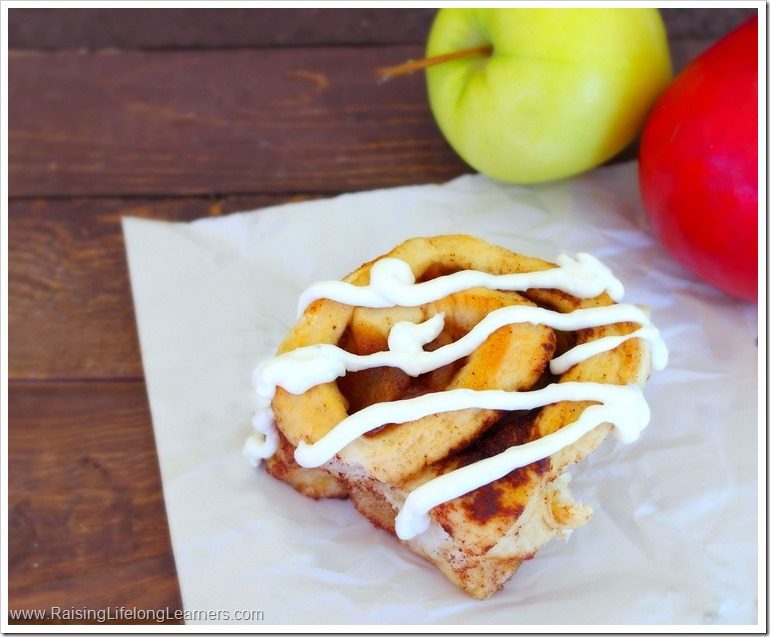 Instructions
Once the dough has risen, flour the counter and pound the dough down to get all the air bubbles out. Let it rest.
Peel, core, and dice the apples.
In a skillet over medium heat, melt the butter with sugar and cinnamon. Bring to a boil forming a thick syrup.
Add the apples and reduce heat to medium low, and cook until tender.
Head back over to the dough while the apples cool.
If the dough feels sticky, dust it with flour. Roll it out into a rectangle shape about ¼-1/2 inch thick. You will not get a perfect shape, that is fine. NOTE – you will be rolling the dough long ways so it is best to have the rectangle's longest edge left to right in front of you.
Combine the butter, cinnamon, and sugars into a bowl and mix well.
Spread the butter and sugar mixture over the dough using your hands.
Spread the cooled apples along the long edge closest to you.
Roll the dough. Don't worry if some of the filling falls out, tuck it back in or leave aside.
Once rolled, cut the cinnamon rolls into 1-1 ½ inch slices. Place them face down in a buttered 9×13 or 11×13 pan. Once all slices fill the pan, you can top with any filling that remains.
Bake in a preheated oven on 375-degrees for 20 minutes or until golden brown.
Whip together all icing ingredients and drizzle over warm rolls while they are still in the pan.
Make sure you have a nice big cup of coffee ready to go when you enjoy these. You'll be in heaven.