We all love nature, and while there are cool things to discover outside in the winter, I love heading out once the snow melts and trying to discover signs of spring and continuing that on well into summer.
This week we had a chance to check out the series of Eco Boys and Girls books newly released for iBooks, and had a great time reading together and brainstorming different ways we could become more eco-minded. The books feature the five Eco Boys and Girls characters: Ernie Earth, Lulu Love, Patsy Peace, Ray Recycle, and Sammy Sun. You can find them for only $5.99 by searching ecoboysandgirls on iTunes.
Since the goal of Eco Boys and Girls, written by Maria Snyder, is to encourage families around the world to be more connected with each other and the earth, we thought it would be fun to have a nature scavenger hunt in our backyard with the new upcycled t-shirt bags we made.
You can join in the fun by downloading our free Backyard Nature Hunt Notebook, grabbing some colored pencils, maybe a magnifying glass, and taking ten minutes to make the easiest eco-friendly nature-treasure-hunting bag ever.
First, head over to iTunes and download your own copies of the six Eco Boys and Girls books. Our favorite is Meet the Eco Boys and Girls.
Then, enter your email in the box below to get your free Backyard Nature Hunt Notebook delivered to your email box and print out the pages. You can assemble them easily.
[wp_eStore_free_download_squeeze_form id=15]
Before you head outside, snuggle up and read the Eco Boys and Girls stories together.  You can read the animated, read-aloud books and have your children interact with them. Children, anywhere in the world, ages Pre K to Third Grade, can watch the animated characters, read along with their voices, and see them in action.
We were inspired by Ray Recycle and his goal of reusing things for other purposes. The girls and I decided to make new collection bags to haul our nature treasures home in.
Ready to try? All you need is an old t-shirt and a pair of scissors. That's it. Really. Recycling (or upcycling) at its best.
Take your t-shirt and fold it in half so the arms line up. Cut them off.
Then, cut the collar off of the t-shirt. I like to cut mine in a bit of an oval shape so it gives the bag a nice sag.
Turn the t-shirt inside out and measure up from the bottom, marking how deep you'd like your bag to be.
Cut strips from the bottom of the t-shirt up to the line you marked.
Tie knots in the strips, then tie the strips together to seal the bottom edge of your bag.
Finally, trim the edges and flip the bag right-side out so that the knots are inside and you have a t-shirt nature treasure collection bag.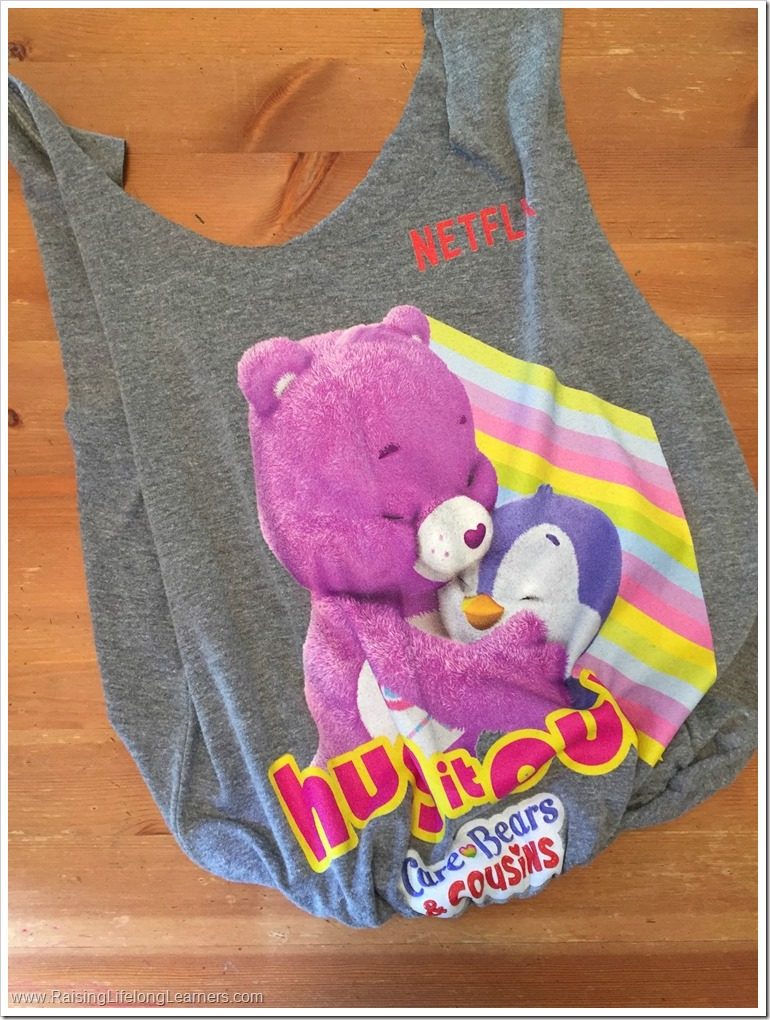 We made a second one out of a toddler-sized shirt and left the fringe on the outside of the bag for a different look.
Now, you're all set for nature-hunting adventures in your own back yard – just tuck your printable Backyard Nature Hunt Notebook printable and all of your supplies into your bag and head outside. Use your journal to draw what you see and to guide you in your nature hunting. Then, when you find pretty sticks, stones, leaves, of praying mantis egg cases like we did, you can tuck them into to your upcycled bags for safe keeping and set them out on your nature table when you get home.
[wp_eStore_free_download_squeeze_form id=15]
And don't forget to head over to iTunes and grab your own copies of the Eco Boys and Girls series by Maria Snyder. Note: you'll need an iPad with iBook 2 or later and iOS 5 or later, or an iPhone with iOS 8.4 or later, or a Mac with OS X 10.9 or later in order to read these books.
Thank you to Collective Bias, Inc. and its advertiser for sponsoring this post and tutorial. We are always looking for great ways to teach our kids about the environment. All opinions are mine alone. #EcoBoysAndGirls #CollectiveBias