Bringing History Alive with Activity Books
If you've homeschooled for any length of time, you realize (like I do) that your best predictor of success in this crazy journey is your own ability to be flexible and change things up from time to time. When you let yourself relax, and change things around from time to time, you end up bringing the learning alive for your kiddos.
This year, we've done kind of a hit or miss study of anything history for the younger kkids. We've been on the road a lot and defaulting to the basics, so I've been ready to fall back on our unit study, lapbooking, and notebooking methods, and so I was super excited to get a chance to check out a few American history activity and coloring books from Dover Publications. (Note… this post is sponsored by Dover Publications, meaning that they gave us some books to check out and try to incorporate into our homeschool, along with compensation for the time taken to photograph and write up my thoughts. Here's the thing — I took the challenge because I already know that Dover's books are awesoome, and wanted to give you guys a chance to enter and win a set of your own. I only share things I know are great.)
The thing I love about Dover's coloring and activity books is that they don't dumb anything down. The puzzles and activities are challenging. The facts in the coloring books read like a great nonfiction book. Top notch stuff.
Using Dover Publications to Teach History
Dover Publications was one of my favorite resources to use when I was a classroom teacher. The books were affordable, they were packed with information, and there were loads of fun puzzles, ciphers, and activities to choose from.
Teaching my own is no different.
I still love the affordability and the fun factor of using book from Dover Publications in our lessons. In fact, as we've gotten so much busier this year as the kids find their passions, we're able to take schooling on the road between lessons, rehearsals, and performances with these books.
Studying the United States?
No problem. Grab a copy of the United States Coloring Book by Winky Adam for each of your kids. They'll learn each state's motto, capital, bird, tree, flower, when it became a state, and a few fun facts.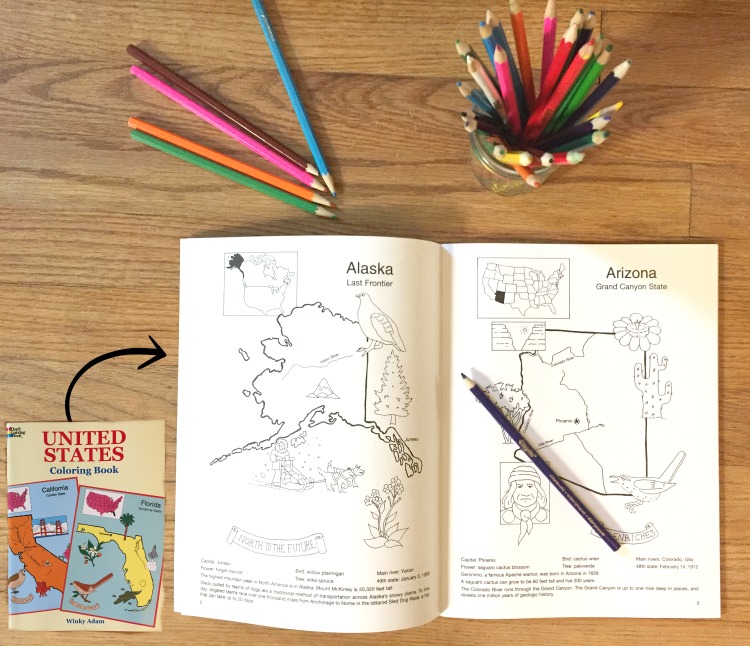 Ready to learn about each individual president from Washington to Trump?
Gotcha covered there, too. The American Presidents Coloring Book by Peter F. Copeland will give your kiddos a portrait to color and a short biography of each President to read. You could also grab a copy of Presidents Facts & Fun Activity Book by Len Epstein or Standups! Presidents by Mary Beth Cryan. Can you imagine your kids' delight when you tell them they can make the slightly penguin-like, boxy President models for school? Win!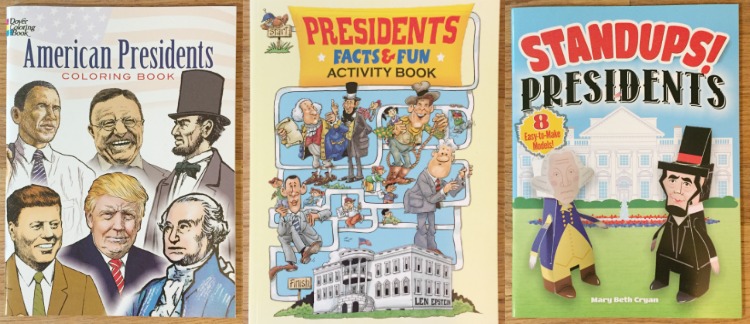 We're musical theater fans here, and I ove that I can encourage a love of history through some of the plays that have been produced over the years, and our current favorite soundtrack is from Hamilton, so the Alexander Hamilton Coloring Book by Steven James Petruccio is a BIG hit over here.
If you're like us, and planning a trip to Washington D.C. in the coming year, you might want to grab the three books were enjying right now. The U.S.A. Constitution Activity Book by Tony J. Tallarico is great fun. So is Discovering Washington D.C. by George Toufexis. But, the one we're looking forward to assembling the most, as we haven't had the time yet, is The White House Cut & Assemble paper model of the White House by A.G. Smith. It's absolutely amazing.
Finding Your Perfect Activity or Coloring Book From Dover Publications
I'll be the first to admit that there are so many great books to choose from on the Dover Publications website, and it's hard to not want all the books. My suggestion?
Pace yourself.
Figure out what you're going to teach next or what your kiddo is interested in learning about, and then choose just a few for each of the topics. They're such great supplementals that it doesn't really matter what you choose. They'll be perfect for roadschooling or for backstage breaks when your little actress is waiting for her next cue and has awhile where she needs to keep quietly engaged.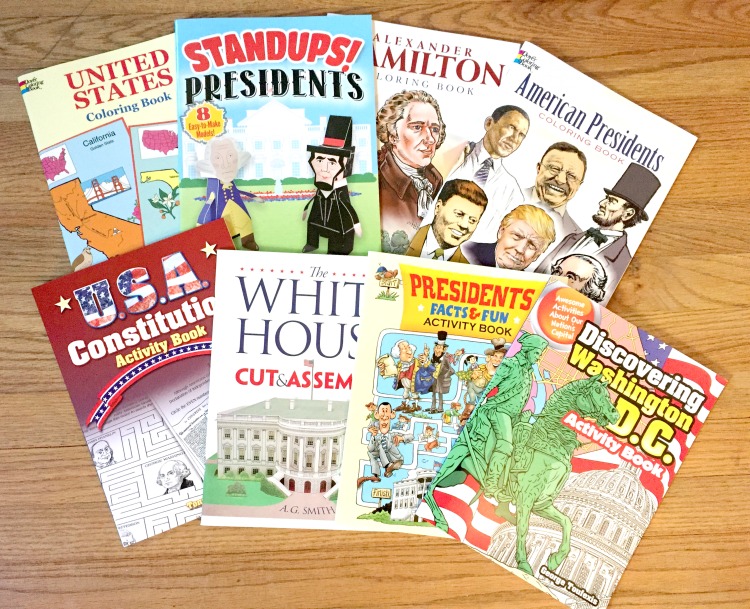 Check out their site, and make your list. But hurry because if you buy between now and June 30th, 2017, you can use the coupon code WHBO and save 25% off your entire order. That's a steal when you think about how affordable these books already are.
You can also try to win one of EIGHT sets of the exact books I got to try, simply by entering the giveaway widget below. Good luck! I hope one of YOU wins!
Dover Publications American History Books
Tell me… which of the books I talked about was YOUR favorite?