One Person Logic Games that Rock
These one person logic games that rock will keep active brains busy for hours! Playing games with others is fun, but sometimes kids need to challenge themselves.
See how far they can get with these brain teasers and benders. From building a snake, finding pirates, and making their very own mazes, these one person logic games will keep your kiddos' minds sharp and on point.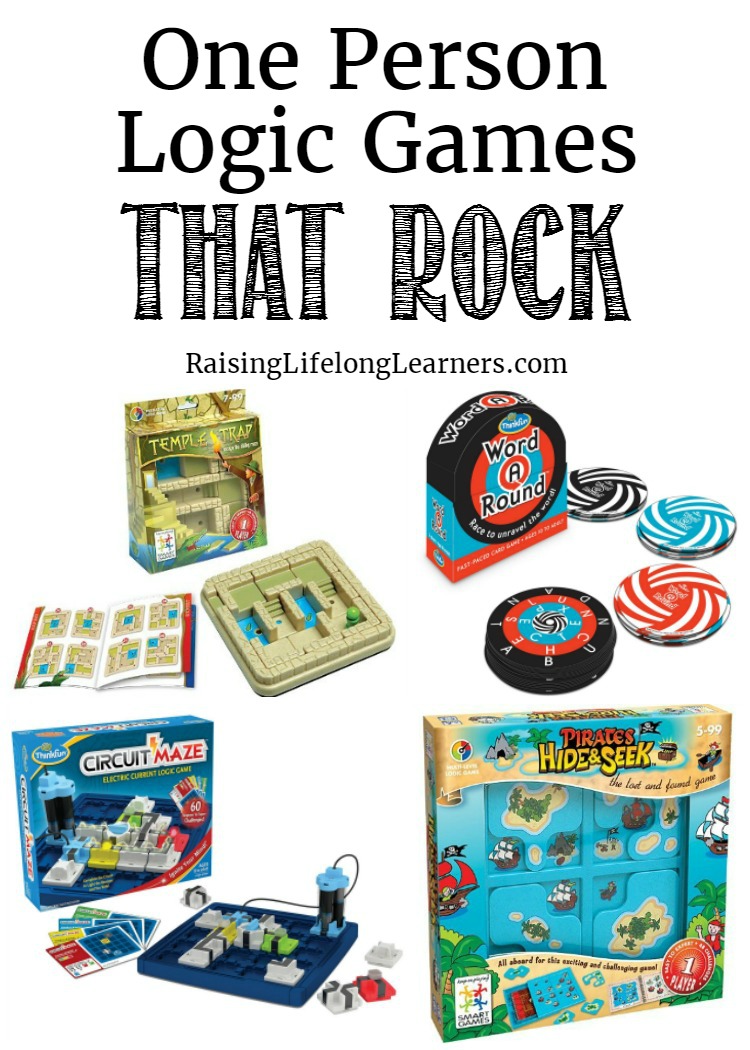 One Person Logic Games for Kids of All Ages
Bend It: With over 60 possibilites this puzzle game is the perfect brain teaser. Twist the black and white pieces to try and figure out the puzzle.
IQ Twist: Try to get all of the pieces on the board. Sounds simple… but it is much more challenging than it looks.
Anaconda: Will you be able to make the snake? There is over 100 different challenges that all vary between beginner to master.
Color Code: This challenge requires you to think outside of the box by creating complex shapes.
Hide & Seek Pirates: The perfect one person logic game for younger kiddos. There are several ways to win this game, and that is what makes it so interesting.
 Bend It IQ Twist Anaconda Color Code Hide And Seek Pirates
Temple Trap: Can you escape from the ancient temple? Thinking caps are required.
Penguins On Ice: The challenge of this logic game is to place all ice cubes on the board so the penguins can make it across the ice.
Gravity Maze: Mazes are always fun, building them is even more of a blast. Combine that with the fun of a marble run and you have a logic game that is a ton of fun for anyone to play.
Circuit Maze: To win this game you have to create a completed circuit that lights up. Fun!
Balance Beans: Try to balance the different weighted beans to balance the seesaw.
 Temple Trap Penguins On Ice Gravity Maze Circuit Maze Board Game Balance Beans Game
Sweet Logic: Use the candy game pieces to match the game cards. What level will you make it to?
Tipover: This logic game looks interesting! Build a tower with the pieces, then tip it over to see if the game piece can make it across the board.
Scrambled States: Use this logic game to learn exactly where the states are located.
Katamino: Fit the different shapes together and fill up the game board. You can play this game as a single player as well as double players.
Amaze: Find your way through several mazes that vary in difficulty. Use the stylus to find your way from start to finish.
 Sweet Logic Board Game ThinkFun Tipover Scrambled States Katamino (TM) ThinkFun Amaze
Word A Round: How fast will it take you to figure out the word?
Solitaire Chess: Now you don't need to worry about finding an opponent to brush up on your chess skills.
Hoppers: This peg solitaire jumping game challenges you to jump all of the frogs on the board with only one remaining.
Compose Yourself Music Card Game: Is there a budding musician in your home? This game allows them to create their own music. You can also listen to it all online!
Laser Maze: Can you make your way through the maze using lasers? This maze game with a twist really challenges your mind to think in only one line directions.
 Word A Round Game ThinkFun Solitaire Chess Hoppers Solitaire Board Game Compose Yourself Music Card Game ScienceLAB Laser Maze – The Beam-Bending Logic Game by ThinkFun
 So, what do you say? Are you up for the challenge? If you aren't, I bet your kids are ready for something new. Do you have any favorite one person logic games? Make sure to share your favorites with me in the comments. I love adding to my collection.
More Gaming Fun: