Preschool Science: Duck Feather Experiment
We love the farm, and have a membership to Lake Farmpark, a working farm that lets kids get up close and personal with farm animals of all shapes and sizes. Recently, though, my gifted preschooler has been fascinated by ducks. Ducks…and duck feathers.
On our latest trip to the farm, we spent a lot of time watching the ducks in the pond swimming while we played on the playground and ran in and out of the corn maze. Logan commented that ducks must like being wet all the time, and it got me thinking about a duck feathers experiment I once did with Trevor.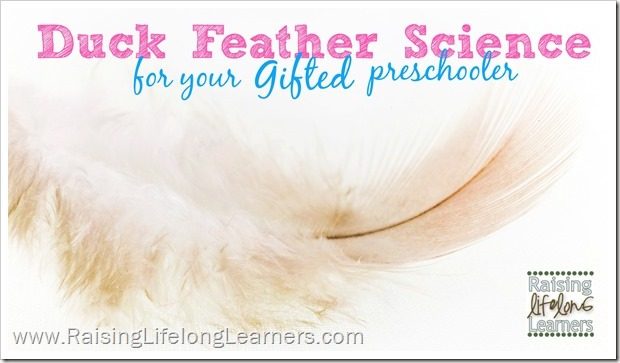 Feathers are crucial to a bird's survival. They keep birds warm and allow them to fly. Their hollow shaft gives structure without weighing them down. Each shaft is made up of a vane with many barbs coming out. The barbs have tiny barbules that cling together.
In this activity, we explored how duck feathers are perfectly designed to keep them protected, help them fly, and allow them to dry quickly. We then experimented to see what happens when ducks swim in polluted ponds or get oil on their wings.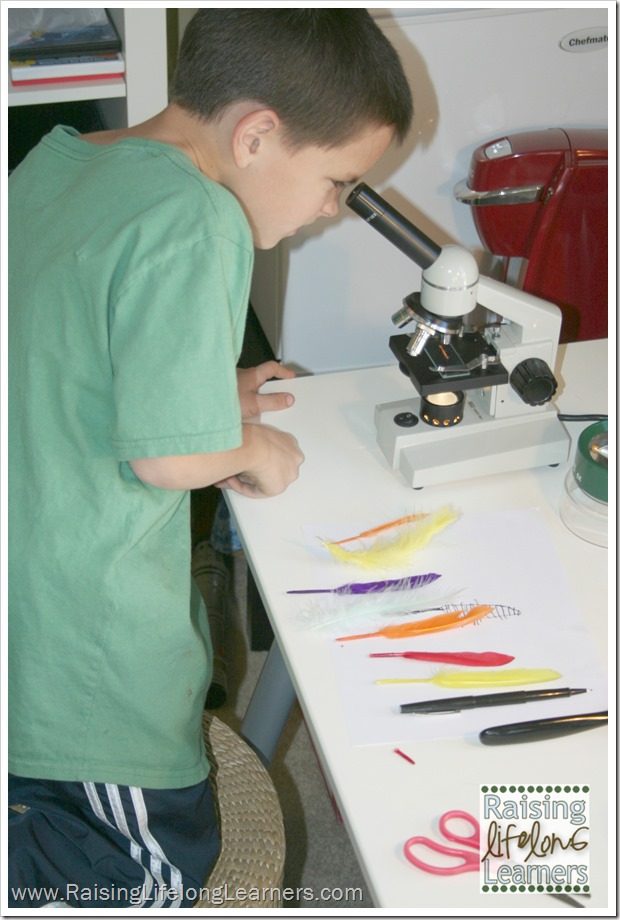 Supplies Needed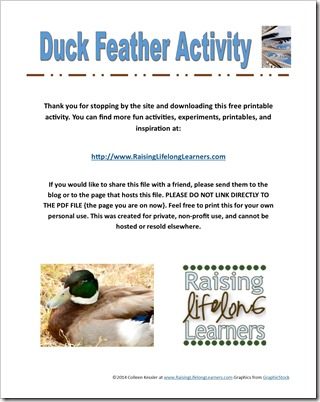 Instructions
Have your child observe his feather and draw what it looks like in the boxes on the printable.

Then, read your child the information about oil pollution on the second page of the activity. Guide him in following the remaining instructions.

Talk about what he observed during this activity. Why is it important to make sure ponds and farmlands aren't polluted? What happens to plants and animals that live where there is pollution like oil?
Finally, continue exploring a farm theme with your bright preschooler. Visit a farm, explore farm play ideas, and enjoy the many farm activities I've collected on my Farm Theme Pinterest Board:
Follow Raising Lifelong Learners's board Farm Theme Ideas on Pinterest.
For more great farm-themed ideas, visit the other #PlayfulPreschool bloggers who have each taken their own spin on teaching little ones about farms:
Farm Animal Letter Sounds by Mom Inspired Life
Learning to Write: Labeling the Farm by Growing Book by Book
Make a Who Am I Farm Animal Book by The Educators' Spin On It
Corn Life Cycle & Sequencing Cards for Preschool by The Preschool Toolbox Blog
While at the Farm:  Children's Farm Song by Capri + 3
Farm Animal Counting and Sorting Sensory Bin by Life Over C's
Farm Themed Count and Add Activity for Preschool by Rainy Day Mum
Corn Painting – An Art Activity for a Preschool Farm Theme by Fun-A-Day!
Preschoolers DIY Farm by Tiny Tots Adventure
Farm Animal Sort by Powerful Mothering
Wash the Farm: Fruits and Vegetable Sensory Play for Preschoolers by The Kennedy Adventures