My five year old grumbled something unintelligible when I told him he needed to get to bed early because we had to be up and out the door to take his sisters to their theater classes and big brother to an acting intensive, and that Daddy wasn't going to be home so he could sleep in. Poor guy… he's the littlest, and so he's always being dragged along to whatever the big kids are involved in.
I like to have a couple of drive-and-wait-only games and apps in my pocket for him just to change things up a bit, and recently we were given the chance to try out the new Lizzy's World Augmented Reality App for little ones. Perfect! I have something new in my back pocket now.
(Note: This is a sponsored post on behalf of Playing Forward, and while I was compensated for my time, I wasn't required to write a positive review. All opinions are my own.)
I gave the app to my 11-year-old first so she could figure out how to use it for me, so that when I handed the five-year-old my phone on the road, I'd be able to tell him what to do.
Lizzy's World is essentially an interactive story — not a game, so don't download it thinking that there are tons of levels and bells and whistles. (I say this because my tween mentioned that to me, "Mom, this is a book, not a game. People need to know that. It's cool, and Isaac will love it because he can make Lizzy jump around in the van with him, but it's a STORY.") Truthfully, I probably would have passed this app up originally as I don't usually buy paid apps, but I was pleasantly surprised by it.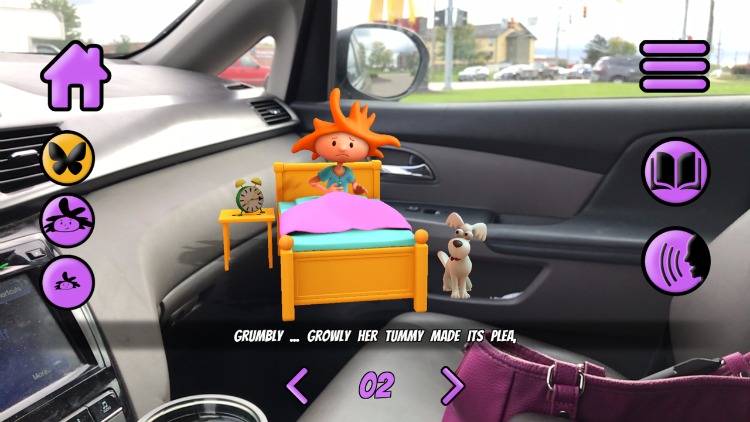 We downloaded it on my iPhone and my daughter's iPod, and it works really well. Playing Forward is known for creating digital experiences that ignite kids' creativity, and they incorporate STEAM into this story as Lizzy, who is nervous about her first day of school, goes through her day experiencing those subject areas and learning that things are going to be okay.
According to the research the team behind Playing Forward studied, social emotional development is one of the keys to success in school and life, and they take that seriously, incorporating age-appropriate emotional responses to stimuli in their characters. Playing Forward based its app designs on extensive research in the field of social-emotional learning and beta-tested its apps with over 300 children in 18 classrooms across the United States and Canada.
John Attard and Victor Talbot founded Playing Forward after years of entertainment industry successes — including an Academy Award for Visual Effects. They have worked on 100+ films, television & digital series, Broadway & Off-Broadway shows and more. In addition to the VX Oscar for Ridley Scott's Gladiator, notable projects include work on Star Wars: The Force Awakens (Disney); The Jungle Book (Disney); Superman vs. Batman (Warner Bros.); Guardians of the Galaxy 2 (Marvel); and Avengers 3 (Marvel).
My five-year-old really enjoyed Lizzy. She resonated with him, and he was eager to hear the story again and again. Just like any  favorite book, he reread this story using the "read to me" feature.
Playing Forward has now launched three character-driven apps based on books: a Penguin Publishing classic ("MAXI THE TAXI DOG"), a story from Stan Lee's Kids Universe series ("DEX T-REX"), and Lizzy's World featuring the STEAM-powered character from a new independent book series ("IT'S JUST SO…"), and we're thinking about getting the other two for our little guy since he's having so much fun with Lizzy's World. Each of them can be experienced in two ways: as a story that can be read along with in 3D, and as a much more active exploration in augmented reality, encouraging the reader to move around and experience the story from multiple perspectives.
Because they want to celebrate the launch of these three new apps, Playing Forward is hosting a contest with the Grand Prize being a whirlwind STEAM-powered weekend of play and exploration in Manhattan!
The Grand Prize includes air transportation, a two night hotel stay, a Visa gift card to cover meals, various museum tickets for a family of four.

It will also include personalized experiences at two of Manhattan's most unique museums – the Natural History Museum & the Children's Museum of the Arts.

The contest's runner-up will win an iPad.
It's easy to enter — just head on over to Lizzy's World and fill out the contest form! Good luck!
And that five-year-old? He's ready to take Lizzy out on the town with us tomorrow! He wants to take screenshots of her hanging out in waiting rooms and grocery stores. Back pocket apps for the win!