Do you do fun things for your kiddos during the holidays? I love making fun snacks and themed lunches for mine.
St. Patrick's Day is a big deal for our family because I come from a large extended Irish-Catholic family that celebrated big every year with meals or corned beef and cabbage, and all the relatives meeting up.
There's a pesky leprechaun that starts visiting our house on March first, making messes and leaving tricks for the kiddos. They spend the first two weeks of the month plotting and putting their heads together to create the best leprechaun traps they can, hoping to ensnare the trickster and steal his gold.
Unfortunately for them, he eludes capture every year, but leaves them goodies to make up for it.
This St. Patrick's Day snack mix was a huge hit, and so super simple to make that it's easy to whip up in a heartbeat. I'm thinking that the leprechaun can leave the kids the makings for it, and they can make it for me on St. Patrick's Day in a few weeks.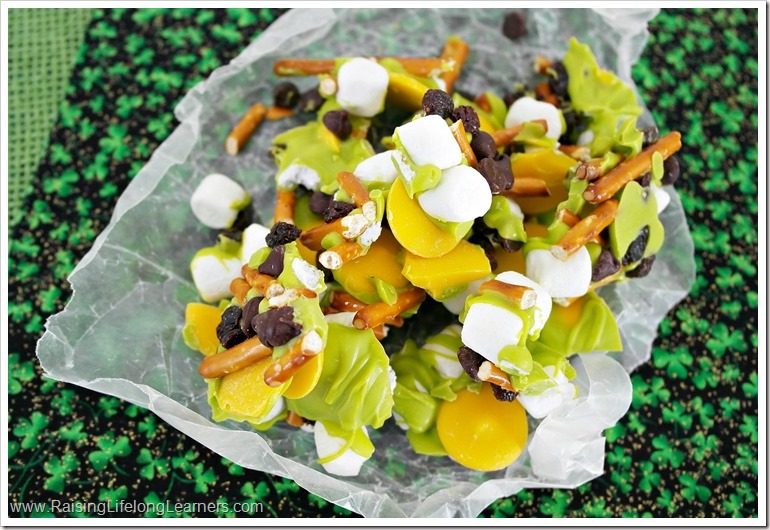 Ready to give it a try?
This is the perfect St. Patrick's Day snack to make up ahead of time, too.
St. Patrick's Day Snack Mix Recipe
Ingredients
Instructions
Grease a small cookie sheet using a paper towel dabbed in oil or butter.
Mix the pretzels, raisins, chocolate chips, and marshmallows in a bowl just to combine evenly.
Pour them out onto the cookie sheet.
Top the snack mix blend with some of the gold pieces (the yellow candy melts).

Place the green candy melts in a microwave safe dish, and heat for about 1 minute. Stir. Heat again for 30 seconds at a time until melted and smooth.
Use a spoon to drizzle the green melted chocolate all over the snack mix.
Place in the freezer or fridge for about 10 minutes.
The mix will pop right off the pan.
Break the snack mix into pieces and serve it up in a festive way.
Don't you think your kiddos will enjoy this yummy mix? Let me know if you make it!
Colleen is an explorer, tinkerer, educator, writer, creator, and a passionate advocate for the needs of gifted and twice-exceptional children. She has a B.S. in elementary education, a M.Ed. in gifted studies, is a sought-after national speaker and educational consultant, and is the founder of the popular blog and podcast Raising Lifelong Learners, as well as Raising Poppies, a community of support for parents of gifted children. She lives in northeast Ohio with her four bright and quirky kiddos, patient husband, and ever-changing collection of small reptiles, mammals, and insects.
Latest posts by Colleen Kessler