7 Simple Tips for Capturing Fun Kid Photos
With four kids – each with strong personalities – I know just how challenging it can be to get great photos. They're always moving, and it's never altogether!
Before you drive yourself crazy, try these seven simple steps for capturing fun kid photos to show off your little ones this autumn.
Special thanks to Orajel™ Kids for sponsoring this post. All thoughts and tips are mine.
Capturing Fun Kid Photos | 7 Tips
I'm not going to lie… I look at photos that friends have taken of their kids and those on other blogs, and I'm envious. I'm working on my photography, and improve constantly, but I have a long ways to go.
And you may be just like me.
You can take fun and memorable photos, though. And they will look fantastic on your walls because they're reflective of your kids' personalities. Life isn't perfect, it's about fun. Your photos can be fun and slightly imperfect, too.
Here are some tips, though, that can help you while capturing fun kid photos…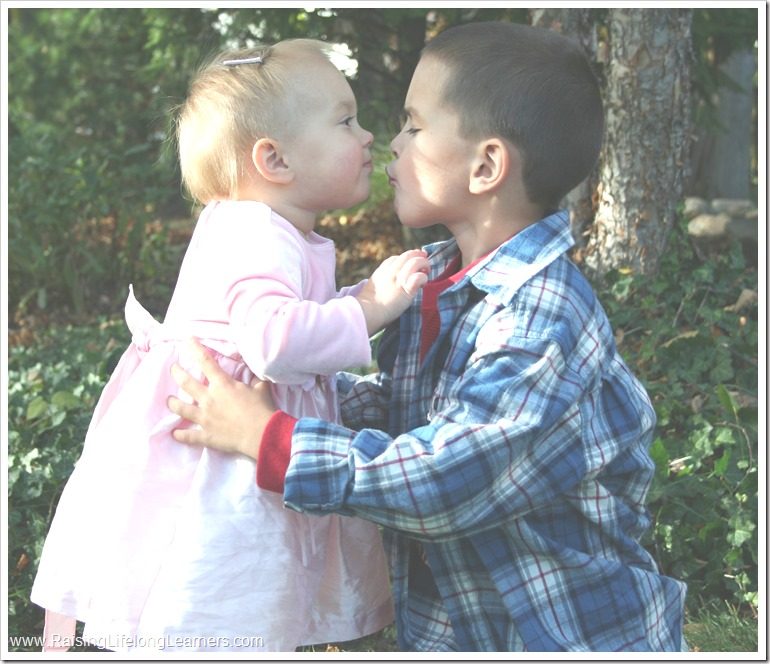 Plan Ahead
Make sure your kids have had a nice meal, and have taken naps if necessary. Prepare them. Let them know you'll be taking photos and want them to act like themselves. This should be fun.
You can keep those smiles ready for the shot with Orajel Kids products that are perfect for your littlest brushers. Whether they're teething, learning to brush, or ready to do it on their own, Orajel Kids has them covered during every stage of development. And they're committed to encouraging families to capture memories and milestones – with great teeth shining throughout.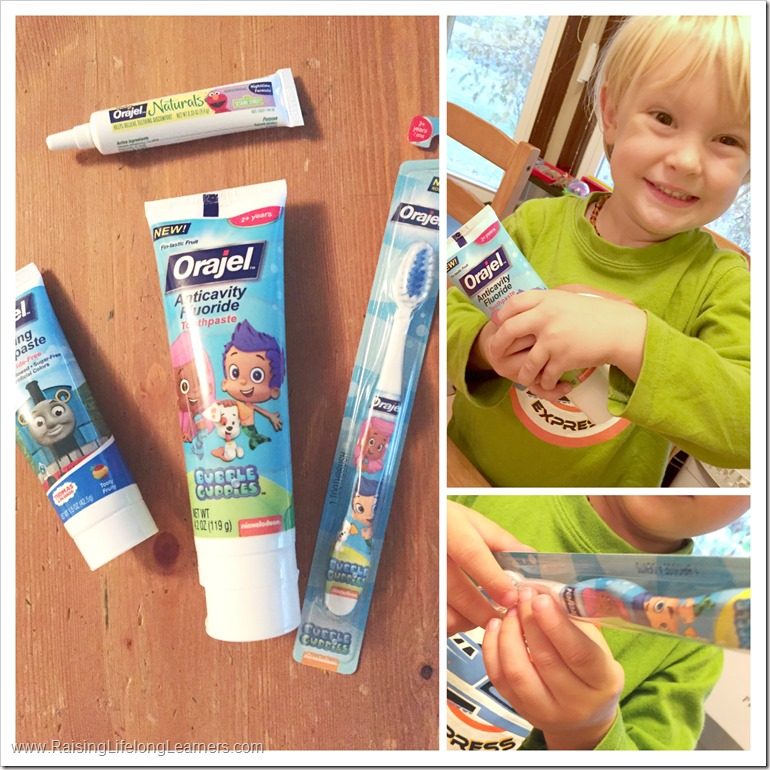 My kids love seeing their favorite characters on Orajel Kids products – especially this guy. He couldn't decide which he liked best, the Thomas the Tank Engine or Bubble Guppies products.
Between now and November 13th, 2015, you can share your best family milestones – and maybe turn them into Smilestones with a chance to win $1000 gift card and an Orajel Kids product prize pack. Two runners up will win a prize pack and $500 gift cards.
Head Outside
Autumn is a gorgeous time of the year to shoot family photos. There are stunning colors, beautiful light, and the weather is mild.
What do your kids like to do outside? Where do you enjoy going as a family? Is there a nearby park you frequent? Do you like hanging out in your backyard?
Try to pick somewhere your kids are familiar with so that they relax right away. The best photos are ones where your kids are able to be themselves.
Find the Light
Light is important. During this time of the year, the hour or so just before sunset has a warm glow about it. Here in northeast Ohio, on the best fall day, the sky is bright, the sun is shining, and the air is pleasantly crisp. Capitalize on that and chase the light.
Use Those Natural Colors
The vibrancy of fall colors is stunning. Capitalize on that. Dress your kids in darker blues, punctuated with reds and mustards, and up the saturation during your edits to pull that vibrancy to the forefront. Frame the image in color.
Be Creative
Avoid the cliché of jumping in a leaf pile if you can. There are certainly great captures that can be made with your kids and leaves, but the pile is overdone. Try something different. Hide and seek behind a leaf, throwing leaves high, or blowing them at the camera are all newer and more exciting ways to capture the spirit of fall.
Embrace the Variety of Nature
Pumpkin patches and apple picking are great time markers. You can certainly enjoy those milestones – the yearly trek to the patch – but try to think originally, too. What about a hike in the woods? How about a visit to a nearby lake or pond?
There are so many other great frames found naturally outside in the fall.
Have Fun
Above all, remember that your family milestones are about family. Have fun and enjoy your kids. You're creating a legacy, and you want your kids to remember the fun you had together.
Let your kids free to discover their surroundings and forget about the camera. Put them in situations where they can splash in a puddle, snuggle with a pet, or play with their siblings. Make them fun.
And, really… fun family photos make the best family photos.
It's your turn – what are your best tips for creating memorable fall family photos?
This is a sponsored post written by me on behalf of Orajel™ Kids.