For this homeschool mama, finding time to fit art appreciation into a jam-packed day has been a challenge. I will be the first to admit that I do not have it all together. Daily life with wiggly kids challenges me often, so I was really excited to learn of Dover Publications new 4-book series, Spot the Differences: Art Masterpiece Mysteries.
I received copies of the books in this series to facilitate this post, and was compensated for my time. All opinions are mine.
My kids love mysteries, codes, secrets, and anything that requires them to be observant. These Spot the Difference books are perfect for them. If your kiddos enjoy puzzles, you need to check them out, too.
How Do Spot the Difference Books Teach Art Appreciation?
Each of the four books in the Spot the Difference: Art Masterpiece Mysteries series features 25 famous works of art, each over a two-page spread. On one page is the original art. On the facing page is the same piece of art with differences… Some are obvious – a picture hanging on a wall that had been blank, but others are subtler.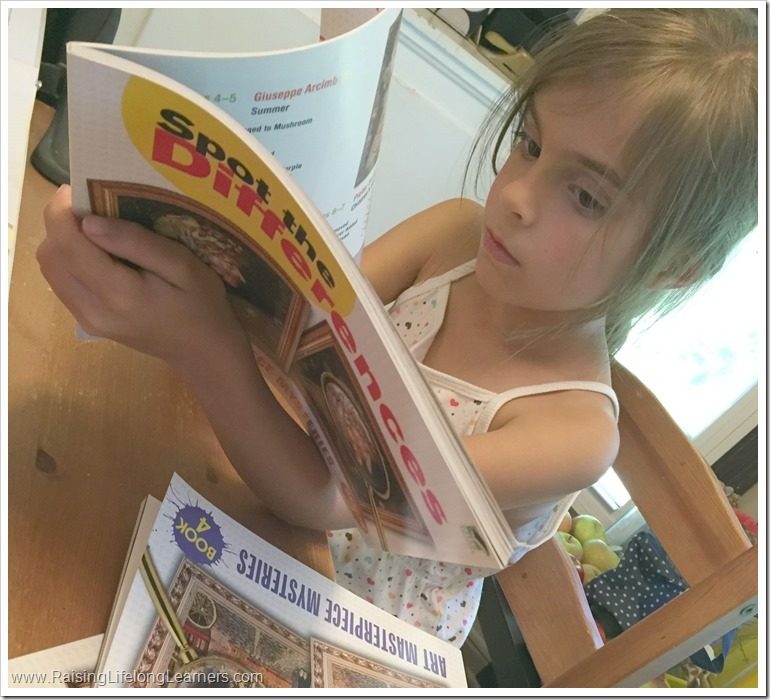 I love watching the kids work together to find the differences.
Art appreciation is woven into the task. The kids are poring over the artwork, noticing things like the way the paint swirls, the different shades of coloring used, and the mannerisms of the subjects. The big kids read the fun facts and historic notes found in callouts along the page.
Reading the books is a fantastic opportunity for diving into art appreciation all on its own. But, there are so many other fun ways you can incorporate the books into your homeschool for effortless art education.
Taking the books from Art Appreciation to Art Application
My kids love trying to emulate the work of great artists, and can often be found pulling out paints and artist cards we have (also published by Dover Publications) picked up at homeschool conventions and bookstores.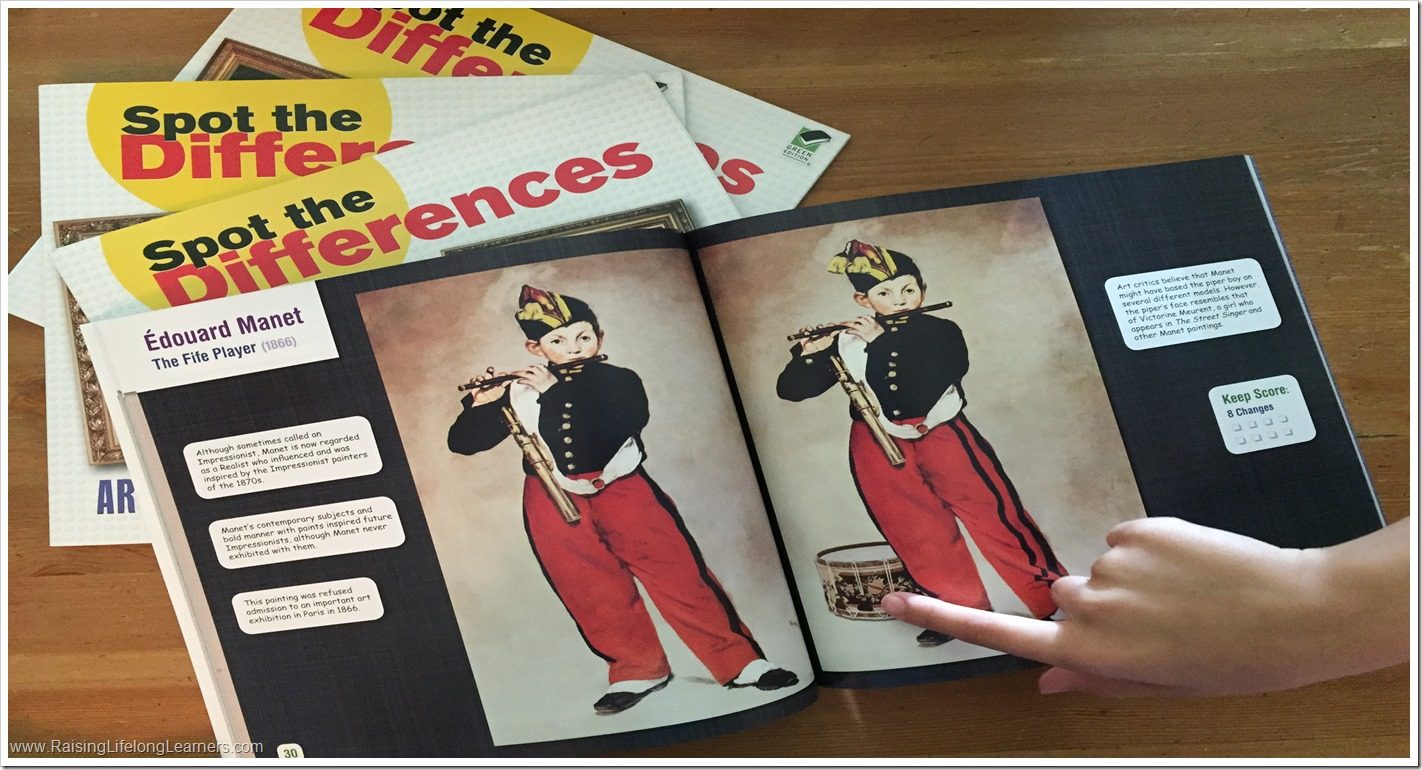 I enjoy letting them explore art in their free time.
To help with that, I pulled together an art appreciation basket filled with materials to assist them as they discovered great art independently. The basket included:
Spot the Difference: Art Masterpiece Mysteries books
A magnifying glass
Paints
Brushes
Paper
Chalk Pastels
A drop cloth
My girls especially enjoyed pulling the basket to the table, spreading the drop cloth, and exploring art together.
Buying Art Appreciation Materials from Dover Publications
There are so many affordable resources at the Dover Publications site, and now is the time to grab some for yourself as they're having a sitewide 25% off sale. Go over there, load up your cart, and use the code WHBH before October 31, 2015 to get 25% off everything!
And, make sure you take a minute to enter the fantastic giveaway they're offering. Dover Publications is giving away one of each of the following book sets:
While you're on the Dover Publications site, be sure to sign up for their newsletter to receive special offers and freebies and take a look at their customer loyalty program, too. You can keep up with them around social media by checking out these links:
Have you used Dover Publications books and resources for your homeschool or classroom before? What did you think?