Learning with LeapFrog | LeapPad Platinum Review with Imagicards
We've been fans of LeapFrog products and videos for years, and the kids have each had a LeapPad when the time came for their first handheld video game. It's our toddler's turn, and while he's been playing around with his sister's he was absolutely thrilled to get one of his own to test out. When we added LeapFrog's new Imagicard sets to his play, he was in heaven.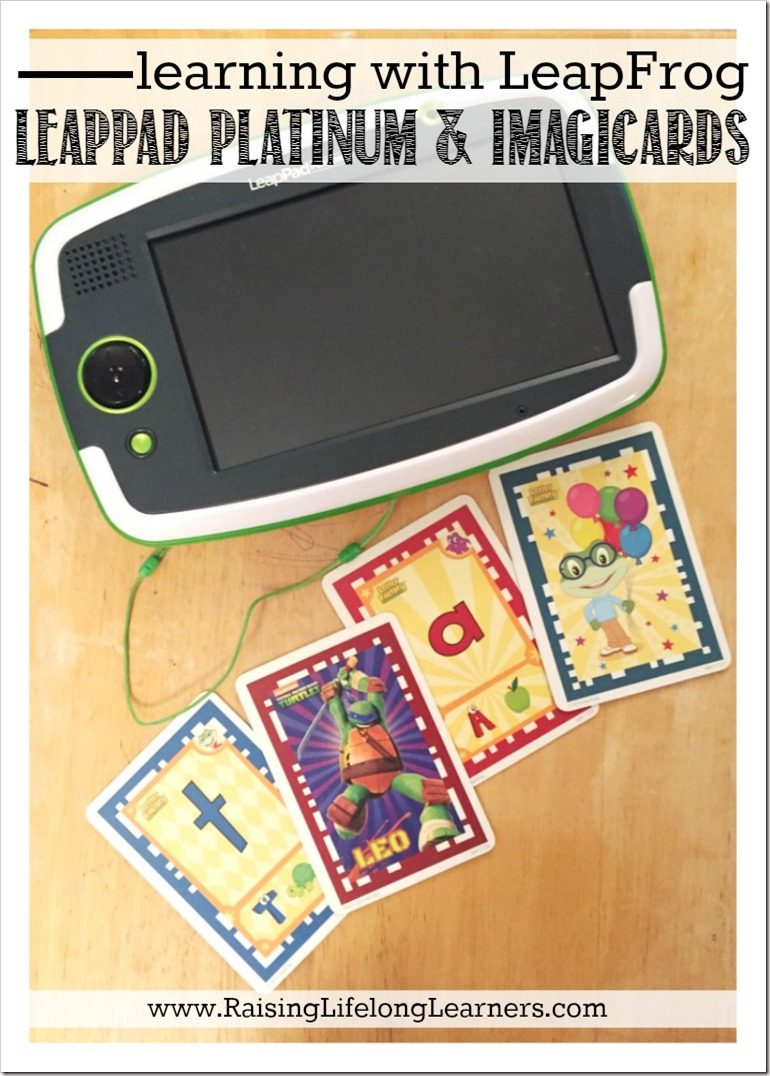 The newest generation of learning from LeapFrog – the LeapPad Platinum – is a huge hit here in our house. And Isaac loves having it for his own, though he does occasionally share. Occasionally.
What is the LeapPad Platinum & what are the Imagicards all about?
The LeapPad Platinum is the most durable LeapPad so far. It has a high resolution screen, fast processor, and access to a huge library of learning apps (most available for a small price, though there are no in-app purchases).
I love that the games and their levels of difficulty grow with my kids. They adapt and change as the kids do, and meet specific learning goals in all different subject areas. It's perfect for a tiny homeschooler like my toddler to learn with while his big siblings do research on the computer or finish up one of their other assignments for the day.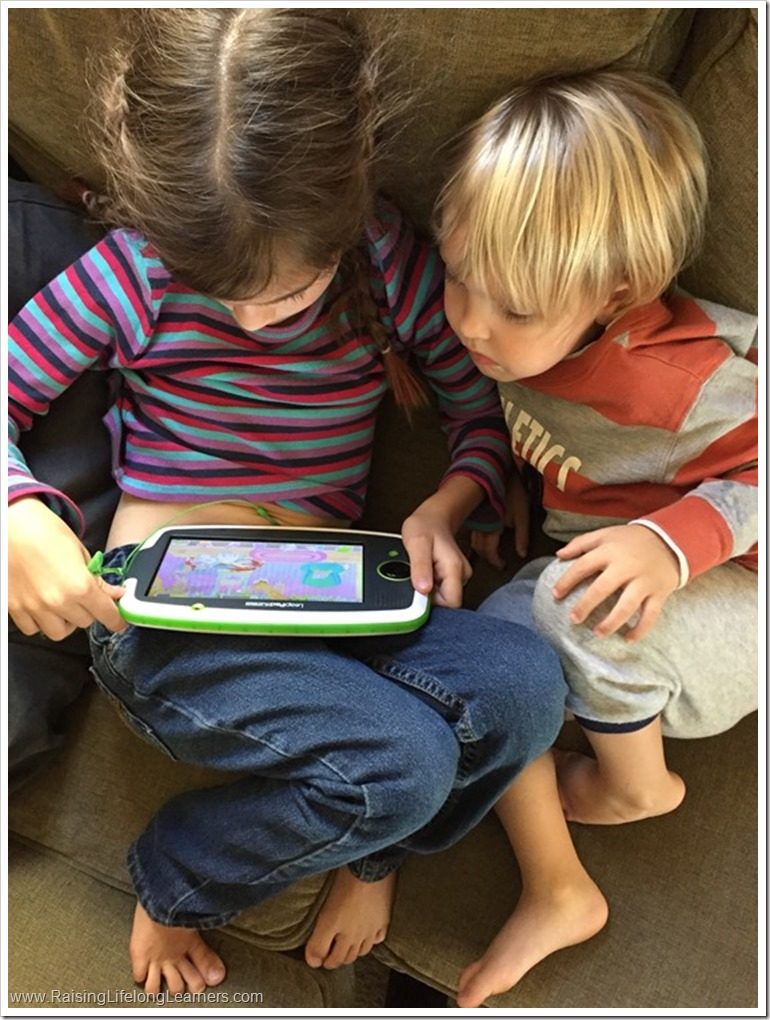 Because I have four kids, and my littlest is the toughest of the bunch, I'm a stickler for durability. The new LeapPad has a shatter-safe screen, attached stylus, and wrap-around bumper to protect it form even the roughest tumbles.
Our favorite accessories for the new LeapPad Platinum are the different sets of Imagicards. Imagicards are cool digital and physical playing cards. Kids use the camera to capture a photo of a card to bring a character into a game and unlock magical game play.
In addition to the fun to be had digitally with the Imagicards, each set comes with a tin, a playmat for easy sorting, and offline games to play when the LeapPad is put away or unavailable. We've tried Paw Patrol (Math for ages 3-5), Teenage Mutant Ninja Turtles (Math for ages 5-8), and Letter Factory Carnival (Reading for ages 4-7). They've all been loads of fun.
What the Kids Thought of the LeapPad Platinum and Imagicards
While my bigger two have moved onto their tablets, my littlest two loved this new edition of the LeapPad. In fact, Logan tried some heavy negotiations to try to convince Isaac that he should take her 4-year-old pink LeapPad and give her the new LeapPad Platinum.
It didn't work.
They loved the big screen, how clear the images were, and the interactive features. Their favorite things, though, are the Imagicards. They love watching their favorite characters come to life.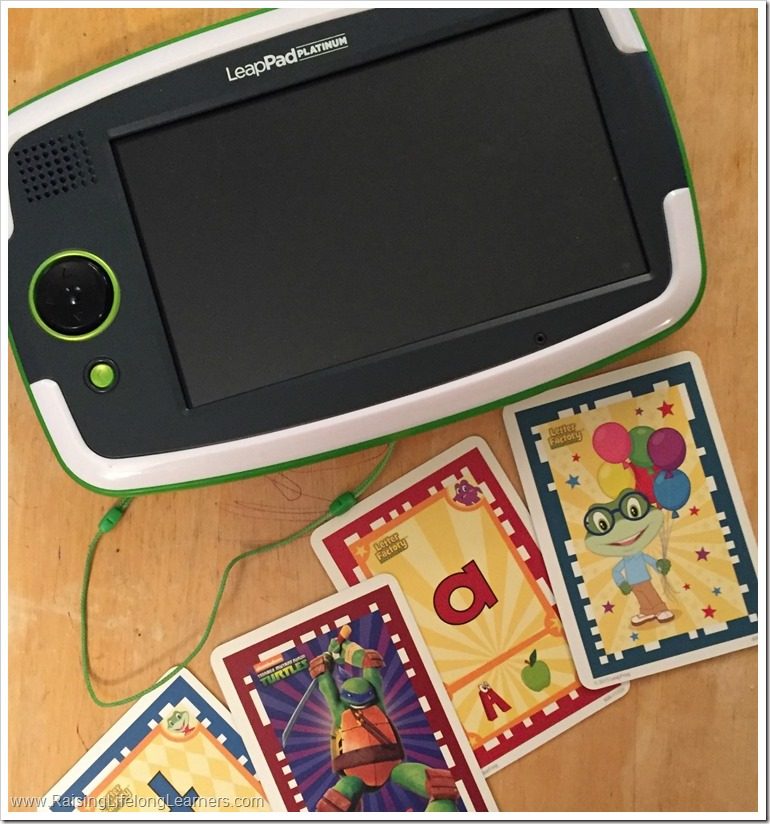 What I Thought About the LeapPad Platinum and Imagicards
It's hard not to like a LeapFrog product. They're well-made and teach skills in fun ways. I've been a fan for years, and LeapFrog products are still my go-tos when I'm shopping for anyone.
I highly recommend the LeapPad Platinum for kids who are looking for their own tablet. It's durable, but looks cool and has fabulous features kids will love. The Imagicards are a must-have if you decide to grab a LeapPad Platinum for your own. They're really unique and such a fun way to play and learn.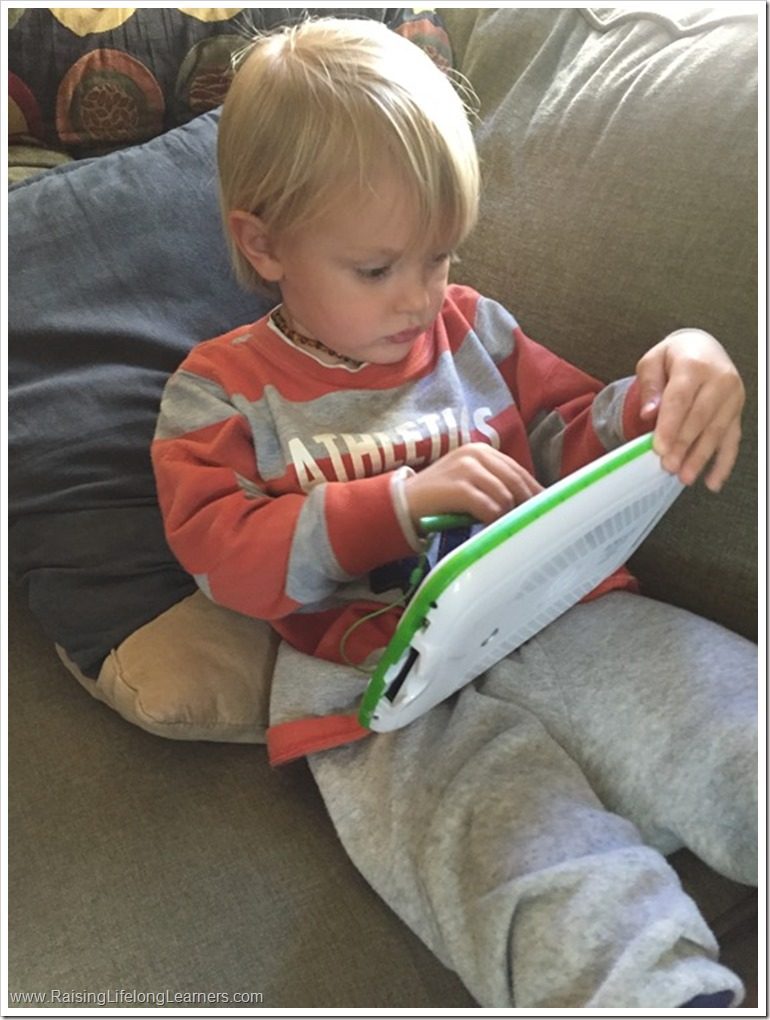 You can pick up the LeapPad Platinum and Imagicards at most local retailers or – if you're like me and have too many kids and too little time – you can use the miracle that is two-day shipping and order it from Amazon. If your kids master games quickly, and are ready to move on to new things with little repetition like many gifted kids I know, you'll want to take a look at the new LeapFrog Epic before you make a final decision. I really, really love both of these devices now that I've had a chance to try them out, and depending on the child, would have bought one of each – for different kids. I'm happy to chat more about both products to help you make a decision – I really love them.
I'm thrilled to be a LeapFrog Mom Squad Ambassador, and have the chance to share new LeapFrog learning products with you throughout the year. I was provided with this product to try out, but will only ever share the ones we love and recommend – LeapFrog products have taken up residence in our home since our oldest was teeny tiny because we've always adored them.