These gifts for geeky moms are the perfect way to show mom how much you care. Even though she may be a little geeky, she is still the loving and caring mom you know…. and she deserves only the best gifts!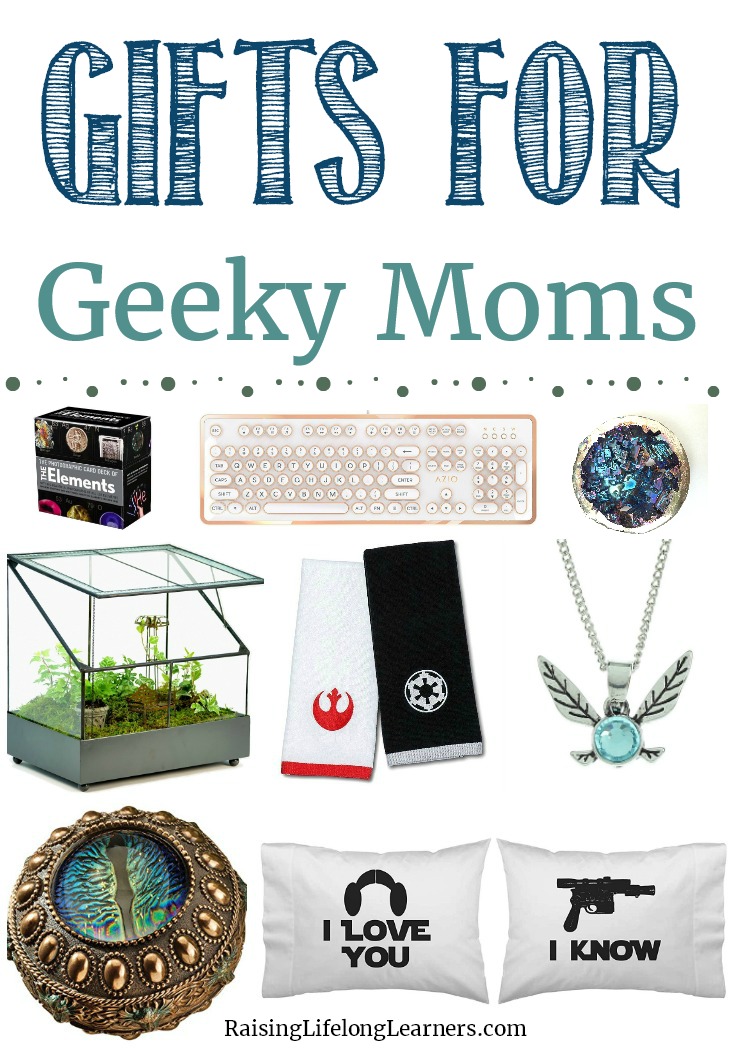 I found some fun, sentimental, and useful gifts that scream geek. From a dragon eye trinket box to comic book paper flowers, all of these gift ideas are perfect for any mom who holds the title of geek proudly.
Gifts for Geeky Moms
The Eye of the Dragon Mystical Box: This magical trinket box has the colorful and mystical eye of a dragon adorned on the lid. The perfect way to protect jewelry.
Wonder Woman Shield Pewter Key Ring: The power of the shield, on a keychain. Perfect!
Wonder Women Bracelet: Because you know that your mom is the real Wonder Women.
Star Wars Ring: A little bling with a Star Wars flare, perfect gift for the mom who loves Star Wars.
The Legend of Zelda Piece of Heart: If the mom on your list loves Zelda, give her the piece of heart. You could also add this Legend of Zelda Navi Necklace to really spoil her.
Star Wars Inspired I Love You Pillow Cases: An Adorable way to say I love you.
Watercolor Art Poster Prints: This collection of posters are perfect gifts for geeky moms. You can pick her favorite story print out of a large variety. They have a little bit of everything from LOTR, Beauty and the Beast, Harry Potter, and tons more.
Death Star Popcorn Maker: The Death Star makes some pretty decent popcorn. Use the bowl for even more geeky fun!
Comic Book Paper Flowers: Flowers that last forever…. it's a wonderful gift idea. But this one goes a step further by making the flowers out of the pages of comic books. You get to pick the colors!
Star Wars Hand Towel Set: Perfect for guests, or everyday use. However your geeky mom decides how to use this towel set, it will add some Star Wars love to her home.
Photographic Card Deck of The Elements: Gorgeous photos of the elements are on display with this deck of cards. Great way to challenge mom to a hand or two of cards.
Terrarium Planter Garden Display Case: This glass terrarium has a hinged top for easy gardening access. Great for orchids and other plants. Don't forget the planting medium!
Retro USB Typewriter Inspired Mechanical Keyboard: The look alone on this keyboard is wonderful. It has a retro feel combined with a modern-day style.
The Unofficial Harry Potter Cookbook: Every geek mom needs this cookbook in her kitchen. How fun!
Crystal Geode: Geode crystals are incredibly detailed, full of color, and beautiful. They also make great gifts!
Finding the perfect gift for the geeky mom on your list doesn't have to be hard! Especially with this list of great ideas.
Did you find the perfect gift? Share your favorite picks with everyone in the comments!
Latest posts by Colleen Kessler
(see all)