In honor of all of the Tolkien fans out there, I have gathered some fun gifts for Hobbit lovers.
There are some really interesting ideas on this list. I was able to find some great books written by Tolkien as well as some other gifts that are handmade. One of my favorite items is the Hobbits Daily Meal Plaque. It's sure to provide many laughs… especially if you have a house full of hungry Hobbits!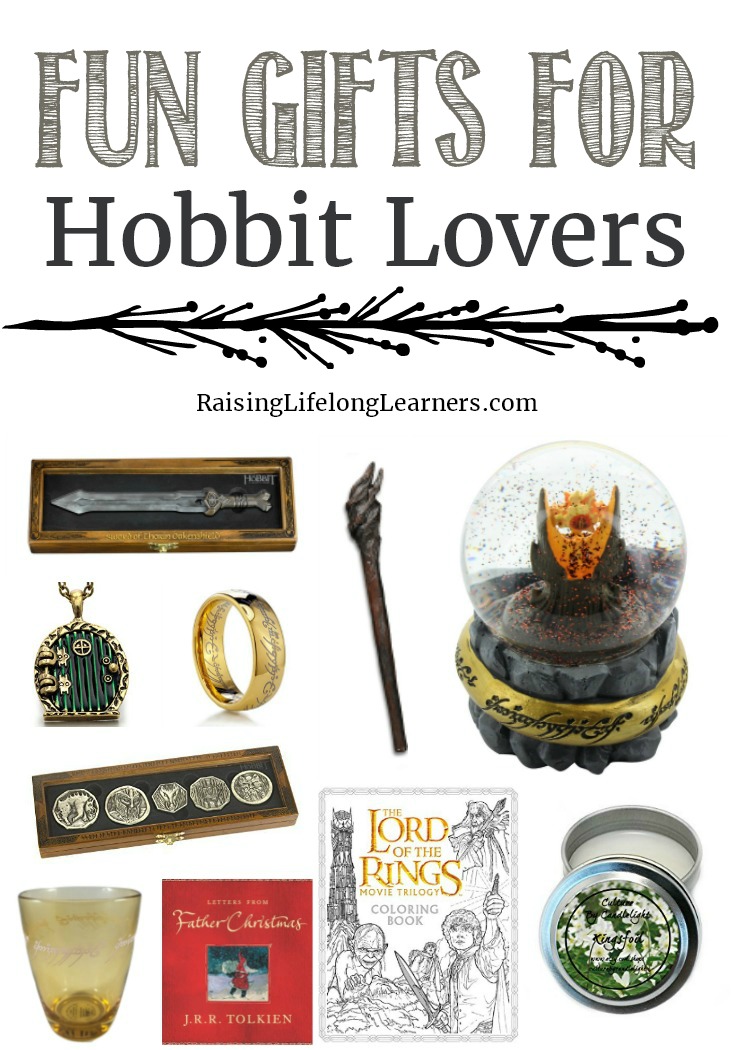 You can always pair your Hobbit gift with a copy of the Lord of the Ring Movies or the Lord of the Ring Books. Choose from wall art, mugs, jewelry, and lots more!
Take a look at all of these great hobbit gift ideas.
Fun Gifts for Hobbit Lovers
Lord of the Rings Gold Ring: Gift the ring itself! Every hobbit lover needs one of these to keep safe…. or wear on a regular basis.
Shire Movable Door Locket: Hobbit doors are something to marvel at. Now you can, with this hobbit door locket.
Lord of the Rings Arwen's Evenstar Pendant Necklace: The gift box this necklace comes with is beyond amazing. And the price is even better.
The Lord of the Rings Color Changing Glass: The letters on this glass change from white to red, like magic.
Map of Middle Earth: You can display a Map of Middle Earth to add some hobbit love to any room.
Hobbits Daily Meal Plaque: Hobbits sure do eat a lot! This sign lists out the meal schedule, according to a hobbit. The perfect way to add some hobbit love to the kitchen.
Funko Movies Pop Lord of the Rings Hobbit Collectors Set: Get the entire Hobbit collection with this set!
I love you Like A Hobbit Loves Second Breakfast Coffee Mug: In honor of second breakfast.
Hobbit Slippers: Thanks to the Hobbit's big hairy feet, you can have some cozy slippers.
LEGO The Lord of the Rings Hobbit The Mines of Moria: LEGO always makes a great gift idea. This one is perfect for the Hobbit admirer on your list! The LEGO Hobbit Minifigures are even scaled to size!
Eye of Sauron Snow Globe: The perfect conversation piece for every hobbit lover. This snow globe has the evil eye and tower in Mordor inside with the ring on the base.
The Hobbit Thorkin Oakenshield Letter Opener: I think this is a very unique letter opener. Perfect for display on any desk.
Treasure Coin Set: I love the detail of these Hobbit coins. They come inside of nice display case too.
Lord of the Rings Chess Set: Play a game of chess with your favorite Lord of the Ring characters.
The Lord of the Rings Trilogy Coloring Book: Pick up a set of nice coloring pens to make this a Hobbit lover's gift with an artistic spin.
LEGO Dimensions Lord of the Rings Fun Pack 3-Piece Variety Bundle: This gift idea works with the LEGO Dimensions Starter Pack and comes with 3 different characters including Gollum, Legolas, Gimli.
Leather Journal: A great place to write down all of your adventures.
Gandalf Staff Pen and 3D Bookmark: This looks like the real thing…. only in a smaller version.
Bilbo Baggins Light Up Sword: Because every Hobbit has to have a light up sword.
Lord of the Rings Music Box: This gift idea is for the Hobbit lover who has everything. Complete with a hand crank and remarkable hand engraved woodwork.
Honeysuckle Jasmine Scented Book Candles: Inspired by The Lord of the Rings, this Kingsfoil tin candle makes one incredible gift. You may want to grab one for yourself while you're at it!
Handthrown Pottery Mug Tree of Gondor: Although this gift idea would take a little longer to arrive, it'll be well worth the wait. Handthrown pottery lasts for years and can quickly become a new favorite.
Lord of the Rings Infinity Scarf: This one is for all the girl Hobbit fans out there.
Letters from Father Christmas: These stories about Father Christmas were written by Tolkien to his children many years ago. This is sure to be a treasure for true Hobbit fans.
Mr. Bliss: Here is another Tolkien treasure most Hobbit fans would be thrilled to read.
There are so many fun gifts for Hobbit lovers!
You might not be able to resist some of these gift ideas, so I'm here to remind you… it is okay if you buy yourself a gift, or two!
Share your favorite picks with me in the comments!
More Great Gift Ideas:
&