Great Gifts for Coffee Lovers
Coffee is the lifeblood of mamas of gifted and twice-exceptional kiddos. Right? I know that it takes coffee, chocolate, and the occasional glass of wine to get me through most days.
How about you?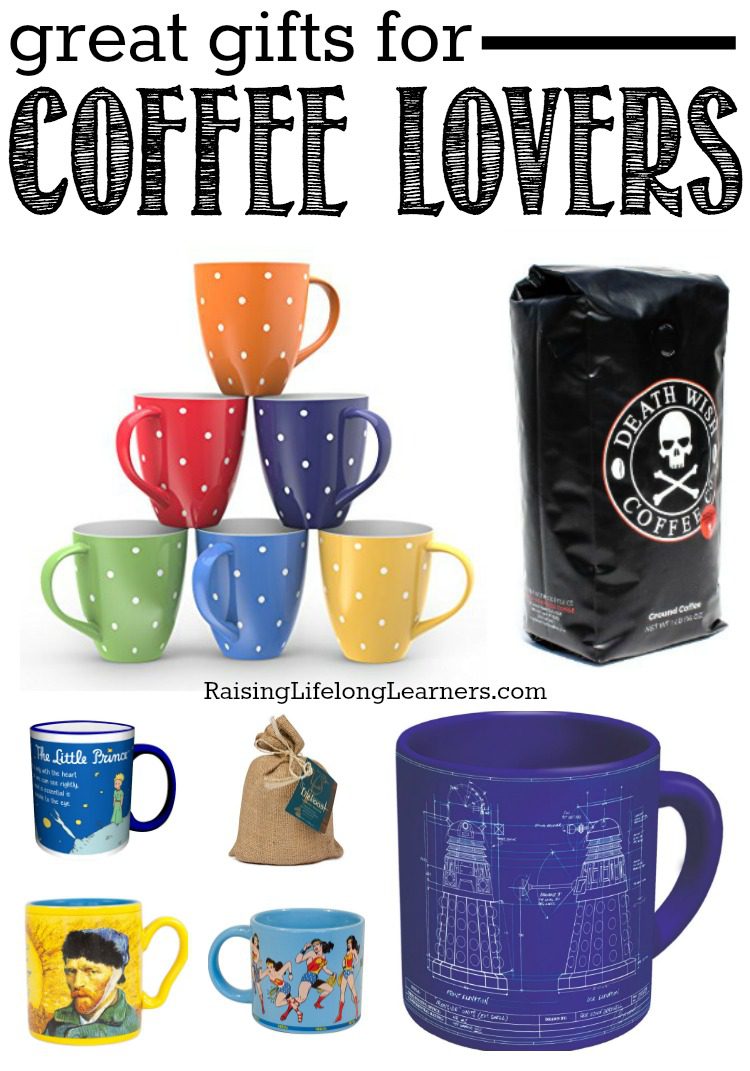 Do you know a coffee lover? Are you one?
Here are a few great gifts for the coffee lovers in your life…
Coffee Mugs for the Book Lover in Your Life
If you have a lover of classic literature in your life, check out this sampling of amazing literary mugs. I think I like The Little Prince mug the best. Which is your favorite?
 First Lines of Literature Mug
 Last Lines of Literature Mug
 The Little Prince Book Cover Mug
 William Shakespeare Literary Insults Mug
 Issac Asimov I, Robot Mug
 Lewis Carroll Alice in Wonderland Mug
 Banned Book Mug
 H.G. Wells Time Machine Mug
&
Coffee Mugs for the Geeky Mama
Mamas of gifted and special needs kiddos know how important it is to be on the ball all day, every day. These fun, quirky, and somewhat geeky mugs will make mama and the kiddos smile.
 Disappearing Dino Mug
 Mathematical Formulas Mug
 How to Tie a Knot Mug
 Genesis of the Daleks Mug
 Batman Through The Years Mug
 Van Gogh Mug
 Euclid Mug
 Wonder Woman Through the Years Mug
 Doctor Who's Disappearing Tardis Mug
 Mister Rogers Mug
&
Gourmet Coffee & Books for Kitchen Baristas
Do you know someone who loves both coffee and experimenting in the kitchen? Check out this selection of gourmet coffee and amazing recipe books.
 Death Wish Organic USDA Certified Whole Bean Coffee
 Kahlua Gourmet Ground Coffee
 Gourmet Caramel Nut Flavored Ground Coffee
 COLOMBIA JO
 Organo Gold Gourmet Cafe Latte Coffee
 Gourmet Premium roasted coffee beans
 Premium Organic Ground Coffee By LifeBoost
 Making Your Own Gourmet Coffee Drinks
 I Love Coffee! Over 100 Easy and Delicious Coffee Drinks
 Coffee Smoothies
 The Coffee Cookbook
 The Coffee Cookbook
&
Top Ten Favorites that Work For All Coffee Lovers
Don't want to take a chance on an unusual or new type of gift for the coffee lover in your life? Or, maybe you want to couple one of those quirky mugs with a more practical gift? Here are some of the top gifts that any coffee lover will love:
 Contigo Double Wall Travel Mug
 Set of Six Polka Dot Mugs
 Mr. Coffee Mug Warmer
 French Coffee Press
 Electric Coffee Grinder
 Refillable Coffee K-Cup Filters
 Ninja Coffee Bar
 Keurig K55 Coffee Maker
&
Did I miss anything? What are your favorite gifts to give coffee lovers? Let me know in the comments.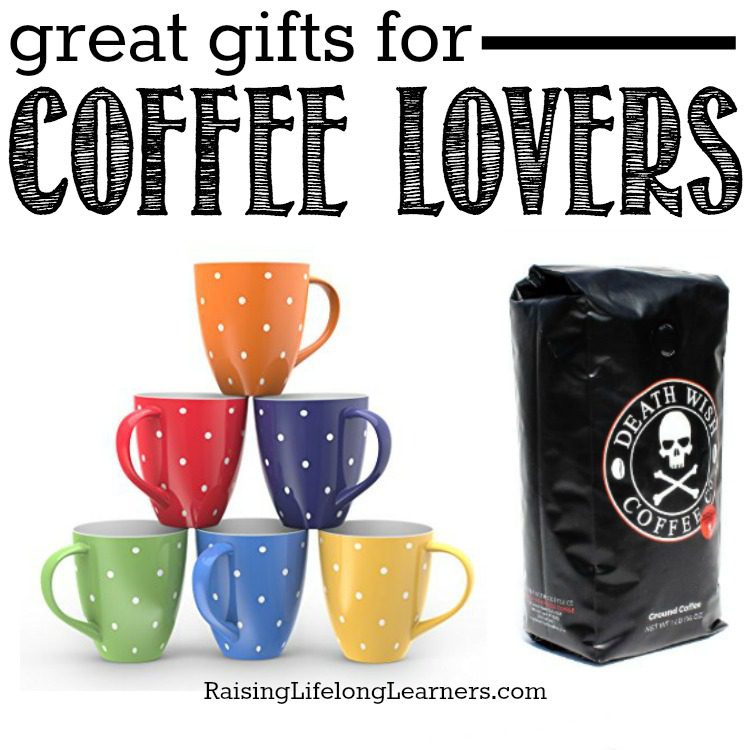 Looking for more great gift guides? Check these out:
 Family Game Night Guide
 Top 25 Board Games
 Gifts for Teen Boys
 Awesome Subscription Boxes for Smart Kids
 Gifts for Children with Anxiety
 Gifts for Gifted Toddlers
 Geeky Fifts for Geeky Kids
 Gifts for Gifted Preschoolers
&