I am sure by now you know that STEM stands for science, technology, engineering, and mathematics. Now we are throwing something else in the mix… art. After all, isn't art centered around creative thinking? Adding art to all of these subjects creates a wonderful way for kids to learn even more.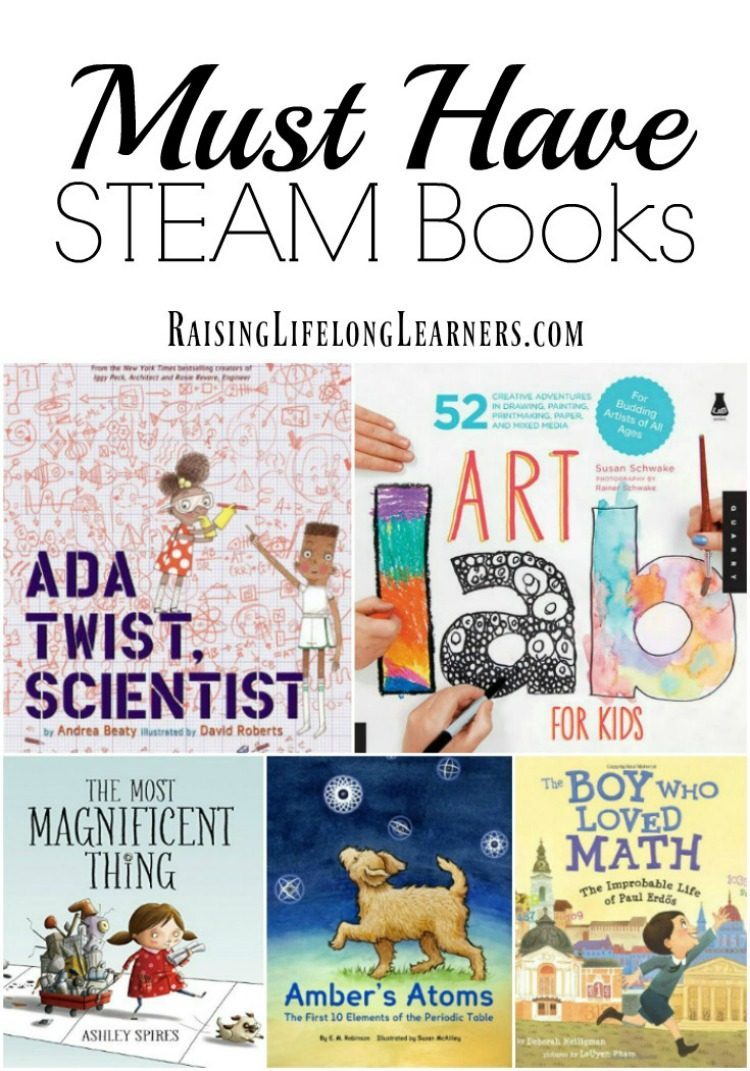 These must have STEAM books cover all of these subjects, but they also give kids a lot more. When you teach kids about science, technology, engineering, art, and mathematics, you are giving them the skills they need in life to problem solve, discover, build, and cooperate with others. These skills will carry them into adulthood where the world becomes their oyster.
Must Have STEAM Books
Ada Twist, Scientist: Ada takes off on a mission to discover exactly how the world works, through the eyes of a scientist. The author of this book also wrote Rosie Revere, Engineer and Iggy Peck, Architect.
Smithsonian Maker Lab: You can conduct some interesting science experiments with this book including how to make a jungle in a bottle and how to turn a lemon into a battery.
Amber's Atoms: Introduce your kids to the periodic table of elements with this book that has rhyming text and gorgeous illustrations.
STEAM Kids: With over 50 projects to make, this book provides an ample amount of ideas for your little sponges (aka: kids)!
Women in Science: Learn about the incredible women who have forged a road of scientific discovery.
The Secret Subway: Read about Alfred Ely Beach and how he invented a train that reinvented New York City's transportation dilemma.
About Time: How did people learn to keep time? With the sun, moon, and water of course. But there is a lot more to the evolution of the clock then you think.
Art Lab for Kids: This easy to follow art guide shows kids simple art techniques that will inspire them to be more creative.
Girls Think of Everything: Women invent some wonderful things. Including the windshield wiper and chocolate chip cookie.
&
Math Fables: Make learning addition and subtraction fun with these great teaching concepts.
Feathers Not Just for Flying: Feathers are an incredible feature of birds. Discover how they do so much more than help birds fly.
Beaks: Examine the different shapes, sizes, and jobs that beaks have. Lern all about all the unique beaks in the world.
Mistakes That Worked: Sometimes things don't always go as planned, but that's ok, especially when those mistakes actually work.
How Much is a Million?: Let the Marvelosissimo the mathematical magician break down large numbers for better understanding.
Raising Creative Kids: Raising creative kids means that you're giving your children the tools that they need to be innovative problem-solvers.
The Boy Who Loved Math: This is a true story about Paul Erdos, who loved math. When he was 4, he could figure out how many seconds a person was alive just by knowing their birthdate.
Mr Ferris & His Wheel: The ferris wheel is an engineering marvel. Take a look at how George Ferris defied gravity and created this fun machine.
Roaring Rockets: Follow this roaring rocket on its way to outer space.
Simple Machines: This is a great book for those budding architects and engineers. Build simple machines that open up kids' imaginations.
The Best of Times: If your kids struggle with multiplication, this is a must have book that doesn't require memorization of the multiplication tables.
The Most Magnificent Thing: Creating and exploring don't always go as planned. But that doesn't mean you have to get up. This adorable book focuses on the importance of following through and putting your best foot forward, even when your experiments go wrong.
There's No Place Like Space: This Cat in the Hat book explores all of the wonders of space.
Beautiful Oops: I love this book because it teaches kids that a mistake can turn into something beautiful.
&
There are so many wonderful STEAM books out there. This is just the tip of the iceberg. What STEAM books do you keep on hand for your kiddos? Did they make my list? If not, share the titles with me in the comments. Happy reading!
More Great STEAM Resources:
&