A Million Things You Haven't Found | Gifts for Hamilton Fans
If you're a fan of musicals, history, or know someone with a Disney+ subscription, you've probably found yourself a little swept up in Hamilton-mania. It's nothing to be ashamed of – we've been singing King George's hilarious lines and triumphantly fist-bumping along with the Schuyler sisters for years, with no signs of stopping anytime soon. Thanks to it's arrival on Disney's streaming service, Hamilton has enjoyed a recent surge and added to the already massive fan base, leaving just about everyone with a Lafayette-loving revolutionary on their shopping list. Fortunately, I'm not throwing away my shot! Instead, I've gathered a fantastic list of gifts for Hamilton fans, full of unique and lovable items that even Aaron Burr wouldn't be afraid to declare his excitement over!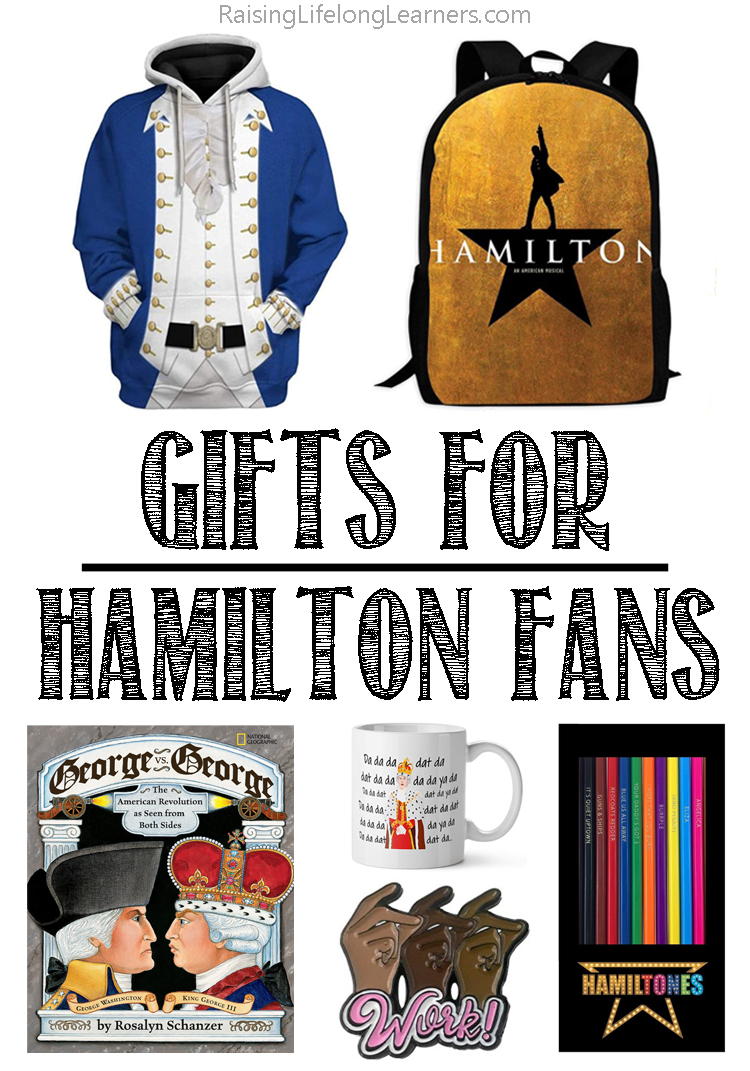 Fun Gifts for Hamilton Fans
Whether you're looking for something subtle or a way to proudly display your love for all things Hamilton, these gift ideas have got just what you need. This historical figure hoodie is a spot-on sweatshirt that will keep you warm at Chesapeake Bay or lounging in the living room. When you've got to smuggle in British secrets or take some snacks along, a Hamilton backpack is a great choice to carry your goods. This Schuyler sisters shirt has already been debuted in our home and is such a favorite that I have to plead with my daughter to wash it before wearing it again. A Hamilton throw blanket is a solid gift for any fan, as is this King George mug that will have you humming before breakfast is over. A Hamilton 365-day calendar is a wonderful way to celebrate your excitement in a more subtle way, as is this colorful Schuyler sisters phone case or even this Hamilton pencil case. Whether you need to be inspired to rise and shine or fight a revolution, this Rise Up wall art is a great way to add the spirit of Hamilton to your home decor.
Stocking Stuffer Gifts for Hamilton Fans
If you're looking for a smaller gift, a stocking stuffer, or a just-because, day-brightening gift, check out these smaller items that still make a big impact. A set of Hamiltones colored pencils – with Hamilton-themed punny names – is fun for just about anyone! A Hamilton lanyard is a great choice for the fan who needs to wear an ID, such a s nurse or teacher. Another universal gift, a Hamilton sticker set is a wonderful way for fans of all ages to decide how to display their enthusiasm. An Alexander Hamilton nametag pin or this Work! pin are other options for displaying your support of the $10 founding father, as is this Hamilton keychain. I'm planning on getting a song lyric necklace for my own obsessed daughter, along with this bracelet hair band holder as subtle ways for her to celebrate her favorite musical without dressing up as Peggy everywhere she goes. And this wooden Hamilton bookmark makes for the perfect companion to any of the gifts for Hamilton fans below!
Gifts for Hamilton Fans That Go Beyond the Show
You may be able to spout every lyric to "Guns and Ships", but do you know the historical context of the raps and rhymes? Load up on these excellent resources that will deepen your knowledge of Alexander Hamilton and strengthen your appreciation of just how masterfully history was put to verse. George vs. George is a fun book that explains the American Revolution from the sides of both Georges – King George III and George Washington. For superfans of the show, Hamilton: The Revolution contains backstage photos, cast stories, and much, much more insider information from the actors themselves. This Eliza Hamilton: Founding Mother reader is a perfect choice for emerging readers looking to learn more about their favorite beatboxing Schuyler sister. The book that started it all, Ron Chernow's biography Alexander Hamilton is a must-have for any Hamilton or history fan. For even more context, The American Revolution: A Visual History is a beautiful book filled with facts and information from the war that turned the world upside down. The Hamilton Papers go into more depth over A. Ham's infamous confessionals, and a favorite among lovers of historical fiction, a copy of I Survived The American Revolution will surely be gobbled up by your kiddos. Useful for a gift or your homeschool, this Who Was…. founding fathers set would pair perfectly with a unit study from Waldock Way. And of course we can't wait for Thomas Jefferson to include women in the sequel! Women Heroes of the American Revolution shares intriguing and exciting stories of female spies, soldiers, nurses, and more!
Whoever the Hamilton fan in your life is, there's surely something to delight them on this list. Educational, entertaining, and somehow original, Hamilton has brought history to the spotlight and inspired a new generation of learning in brand-new ways. The songs are catchy, the lyrics are brilliant, the characters are compelling, and the show is one that can be enjoyed on repeat for months (ask me how I know!). It's not hard to fall in love with Hamilton, and now it won't be difficult to find gifts for Hamilton fans… even if they're for yourself!