Great Gifts for LEGO Lovers
My kids love LEGO. My husband loves LEGO. Nearly anyone who walks into my home and spots a pile of LEGOs will walk over, without hesitation, and start building with them. LEGOs are universal – open-ended, creativity-building, STEM-encouraging, foot-gnashing fun for people of all ages. There is almost no limit to what can be made with LEGO! Because of their broad and consistent appeal, LEGO gifts are always a good bet for just about anyone on your list. Whether you've got a novice builder or a seasoned brickhead, wrapping up some buildable bricks is a surefire way to please.
Not all LEGO gifts are building sets, though. I'm sharing with you some great ideas for the LEGO lover in your life, items you may not have heard of, may not have thought of, but you'll definitely be excited to buy!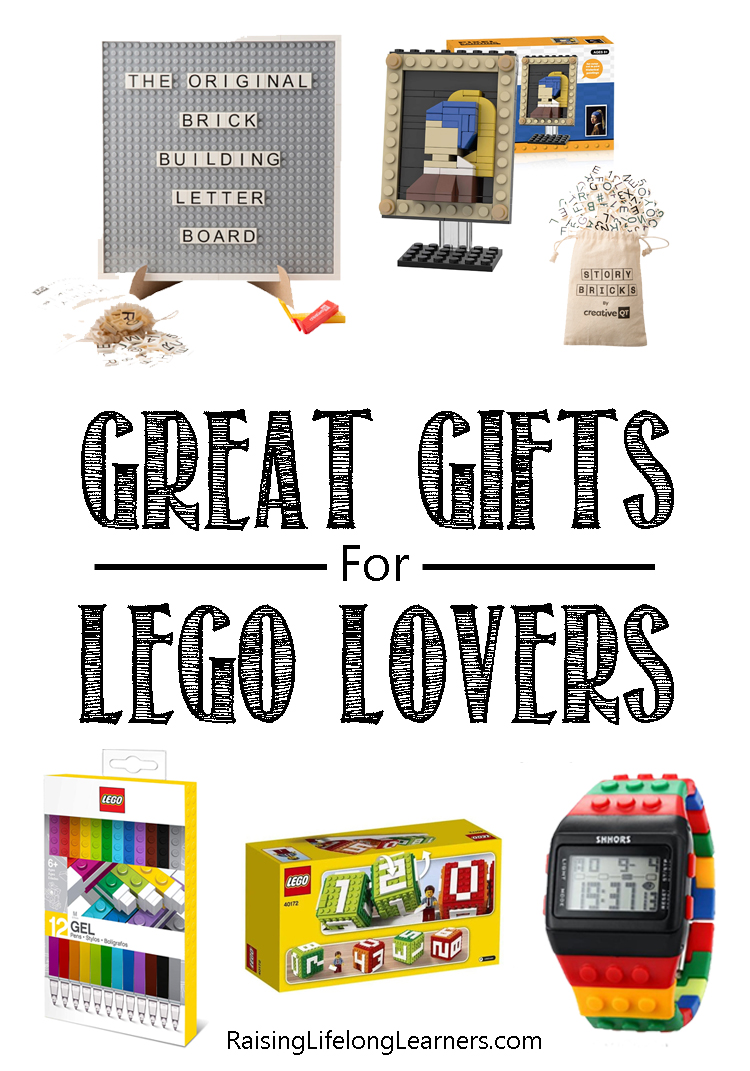 LEGO-Themed Gifts
If the LEGO lover on your list has all of the sets imaginable – or just all of the ones that you can afford – consider some of these LEGO gifts that hint at play rather than rattle when you shake the box. More than just a minifigure display, though that's always a great gift, too, these LEGO gifts can be used for a number of purposes beyond building! This rubber sport watch has the classic look of building blocks but the usefulness of telling time – which comes particularly in handy when trying to keep track of how much time is spent playing with LEGO! These Lego brick top gel pens are one of the coolest items I've found yet and will definitely be finding their way into a few stockings at my house. The brick mug is a classic gift for LEGO enthusiasts, whether they build over morning coffee or create a world around a giant water hole. A more recent addition to the LEGO line up, the LEGO DOTS desk organizer turns an ordinary office necessity into a fun building project! LEGO print socks are a wonderfully subtle way for people of all ages to express their love for building blocks, from cozying up on the couch to strolling into the boardroom. And no list would be complete without a family favorite of ours, the Brick Fairy Tales & Brick Myths box set, featuring comic book-style retellings of classic tales, using only LEGO!
LEGO Building Gifts
Too often when someone is in search of LEGO gifts, they limit themselves to the yellow box with the white logo. Not all LEGO gifts have to come from the primary-colored aisle of the store, though – there are tons of brilliant LEGO gifts, building blocks, and more that can be found all over! CreativeQT, for example, has loads of fun and unique LEGO-compatible items that can surprise and delight. This brick-compatible letter board is a fun twist on the farmhouse letterboards that are so popular right now, and make a perfect message board for a dorm room, kids' room, kitchen, or office. The StoryBricks brick letters are the perfect companion for the board, even including numbers and some punctuation. Something my kids will be absolutely thrilled about are these Pixel Bricks, actual one-by-one pieces that are usually so lacking in LEGO sets. They moan about what could be built if they had single bricks – or if they hadn't lost the ones they had – and these are the perfect item to truly create anything! This play table and storage case is similar to the one we have, and it's incredibly useful. Many parents would be thrilled to received this storage basket and play mat that not only keeps LEGO from plotting against their feet, but looks stylish when stored away. And what LEGO lovers room would be complete without a wall plate that they can build right on? Whether attached to a table, a wall, or even a ceiling, these plates make it possible to build anywhere!
Unique LEGO Sets
Now it would be pretty impossible to have a list of LEGO gifts that didn't include a few cool sets, right? My kids have built just about every Star Wars, Marvel, Architecture, and LEGO Friends set out there, so it gets difficult to find unique sets for them. This LEGO playable piano is a DIY build that actually results in a small, playable piano! The LEGO calendar set gives function to the fun of building by creating something useful, while this brick art set creates an actual work of art – "Girl With a Pearl Earring", to be exact. Another instance of utilizing what's built is this LEGO chess set, the perfect crossover gift for enthusiasts of both! My oldest son adores the Architecture line, and this LEGO Architecture White House set is just one of many breath-taking buildings that he has built. For more flexibility, the LEGO maze is a set that can be changed up and enjoyed many times over, promising more than just a one-time build and plenty of smiles.
LEGO is an institution, almost a pillar of childhood. The pieces age well and offer up the same possibilities as a blank page or an empty box. We can do almost anything with LEGO, so giving LEGO gifts is one of the safest ways to ensure that everyone is happy. You might even want to gift a subscription to Brick Swag! Enjoy this list, grab a few things for yourself, and let me know in the comments what your favorite LEGO set ever was!