Harry Potter Homeschooling with Waldock's Wizards And Wands
Are your kids begging to read Harry Potter? Do they love all things magical and desire with all their hearts to attend Hogwarts? I've got the next best thing! Get ready to homeschool with Harry Potter using Waldock's Wizards and Wands homeschool curriculum.
This complete curriculum includes six core subjects, four fun electives, tons of resources, and even some cool ideas for making your homeschool more magical. Get ready to dress up as your favorite characters, learn all about magic, and taste some fun Harry Potter recipes too. Your whole family is going to love this homeschool year!
Harry Potter Homeschooling
The Harry Potter books make an excellent backbone for your homeschool year. Each book covers a year at Hogwarts magic school with Harry. Plus, the books teach important life lessons while exposing kids to myth in a way that's engaging and filled with adventure! There are all kinds of ways to make learning fun with Harry Potter inspired activities and lessons in your homeschool.
For example, if your kids are reluctant writers, try writing with quill pens on Harry Potter stationary. You can write letters for the magical owls to carry and seal them with wax just like in the books. You could practice handwriting with quill pens as you write out your own spells and charms. The possibilities are endless!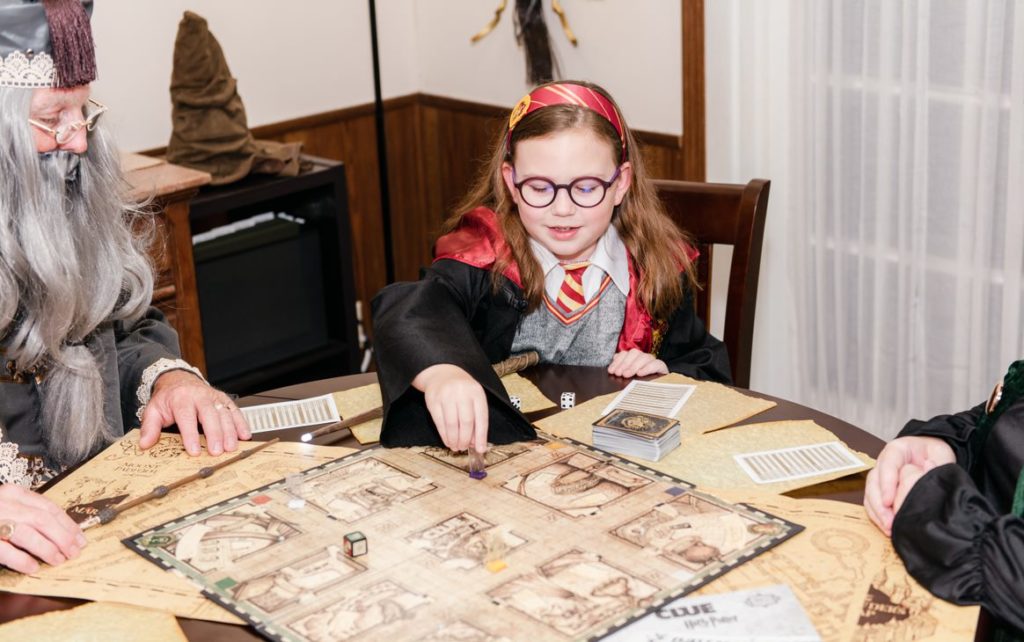 Spend time learning about owls to better understand the nocturnal creatures that carry important letters in the wizarding world of Harry Potter. It's a science lesson your homeschoolers will never forget!
Build family memories together as you learn in the kitchen crafting recipes from the Harry Potter cookbook or creating crafts and art projects based on the books. Then, learn "defense against the dark arts" as you discover important lessons in strategy and problem solving through gameplay.
Then, when it's all said and done (or to start the year off right), take a trip to Harry Potter's Wizarding World at Universal for an adventure you'll never forget! It's a field trip filled with STEM adventures, lots of magic, and memory-making for the whole family.
Waldock's Wizards And Wands For Your Homeschool
We are big Potter heads here in the Waldock house, so I was thrilled when our daughter decided she wanted to go to school with Harry Potter for the year. As I worked out how to make that happen, I began creating a magically inspired homeschool curriculum based around the Harry Potter books and movies.
Each year we read one book together and do the activities in Waldock's Wizards and Wands to immerse ourselves in the magical world of Harry Potter. Along the way, we learn about all kinds of important things! Here's what you can expect to study with our homeschool curriculum for wizards in training:
Charms, Spells, Enchantments & Incantations
These will serve as your language arts curriculum with copy work, narration, dictation, writing prompts, and writing projects. Harry Potter magnetic poetry and magical creature mad libs add a fun whimsical element to your lessons too.
Alchemy
The ancient science of Alchemy focuses on the study of nature's four basic elements (fire, earth, air, and water), as well as the transmutation of substances (such as base metals into gold). In the Wizards and Wands homeschool curriculum however, the course focuses on the transformation of rocks and minerals.
Astronomy
Astronomy is a branch of magic that studies the stars, constellations, and the phases of the moon. Study the skies with Harry Potter as you read about astronomy, play games, and complete hands-on activities to learn about the science of astronomy together.
Herbology
Herbology is the study of magical and mundane herbs, making it the wizarding equivalent to muggle botany. Students learn to care for and utilize plants, learn about their magical properties and what they are used for.
Magical Creatures
In this class, students learn about a wide range of magical creatures. They will learn their characteristics, diets, and habitats all with an exciting Harry Potter theme.
Muggle Studies
It's the history of the muggles (that's humans for those of you who haven't studied Harry Potter). You'll learn about the Medieval age, the Vikings, Ancient Rome, and the Egyptians as you explore the world at magic school.
Potions
Learn the correct way to brew potions. Students follow specific recipes and use various magical ingredients to create the potions These chemistry lessons make learning fun with magical experiments for your homeschoolers to explore and learn all about chemical reactions.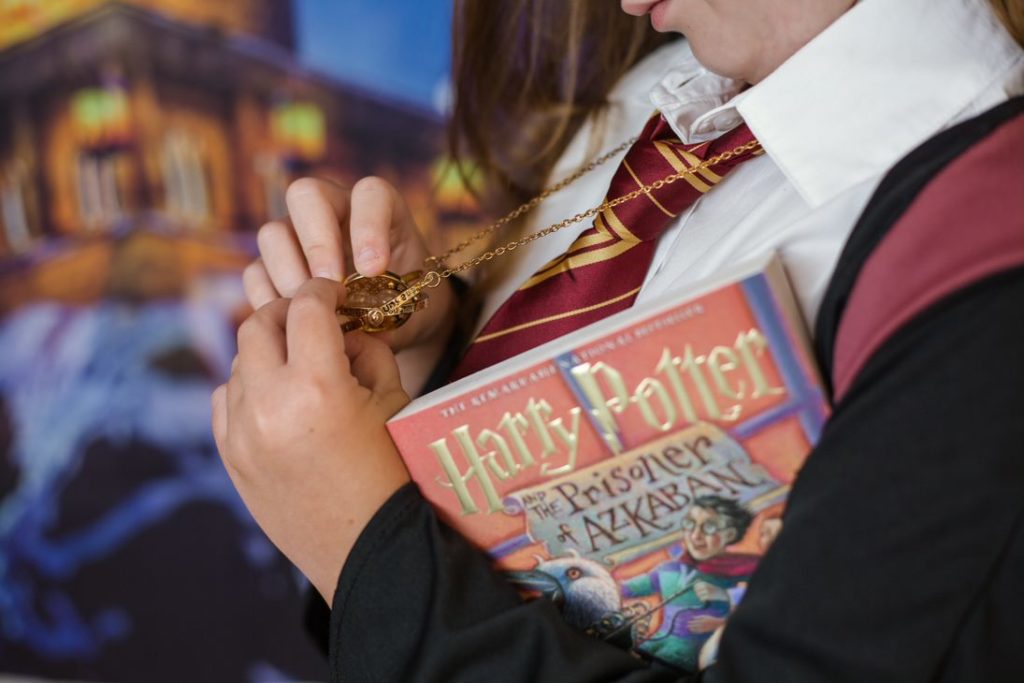 Defense Against the Dark Arts
Get ready for gameschooling fun as you learn to defend against the dark arts with good sportsmanship, strategy, and problem-solving skills. With Wizards & Wands, gameschooling is built right into your weekly lessons for all kinds of learning fun.
Muggle Arts & Music
Explore art and music appreciation with this fun elective course featuring a magical Harry Potter theme your little wizards will love. This is Harry Potter Homeschooling at its finest!
Owl Study
Learn all there is to know about the mysterious nocturnal creatures who fly about Hogwarts carrying special messages to wizards and wizards in training. It's an extra animal research project you can adapt to fit any age in your homeschool.
J.K. Rowling Author Study
Just where did all this magic and wizardry come from? The mind of J.K. Rowling of course. Learn more about the author in an author study freebie elective included with the Wizards & Wands curriculum.
More Harry Potter Learning Resources
Looking for some fun Harry Potter swag and learning resources to make your homeschool year with Waldock's Wizards & Wands extra fun? Check out some of our favorites:
Harry Potter Homeschooling And My Family (a note from Colleen):
We are using Waldock's Wizards and Wands in our homeschool this year and my kids could not be more engaged in their learning! I am so grateful that Jessica was willing to give us a behind the scenes look as the creator of this wonderful homeschool unit study.
She and her family are gifted, creative and so much fun! They are also all in on Harry Potter Homeschooling…see what I mean?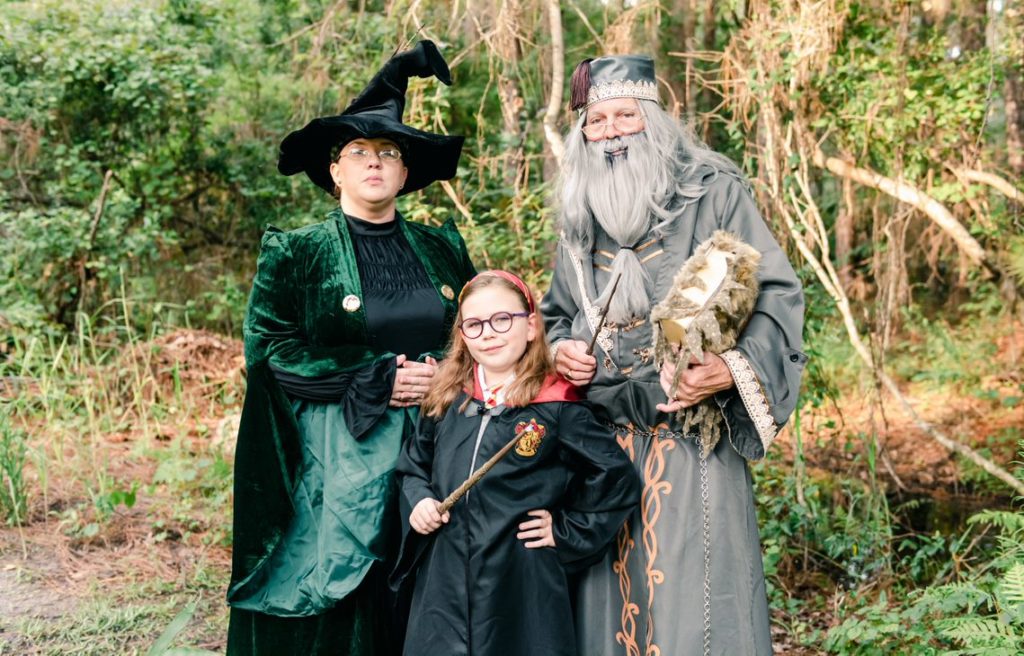 Jessica Waldock is a writer, photographer, and homeschool mom of one living in sunny Florida. She founded The Waldock Way as a way to give back to the homeschool community that she loves so much. At The Waldock Way Jessica shares tips, tricks, inspiration, and unique resources that help ignite a love of learning in children that will last a lifetime. She inspires families to engage in homeschooling as a lifestyle where relationships come first and interested led learning prevails. Jessica also has a fabulous collection of unit studies on her website and shares generously on her YouTube channel.