The Best Homeschool Human Body Study Ever
There's been a lot of discussion about medicine and how the human body works in our homeschool lately.
Honest questions generated by our world today, coupled with a little bit (ok, a lot) of anxiety around getting sick, increased my kids' interest in learning more about how our bodies work.
Knowing they learn best with hands-on, creative activities, I set out to find the best homeschool human body study available. Knowing that my time is limited and there's only so much one homeschooling, work from home, mom of four can do, I also needed options that made it easy for me to plan and prep.
Because I adore these crazy, curious learners of mine, I went all-in on our human body study, and I am so glad I did! It has become one of the most memorable, and genuinely interesting studies we have done together.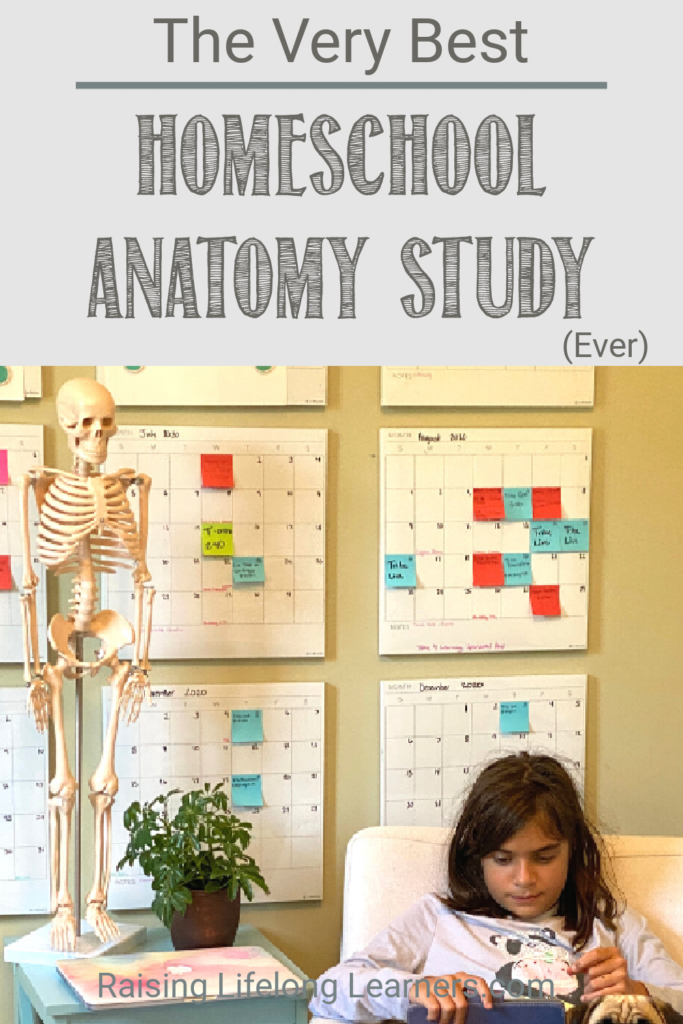 Strewing Anatomy Materials to Build Interest
Starting any new learning or unit study can be challenging sometimes, for my kiddos and for me. I never really know exactly what will pique their interest and what might derail the learning entirely.
An important point that I want to mention before I introduce you to our human body study – I rarely force learning on my kids. This is especially true when it comes to science, because it naturally lends itself to more curious, self-directed learning. I have also discovered, over and over again, that this self-directed approach actually increases comprehension and retention for my kids.
Because of this, I like to begin any unit study by simply strewing materials around our learning spaces. While it's true that the very philosophy behind strewing insists we don't approach the learning with any expectations, I've learned over time what my children naturally gravitate to and what will pique their interest enough to kick off a full-blown unit study.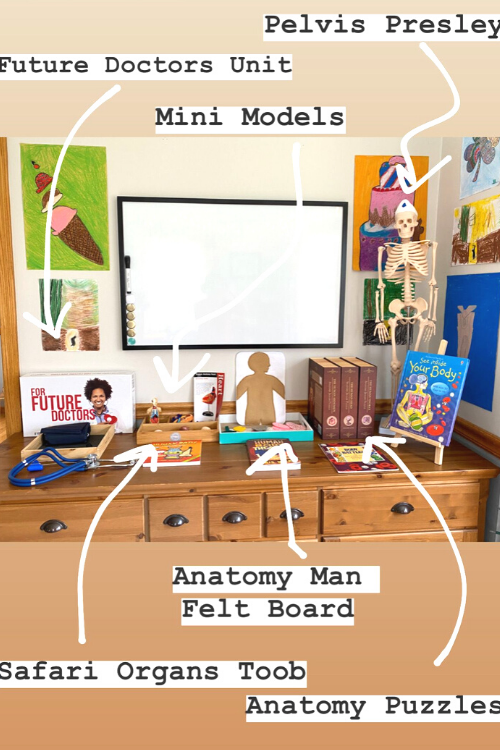 One of the very first things I strategically put out for the kids were items from Homeschool Science Tools How to Examine Patients Course & Kit. The stethoscope was of particular interest. It fostered all sorts of unplanned conversations around previous illnesses and an exploration of the tools and techniques doctors use when finding out what patients need.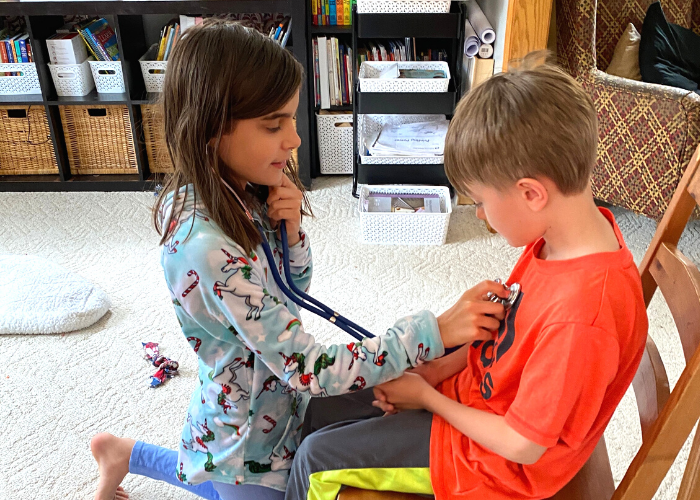 Since these discussions, my kids also watched documentaries, dived into websites, and listened to each other's heartbeats for weeks.
My budding scientists were hooked, and we were ready to get started with our full Human Body Study.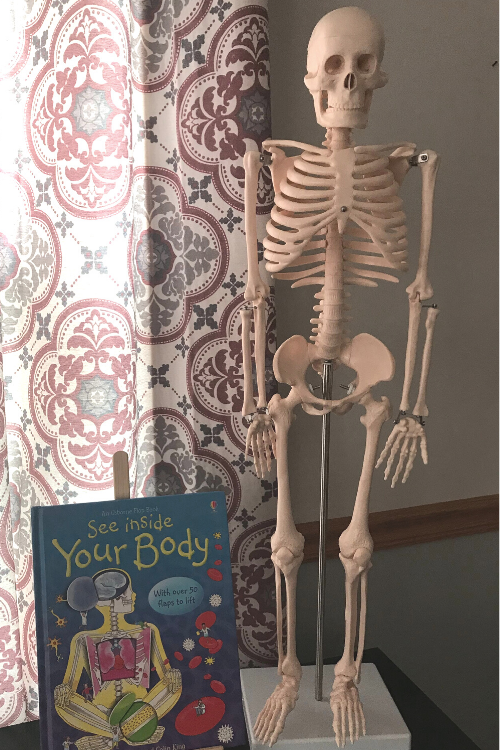 Hands-On Activities for a Human Body Unit Study
Once we got started, I realized there are about a million great ways to approach a human body unit study! The truth is, even with these hands-on activities, my kiddos are just scratching the surface.
Given all that was available to us, we began with the one that I thought would generate the most interest for my younger kids.
Our Skeleton, Pelvis Presley
If you are going to do a human body study, can I please recommend starting with a half-size human skeleton?
The sheer delight my children experienced when I first showed them that the model has a moveable jaw, a skull that opens, and appendages that move and can be removed for study, has not diminished. In fact, it's only intensified.
Yes, they named our skeleton Pelvis Presley. He also is currently sporting googly eyes and spends his days migrating around the house like a new member of the family.
Real X-Rays And Broken Bones
After studying the human skeleton in its entirety, we moved on to specific bones and bone structure. In order to make this as hands-on as possible, I added real human x-rays, including ones of broken bones to the mix.
We do have a light table, which helped, but I know of other families who have simply placed a white poster board behind the x-rays and are just as easily able to see the bones and interpret the findings.
These were a huge hit with my kiddos. It led us to a discussion about a type of x-ray that I have often as someone with asthma – a chest x-ray.
Lung Volume and Pulse Oximeter
The chest x-ray discussion became a natural transition to our next activity. We used Homeschool Science Tools Lung Volume Kit to increase our understanding of how the lungs work and what naturally occurs in our body as we take in oxygen.
My kids were startled to learn that we can increase our lung capacity over time with daily exercise and activity. Moreover, being able to actually see and measure our individual lung capacities helped explain some of what can happen to the body when viruses invade the respiratory system.
It was a perfect mix blend of current events and scientific study, in a way that was accessible and understandable for my children.
What's Next When it Comes to Our Human Body Study?
Because most of this homeschool human body study focused primarily on the skeletal and respiratory systems, I plan to continue our learning with activities around the body's various organs and the nervous system.
There is a really cool magnetic human body model that's on my list, along with countless books and other experiments.
Unit studies like this are foundational in how we approach learning in my home. Hands-on, interest-led, and self-directed learning makes all the difference for our children and it makes learning so much more interesting and fun.
Just ask Pelvis Presley!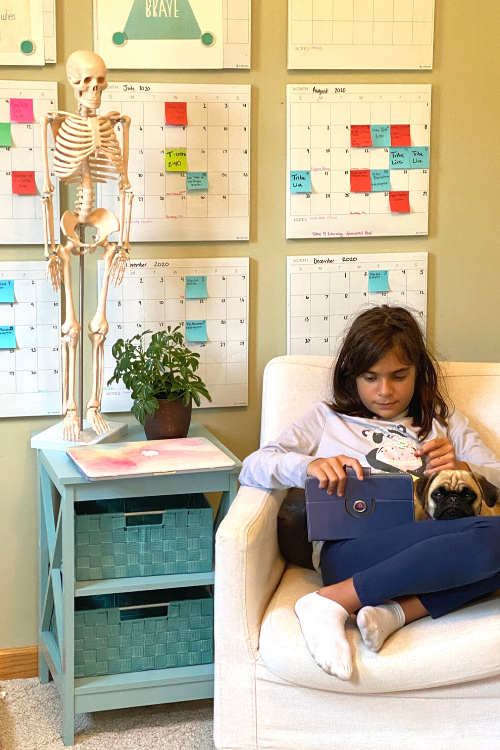 Looking for more engaging activities for your learner?


The Learner's Lab is the community created just for your quirky family. It's full of creative lessons, problem-solving activities, critical and divergent thinking games, and the social-emotional support differently-wired children and teens need most.
All from the comfort of your own home.
This community was created to support children who are gifted and twice-exceptional. We address topics, and engage in activities just like this all year long, in a way that is educational and fun for children. They learn skills to help them cope and you learn how to help them along the way.
We invite you to join us. Get all the details HERE.