Great Books to Read with Your Kids in February
February is full of days that give us the opportunity to introduce some incredible books to kids. From Groundhog's day, Valentine's day, President's day and more, the possibilities keep on piling up. To help you find some new gems for your library, I have put together a list of great books to read with your kids in February.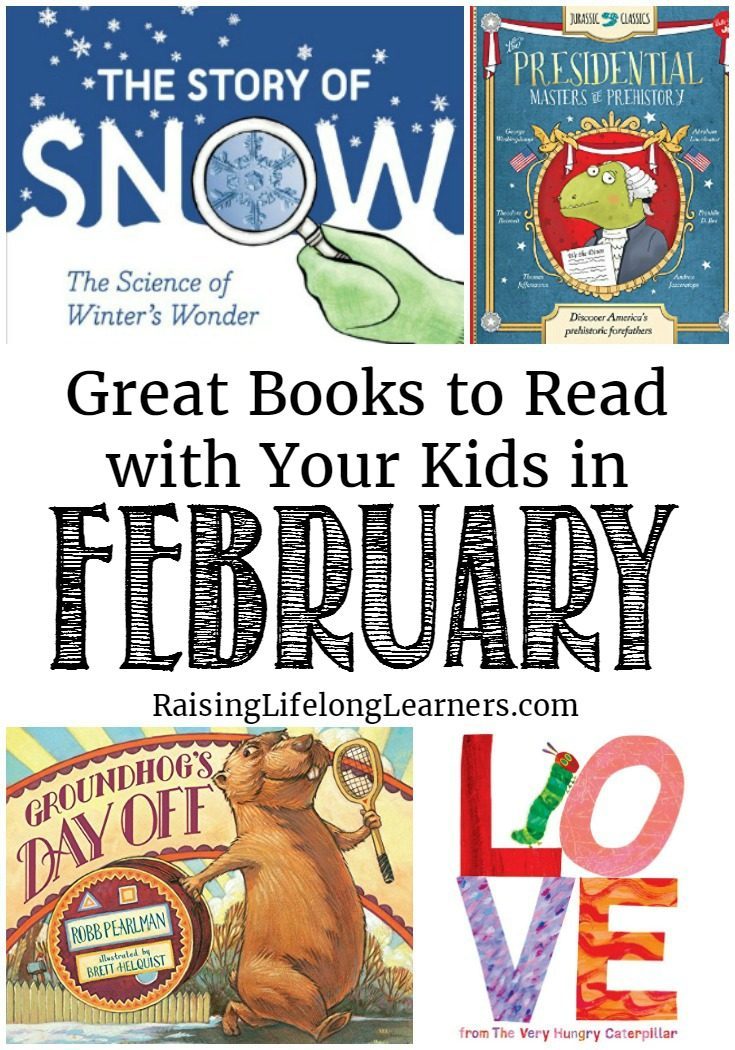 Reading aloud to and with your kids is important. Not only does it give them the ability to expand their language skills but it also gives us a chance to teach our kids about different subjects and situations. The only hard part about reading to your kids is discovering new (and old) favorites. This list will help you find the perfect choices for your family so you can get down to the important part… reading stories.
Great Books to Read in February
Groundhog's Day Off: This story starts with the groundhog going on vacation. But who will take his spot when it is time to predict the end of winter?
Groundhog's Dilemma: All of the animals in the forest believe that groundhog can control the weather. But once the weather doesn't change, groundhog has to tell them the truth.
The Story of Snow The Science of Winter's Wonderland: If your kids have ever asked you about how a snowflake forms or how does it get so cold, this book is the perfect way to get the answer to all of those questions.
Love from The Very Hungry Caterpillar: Sweet nothings are paired up with the adorable illustrations of Eric Carle. The perfect Valentine's day book for any kiddo of every age.
I Love You to the Moon and Back: An adorable way to show your kids just how much you love them.
&
Foxy in Love: Find out just what Valentine's day means thanks to Foxy and his creative way.
Happy Valentine's Day, Mouse!: From the author that brought you; If You Give a Mouse a Cookie, brings another adorable tale to the table with this Valentine's day story.
There Was an Old Lady Who Swallowed a Rose!: Get ready for some giggles with this fun book.
I Love You Stinky Face: A hilarious book that shows just how much a mom can love their children…. even if they are swamp monsters.
&
A Picture Book of Rosa Parks: This book follows Rosa Park's life from childhood to adulthood. It is a great way to take an indepth look into her life. For younger kiddos, I am Rosa Parks, is the perfect way to introduce this incredible women.
President's Day: A great story about a play that kids put on during class to learn about the Presidents of the United States. The story also ends with an election that takes place in the classroom.
Thomas Jefferson for Kids: Learn all about Thomas Jefferson and how he came to be President.
Jurassic Classics: The Presidential Masters of Prehistory: This book brings dinosaurs and presidents together to share a story during prehistoric times. I know everyone will laugh at some of these characters names including Theodore Rexevelt and Abraham Lincolnator.
Animals Hibernating: How do animals survive during the winter? Discover the answers in this book.
&
The Hibernating House: Step inside the hibernating house where things change every season and a family makes memories.
Baby Bear's Not Hibernating: Read this book to find out what happens when baby bear decides hibernating isn't for him.
Over and Under the Snow: Go on a cross country ski trip where you will discover what animals are hibernating under the snow.
Animals in Winter: This classic book has been given a makeover. A must have for every home library.
Hibernation Station: This is a good book to introduce younger kids to hibernating animals. A sweet story that will hopefully help your kiddo fall asleep at night.
The Little House Collection: Since Laura Ingalls Wilder's birthday is in February, this gives us the perfect opportunity to read the Little House books.
&
I can't wait to get started on this list! There are so many wonderful books ready to be devoured.
More Great Book Suggestions:
&