Great Books to Read with Your Kids in January
January is the perfect time to snuggle up with your kiddos and a few warm and cozy books. I've gathered a list of great books to read with your kids in January so you can find the perfect one! Tell folktales about Chinese New Year or tell a silly story of antlers growing on your head!
After the holidays are over and life begins to return to normal, the thought of snuggling up with a good book (or maybe two or three) is incredibly inviting. After all, winter is still around us, even though the decorations have been put away. It is probably still cold and the days are short. What a perfect time to indulge in a new pile of books!
A huge advantage to reading during colder months is that it helps spark imagination and ideas with kids. It also gives us an opportunity to teach kids about Martin Luther King Jr. Since President's day lands in February, you can also get a jump start on learning about the presidents of the United States. There are just so many awesome books to read with your kids in January!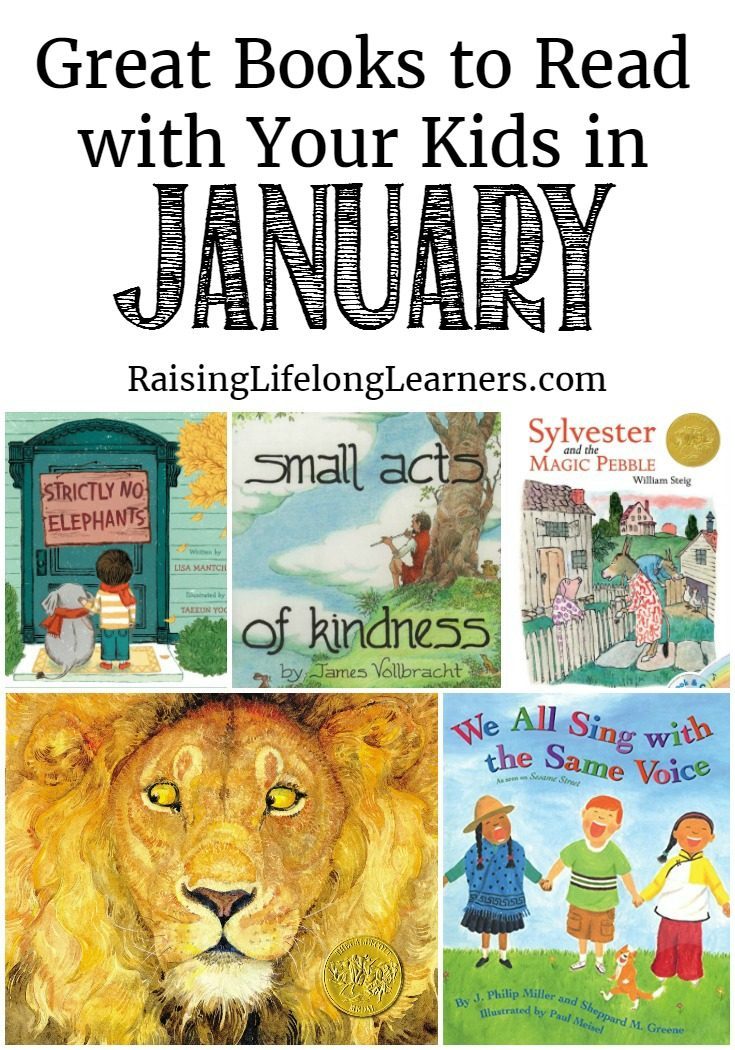 Great Books to Read with Your Kids in January
The Mitten: All the woodland creatures find a warm spot inside of a mitten during the winter…. how many will be able to fit?
The Winter Solstice: Do your kids ever wonder what causes the shortest day of the year? This book gives a few different explanations through tall tales and folklores.
Lights of Winter: Discover how people around the world celebrate winter.
SNOW: Everyone in town has doubts about the snowfall. But one boy and his dog know that the snow will fall.
A New York Year: Travel through 12 months of culture, tradition, and events that happen in New York City.
&
&
Dragon Dance: The Chinese New Year is full of traditions any kid is bound to love. Especially when it comes down to a dancing dragon.
Lemonade in Winter: Of course you can sell lemonade in the winter! You can also learn some math concepts as well since counting money and selling lemonade go hand in hand.
Imogene's Antlers: What would you do if you awoke to discover that a pair of antlers has grown on top of your head?
50 Below Zero: Sleeping in bed is the logical thing to do… but what happens when Jason finds his dad sleeping in some weird places?
The Snow Globe Family: When you live in a snowglobe all you look forward to is the next snowfall. But when will that happen?
&
Snow Bugs: An adorable pop-up book that takes you through the joys of winter including snow angels and hot chocolate.
When Winter Comes: What happens to the fish and all of the animals when winter arrives?
Mr. Popper's Penguins: This book is hilarious! The perfect read for when everyone in the family needs a laugh.
Bear Snores On: Bear takes a long snooze through winter while he hibernates. When he wakes up he is so hungry!
The Snowy Day: The little boys in this book is so excited about the first snowfall. He even tries to save a snowball for tomorrow.
&
Stone Soup: Making soup is so comforting on a winter day. This story about stone soup teaches kids that where there is a will, there is a way.
Squirrel's New Year's Resolution: Follow Squirrel as he helps others find their New Year's resolution. Will Squirrel be able to find his own?
The Runaway Wok: Tell a classic folklore that will teach kids about generosity and sharing.
There Was a Cold Lady Who Swallowed Some Snow!: The old lady strikes again… and this time, she's eating everything from snow to a pipe to warm up her toes!
Winter is Here! Build a snowman or go for an adventure outdoors. During the winter there is a lot to do. I think one of my favorite winter activities is baking cookies. The illustrations in this book are amazing.
&
Jenny's Winter Walk: Kids can learn yoga poses as they walk with Jenny and meet different animals. Great way to keep kids moving through the cold winter month.
Martin's Big Words: This is a book that shares the life of Dr. Martin Luther King Jr. A must read for every child.
If I Were President: Does your kiddo have dreams of becoming president? Find out just how kids would run the country if they had the chance.
&
Make sure you share your favorite finds with us in the comments. I know there has to be some more books to add to my great books to read with your kids in January list! There is so much to discover inside of these incredible books. Let's get to reading!
Looking for more things to engage your curious kids? Check these out:
 Family Game Night Guide
 Top 25 Board Games
 Gifts for Teen Boys
 Awesome Subscription Boxes for Smart Kids
 Gifts for Children with Anxiety
 Gifts for Gifted Toddlers
 Geeky Fifts for Geeky Kids
 Gifts for Gifted Preschoolers
&