Knowledge is Power: Helping Our Gifted Children Cope
Raising gifted kids is an amazing but sometimes crazy ride! There are definitely some challenges we have to navigate along the way. For example, gifted kids struggle with anxiety more often than their neurotypical peers.
Along the way, we've learned that knowledge is power. Kids are more likely to feel anxious in uncertain situations where they don't know what to expect and don't understand how or why something is happening. To help our gifted child cope, we've learned to arm her with knowledge.
Knowledge is power when it comes to managing anxiety or, as our daughter Emily is fond of saying, it's her "battle armor" against anxiety. Keep reading to discover how we have learned to use knowledge to help Emily manage anxious feelings through education.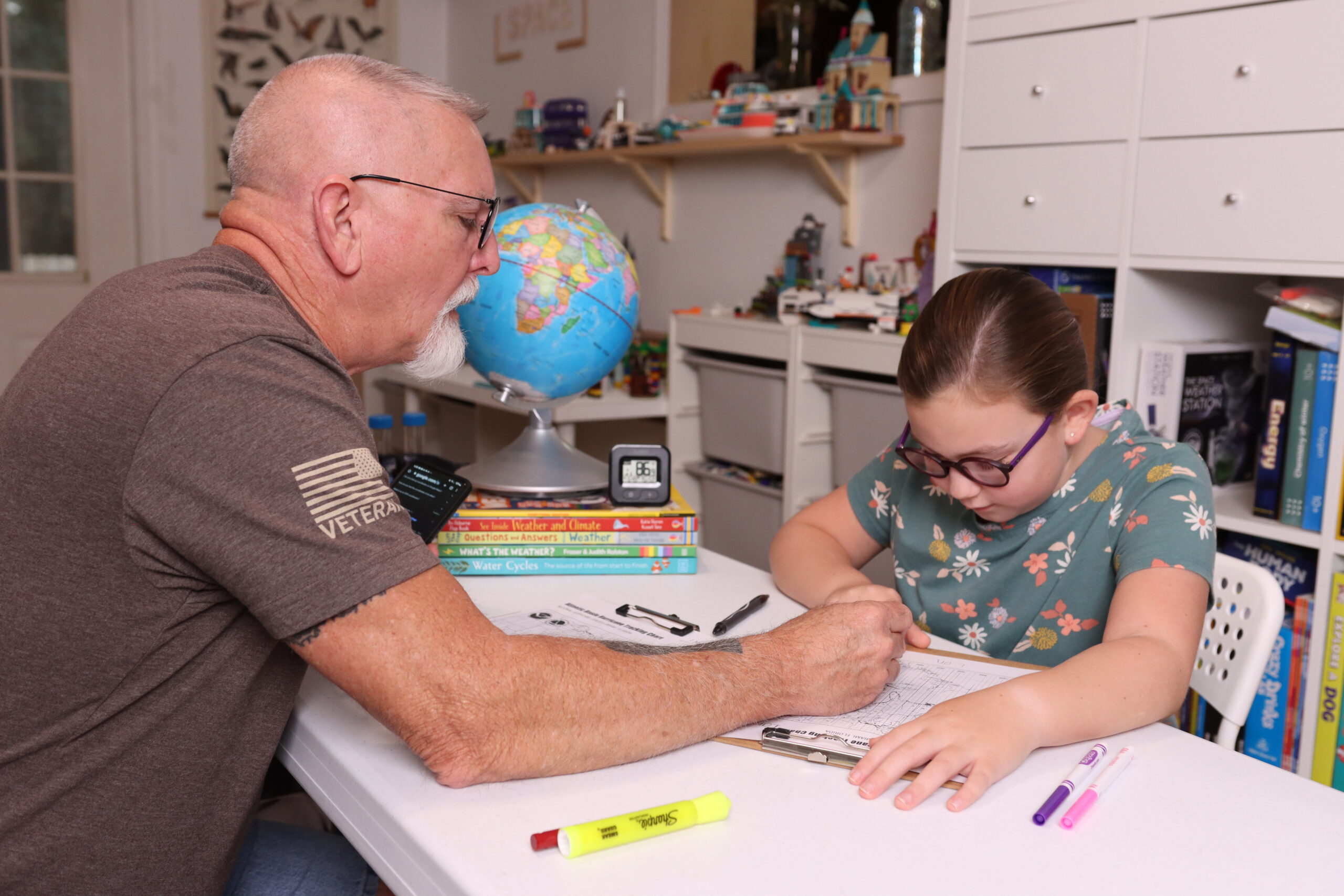 Helping An Anxious Child
Recently, a hurricane swept through our town. In the days leading up to the hurricane, there were lots of preparations to be made and conversations to be had. Understandably, Emily began to feel anxious about the upcoming weather event.
Anxiety is a common problem for gifted kids, affecting them at a rate that's up to 20% greater than their neurotypical peers according to the National Association for Gifted Children. Over the years, we've developed some strategies for helping Emily manage her fears and feel less anxious, including arming her with knowledge.
As Emily is fond of saying, knowledge is "my battle armor against anxiety." As the hurricane approached our corner of the world, I set about arming her with knowledge about hurricanes to help her feel less anxious. Fortunately, this approach works for a wide variety of situations, not just hurricanes.
Knowledge Is Power: Helping Our Gifted Children Cope
To help Emily prepare for the upcoming bad weather event, I decided to teach her more about hurricanes. Creating a YouTube playlist with informational videos was an easy first step to teaching her about hurricanes and how they form. I included videos from some of our favorite YouTube channels for homeschoolers like Homeschool Pop, Sci Show Kids, and National Geographic.
Teaching Emily about hurricanes arms her with the information she can use to dispel her fears and understand what's happening around her. The more she understands, the less likely it is that anxiety can sneak in. Videos like the ones in our hurricane playlist make it easy to quickly arm her with up-to-date information about whatever topic she's anxious about.
Books are great for helping gifted kids gather knowledge for their armor against anxiety too. In our Weather Themed Morning Basket, we added a few great books about different weather events like storms and earthquakes.
Check out some of our favorite weather books:
We also included some weather science such as how a hurricane is formed in a bowl, the traditional tornado in the bottle, and a wind power science kit because having something hands-on is a great way for gifted kids to explore weather events. Hands-on weather activities invite them to engage their senses and express how they're feeling in a constructive way.
More Resources For Helping Gifted Children
Helping gifted kids learn to navigate the world isn't without challenges and anxiety isn't the only one we encounter. Gifted kiddos sometimes struggle in social emotional situations, have difficulty staying organized, can be extra sensitive, and can be "ahead" or "behind" in academic studies. This asynchrony often means we have to approach teaching our kids differently. This is one of the reasons why Colleen created The Learners Lab.
The Learner's Lab is the community created just for your quirky family. It's full of creative lessons, problem-solving activities, critical and divergent thinking games, and the social-emotional support differently-wired children and teens (and their parents) need most.
Special thanks to Jessica Waldock from The Waldock Way for sharing this with Raising Lifelong Learners! Jessica is a writer, photographer, and homeschool mom of one living in sunny Florida. She founded The Waldock Way as a way to give back to the homeschool community that she loves so much. At The Waldock Way Jessica shares tips, tricks, inspiration, and unique resources that help ignite a love of learning in children that will last a lifetime. She inspires families to engage in homeschooling as a lifestyle where relationships come first and interest-led learning prevails. Jessica also has a fabulous collection of unit studies on her website and shares generously on her YouTube channel.