Light Saber Crafts and Treats for Your Star Wars Fan
Are you harboring young rebels? Or is your home crawling with Jedis? If you're like me — mom to a bunch of Star Wars fans, you might want to check out this fun collection of light saber themed crafts and treats to surprise them on May the Fourth (Star Wars Day) coming up soon!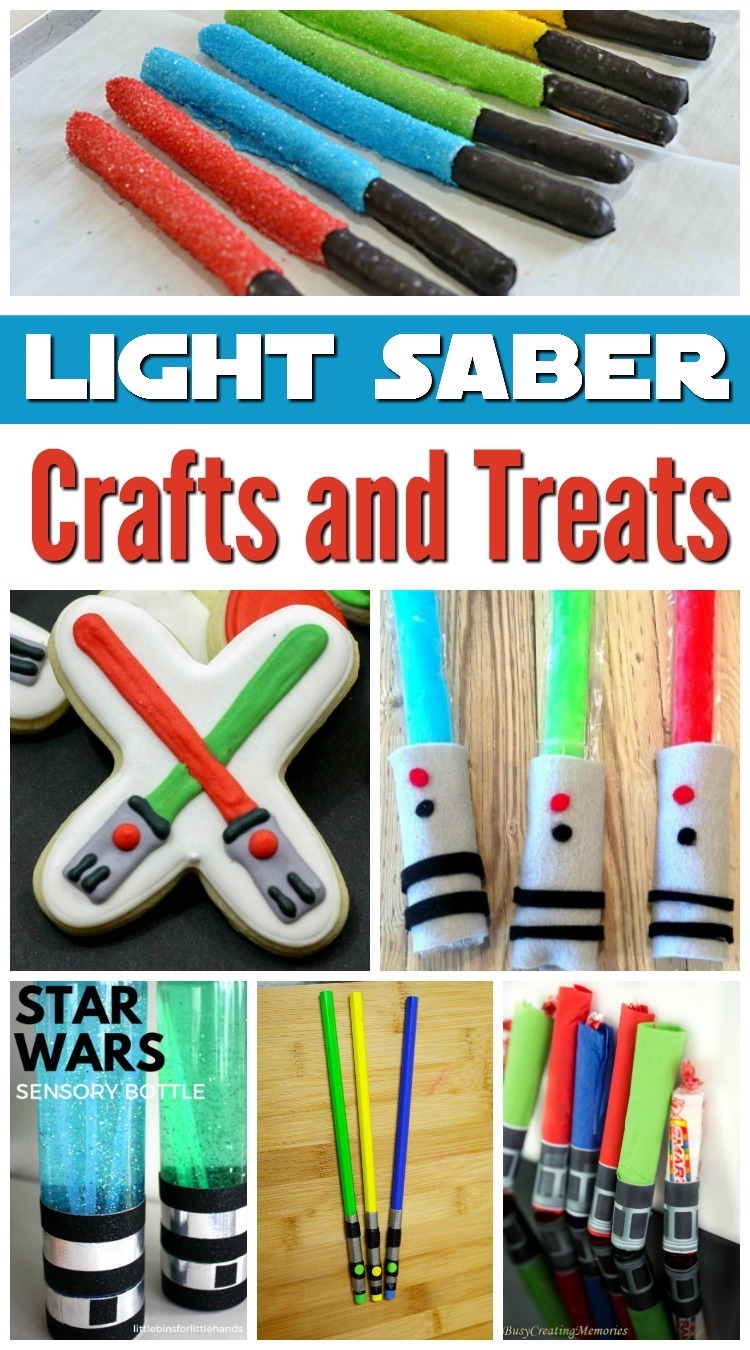 Or, well… really any day would be fun to enjoy some of these clever ideas with Star Wars fans big and small.
These Light Saber Pretzels from Lady Behind the Curtian look yummy! What a fun treat to liven up snack time.
You absolutely can't go wrong with the Star Wars Light Saber Cookies from A Mom's Take. They don't look overly complicated, but turn out to be super impressive!
My kids are HUGE ice pop fans. The Light Saber Popsicles from The Joys of Boys are an easy way to turn inexpensive ice pops into tools to battle evil — and keep the kids outside enjoying the sunshine for longer!
These Light Saber Sensory Bottles from Little Bins for Little Hands are the perfect thing for the littlest ones in your galactic army.
I love these simple Star Wars Light Saber Pencils from The Thrifty Couple. Seriously… SO cute and easy — even this craft-challenged mama can handle them.
What do you thin of these Smarties Light Saber Craft from Busy Creating Memories? Wouldn't they be the perfect favor for a Star Wars themed party?
Light Saber Bubbles from Eclectic Momsense are just perfect for summer-time fun!
Oh my goodness! I love the look of this Star Wars Light Saber Snack Mix from See Vanessa Craft. My kids would go crazy for this.
My kids still LOVE making band loom crafts, and so these Rainbow Loom Light Saber Charm from Frugal Fun for Boys and Girls will be a perfect project for the coming "Star Wars Day!"
Wait! These Perler Bead Light Saber Keychains from Crafty McFangirl might be the perfect "May the Fourth" craft… Oh! How to choose…
And, while the kids are crafting away, I think I'll make some of these Light Saber Fruit Kabobs from Rookie Moms for an afternoon snack.
It's the perfect season to make these DIY Pool Noodle Light Saber from The Jenny Evolution — I just saw a huge display of pool noodles at the Dollar Tree.
What do you think? Which of these is your favorite? Let me know in the comments… And, may the Force be with you.