Math Games to Multiply The Fun!
If any single subject causes kids and homeschool parents to suddenly start shaking in their boots (freshly muddied boots from a recent nature walk, of course), it's math. Not just math. Math.
Math is a polarizing subject, either eagerly entered with a love of formulas or survived by the befuddled whose paper sees as many tears as eraser marks. Math can be tough, intimidating, but math is also necessary. Fortunately with the freedom we enjoy as homeschoolers, we have the option to explore various ways of learning math, including games. I know, I know, what could possible make math fun?! Keep scrolling and find out!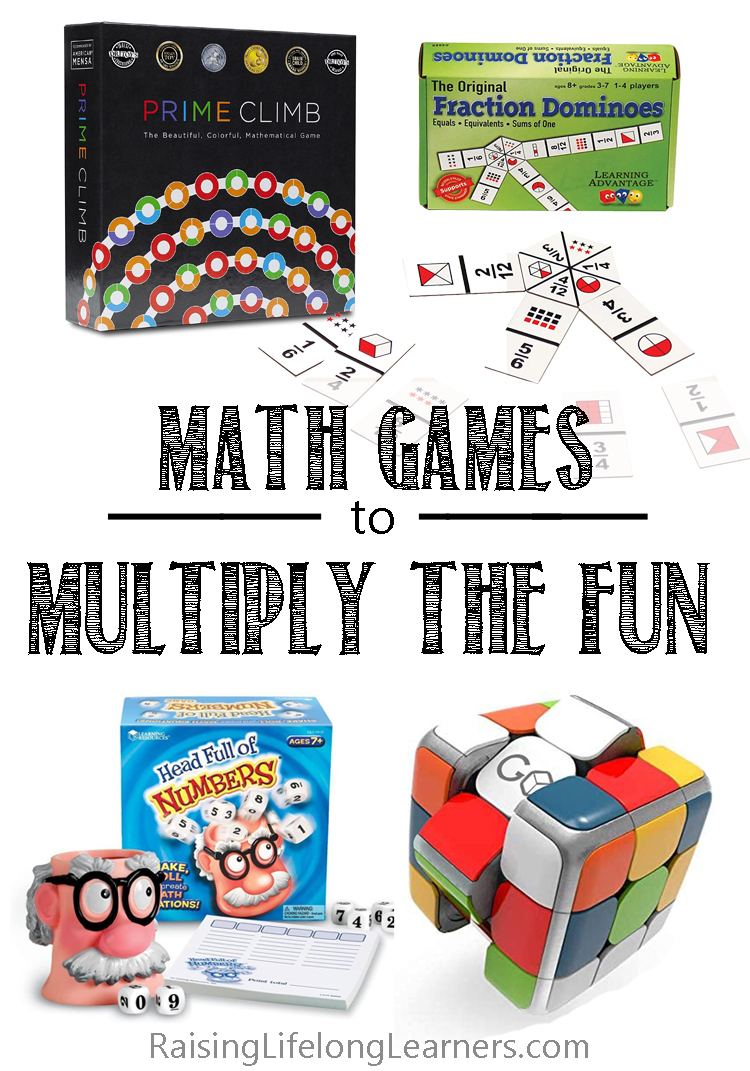 Math Games for Elementary Kiddos
Younger kiddos are always so much more excited to play games, so it won't take much influence to get them on board with these fun math games! Proof! is a game suitable for multiple ages as you race to find creative equations hidden among the cards. A simpler game with a mighty cause, Race to Infinity gives 10% of the game's profits to underprivileged schools in Africa. For the kiddos who thrive on instant gratification, play Pop for Addition & Subtraction and earn a gumball for every correct answer! A fast-paced game that has no limit of players, Head Full of Numbers keeps everyone working their brains out to create as many equations as possible. Sums in Space is a great option for co-ops, with directions for both group play or individual. Or for your budding computer kiddos, MATHCODER combines simple math and beginning coding concepts to teach both at the same time!
Math Games for Tweens and Teens
An enormously enjoyed favorite, Prime Climb offers endless ways to play combining strategy, luck, and math. While not a true board game, the challenging puzzles in Crimes and Mathdemeanors use fun and math to solve crimes. Three Sticks is a fun and challenging way to use creative thinking while mastering basic geometry. A modern twist on a classic, the Go Cube combines algorithms and connectivity to take speedcubing even farther! This wooden sudoku board is as beautiful as it is fun. And while there's not much competition, there's a lot of physics and fun to learn from this Engino Physics Laws kit.
Math Games for On the Go
For math games on the go, sitting at a restaurant, or waiting for an appointment, it doesn't get more classic than Math Dice. Multiplication Splat is compact and quiet enough to take and play anywhere, and it comes in addition and subtraction versions, as well. I'm super excited to try these Fraction Dominoes, too, to help the younger kiddos visualize fractions and portions. These math and number tiles come in their own adorable travel case and are open-ended enough to even create your own games! Absolute Zero is another classic math game that is travel-friendly, as are all of the different kinds of Math Stacks, like this geometry version.
Whether you're waiting for a table, on a road trip, or just wanting to have some fun with your kiddos and sneak some learning in, these math games are a surefire hit. Even if you're afraid of math, it's easy to learn when you're having fun! And if your kiddos really can't get enough math, check out this list of Exponentially Great Math Books (That Aren't Textbooks!).