One of the most beautiful features of our new home has been seeing the night sky away from city lights and pollution. What my kids once always knew as dark has since become brilliantly illuminated with stars, constellations, meteor showers, and sometimes even planets! And since homeschooling offers us the flexibility to learn whenever we want, it's perfectly acceptable to head outside after bedtime and spend time star gazing. An astronomy unit is always great fun, whether you're looking for a way to incorporate science with a reluctant kiddo or have a space nut who just can't get enough. Check out these awesome astronomy finds that are sure to be a… blast!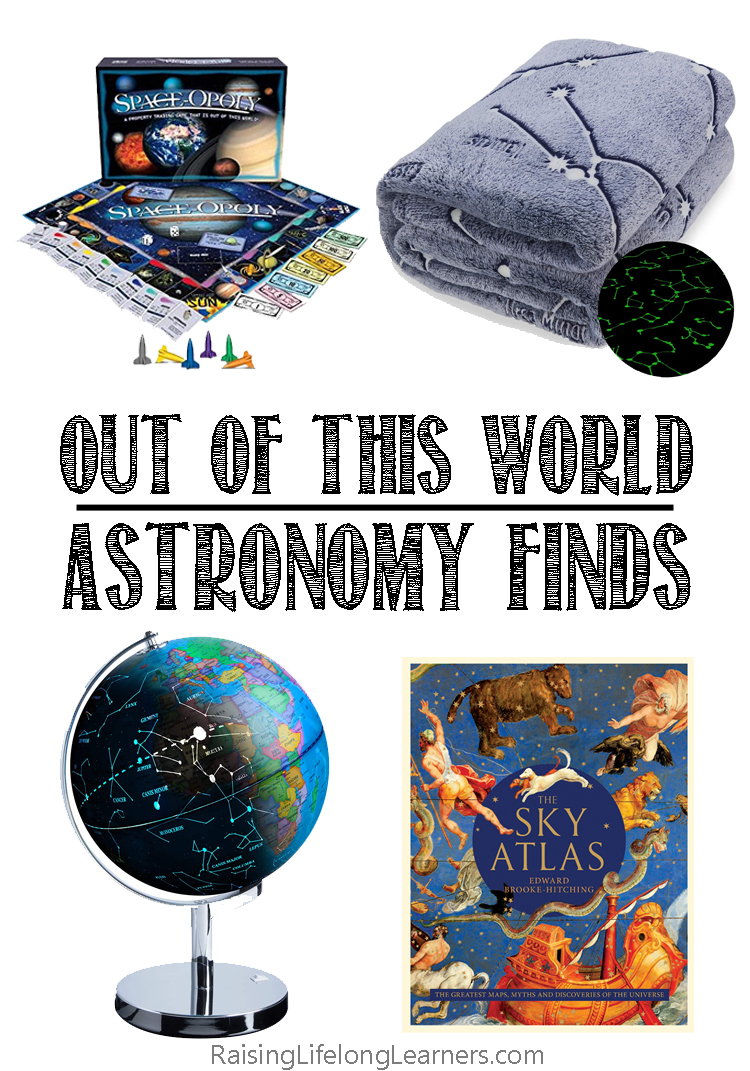 Astronomy Toys
While looking up doesn't cost a cent, it doesn't hurt to have some fun astronomy toys on hand to enhance the experience. No star-gazer would be equipped without a great telescope, after all! For kiddos who can't quite stay up late or can't get enough of the stars, fun inside items like Moon in My Room, a constellation globe, or a planetarium projector help replicate the night sky in the comfort of their bedroom! Hands-on items like a 3D solar system puzzle or a glowing solar system set are fantastic options for visual-spatial kiddos, too!
Astronomy Books
Traipsing outside after dark isn't always an option, and sometimes learning just needs to take place during the day. These astronomy books are great options for various aspects of studying the stars, like the book Turn Left at Orion and the NatGeo Backyard Guide to the Night Sky, which are almost like road maps of the sky. The Astronomy Book is a fantastic resource for introducing multiple concepts in easy ways, and The Sky Atlas offers a fascinating education on the myths and legends that accompany astronomy. The Monthly Sky Guide illustrates how the skies change throughout the seasons, and Astronomy for Kids is perfect to have on hand for younger kiddos or as an introduction to astronomy.
Astronomy Gifts
If you've got a star-gazer who simply cannot get enough, or are just looking for some unique gifts or extras to add into your astronomy unit, check out these awesome finds! A glow in the dark constellation blanket is perfect for chilly nights under the sky or a space-themed bedroom. This handheld star finder is much more compact than a telescope, making it easy to store or travel with. And who wouldn't get a kick out of these awesome constellation socks? Space-Opoly is a fun way to incorporate gameschooling and review into your astronomy studies, and these constellation drinking glasses or this heat-changing constellation mug are easy ways to admire the sky any time of day.
An astronomy unit is an exciting and outside-the-box way to explore the final frontier, get outside, or just shake up your science studies. Enjoy these out of this world resources, and have fun looking up!