Getting Away with the Girls | Visiting Frankenmuth, MI
"Oh! You just made my night," my husband's aunt exclaimed as I answered her call. "I heard your message while I waited in the ER." It had been a rough night for her, ending with a trip to the emergency room because she'd cut herself while slicing bread. "I just never thought I have a chance to get there again before I died."
And, right there, I knew that this trip was meant to be.
Ever have one of those moments? You're wondering why you're choosing to do something — a trip, a class, a project you've agreed to, whatever — and then you're hit with that reason, right between the eyes? This was that moment for me. I've never spent one-on-one time with my husband's aunt, and have never thought about traveling alone with any of my extended in-laws, but when I was given the chance to take a "girls' overnight" to Frankenmuth, Michigan, I called and asked if she'd like to go with us.
Aunt Judy has talked about her trips with her late husband to Frankenmuth for as long as I can remember. When I first came around the family, I learned that she and Uncle Harry gave everyone a personalized Christmas ornament from Bronner's, an iconic Christmas store that's amazing to visit.
And I got two of my very own from them — one at our wedding with our names and the date, and then another — just for me — at our first Christmas as a married couple. Each of my children have an "Aunt Judy and Uncle Harry ornament." The stories she's shared over the years are always told with a gleam in her eyes, and with a nostalgic kind of tone.
So my girls and I drove an extra hour early one August morning out of our way to pick Aunt Judy up and head to Michigan for an overnight at the historic Bavarian Inn Lodge with an amazing dinner waiting for us at the Bavarian Inn Restaurant. To say we were all excited would be an understatement.
Driving into Frankenmuth is like stepping into a quaint German village of old. The architecture is sweet, and the sidewalks pristine. The flowers were in bloom and spilling over onto the sidewalks so as we walked and explored the places Aunt Judy had loved visiting with her husband, we brushed up against them allowing their scents to perfume the air.
The girls loved exploring the shops and agonized over where to spend their pocket money their great-aunt had slipped them. I spent way, way, way too much money on pasteries like hand pies, cookies, stollen, and strudel, along with loads of jams, jellies, cranberry relish and pickles.
Related: Tips for Smooth Road Trips with Kids 
Going during the week (we visited on a Monday night) is so perfect because it's not overly crowded, and we could see everything that we wanted to see before it was time for our dinner reservation.
If you're in Frankenmuth, you need to make a reservation to have a family style dinner at the Bavarian Inn Restaurant. Oh my goodness! There were platters of fried chicken, mashed potatoes and gravy, dressing, coleslaw, cucumber salad, chicken pasta salad, homemade noodles, cranberry relish, and noodle soup. I could have eaten all day. It was so delicious. Heaps and heaps of food, and the staff was absolutely amazing. The fantastic meal was topped off with a yummy dish of ice cream — I loved the cranberry ice cream that was available that night.
Related: Visiting the Old World Bavarian Village of Frankenmuth
And, while there are many different choices when it comes to places to stay, none can beat the gorgeous 13+ acre-grounds and quaint rooms of the Bavarian Inn Lodge. We stayed in a river view room and had a beautiful view of the water. The girls especially loved the pool and activity area in the inn. They swam, braved the water slides, and warmed themselves in the whirlpool while Aunt Judy and I chatted poolside before bedtime.
Related: Traveling with Kids Who Struggle with Anxiety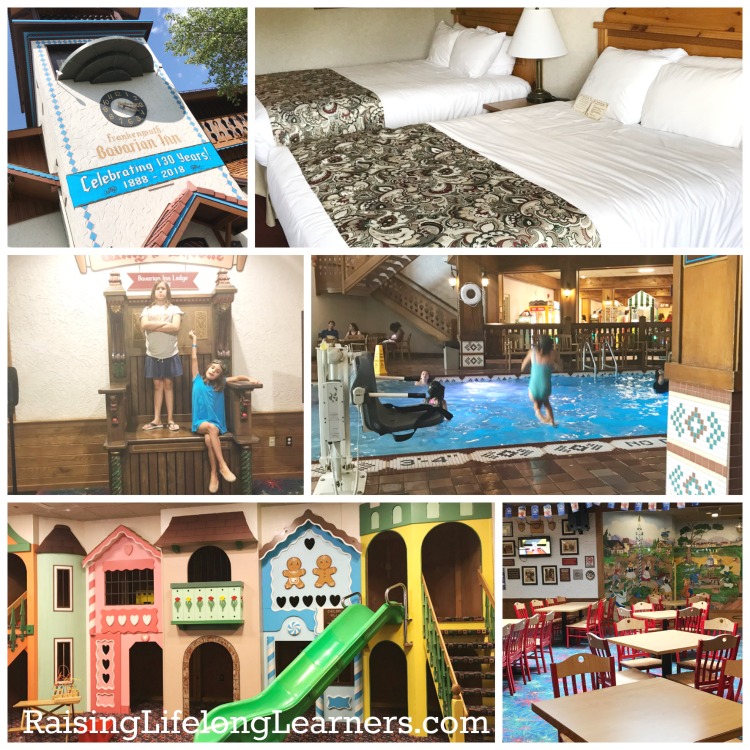 The next morning we made our way downstairs for a delicious breakfast in the little bar and grill area near the arcade. Once the girls finished their pancakes, they left us "old ladies" to go play a few rounds of mini golf right next to the restaurant.
Friends, if you're anywhere near Frankenmuth, Michigan, I highly recommend you schedule some time to visit. It's an experience you'll absolutely adore. And maybe take some time to invite your aunt, grandmother, or another family member you don't spend all that much time with. It is such a special thing to adventure with family.