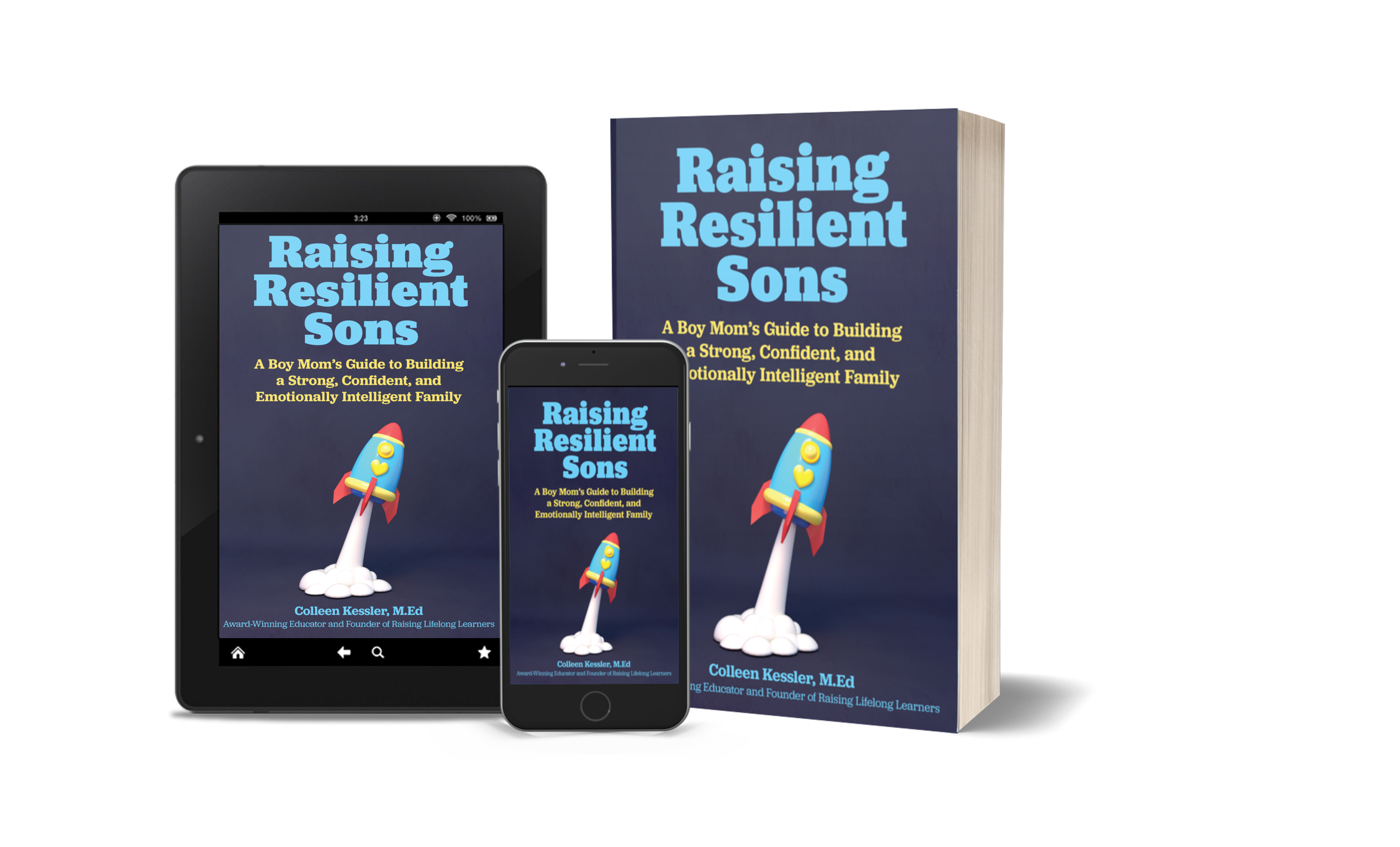 Build a strong, confident, and emotionally intelligent family
Your guide to raising boys who bounce back from adversity, stand up for what's right, and nurture their relationships — helping them grow into the strong men they're meant to be. 
"Colleen brings loads of practical ideas for nurturing our sons and building up a strong family full of rich connections. I already know this is a book I'll want to read again and again!"
"Raising Resilient Sons takes the stance that boyhood is unique and should be celebrated. Peppered with personal anecdotes and sound research, this is a book that should be on every parent's book shelf."
Colleen Kessler believes that you are the absolute best teacher there is for your gifted, twice-exceptional, or otherwise differently-wired kiddo.
The author of more than a dozen books for parents, teachers, and children, award-winning educator, educational coach and consultant, and passionate advocate for the needs of differently-wired kids, Colleen has a B.S. in elementary education, an M.Ed. in gifted studies, and is the founder of the popular podcast and website Raising Lifelong Learners, as well as The Learner's Lab, a community of support and live classes for differently-wired homeschool families.
Colleen lives in Northeast Ohio with her reading specialist husband, four delightfully differently-wired kiddos, pug puppy, and an ever-changing assortment of small animals and insects. 
Help your sons recognize & regulate their emotions.
Help your sons develop empathetic listening skills.
Nurture positive and lasting relationships with your sons.
Help your sons tackle life with a growth mindset. 
Develop coping skills as a family so you can support one another. 
Build a toolbox of strategies for growing resiliency.
Raising Resilient Sons: A Boy Mom's Guide to Building a Strong, Confident, and Emotionally Intelligent Family comes out December 8th, but I would be so grateful if you would take the time to preorder it now. That's because in today's publishing landscape, preorders are more important than ever.
When you preorder a book, it lets retailers know readers are interested, which means they order copies for release day. Your preorder lets publishers know how many copies to print, and greatly impacts buzz, marketing, and media coverage. If you're thinking about buying the book, preordering it now would be so helpful.
To thank you for taking the time to purchase the book ahead of time, I've worked with my publisher to offer everyone who preorders the book (in any format) this fantastic preorder bonus absolutely free to you.
On December 14, 2020, we'll celebrate the book release — and your preorder — with a live virtual event: Raising Resilient Families. I'll take the virtual stage to talk with you live at 7:30 p.m. Eastern all about strengthening emotional intelligence and fostering resiliency in your home, with plenty of time for your questions to be answered personally at the end… there might even be a few prizes along the way!
Oh! Don't worry if you can't make it to the event live if you have a prior engagement or the time zones don't line up. As my thank you for preordering the book, you'll get access to the replay as soon as it finishes processing. You can watch whenever you need a boost of parenting confidence!
All you need to do is head to your favorite online (or in-person) bookseller and preorder the book, then come back here to enter in your order confirmation number, and you'll get an email with instructions to sign up for the live event. I can't wait to "see" you there!