This shop has been compensated by Collective Bias, Inc. and its advertiser. All opinions are mine alone. #RoofedItMyself #CollectiveBias #ad
Have you ever had a DIY project take on a life of its own and totally run away on you? Yeah. Me too. Well, I should say that my husband has, bless his heart.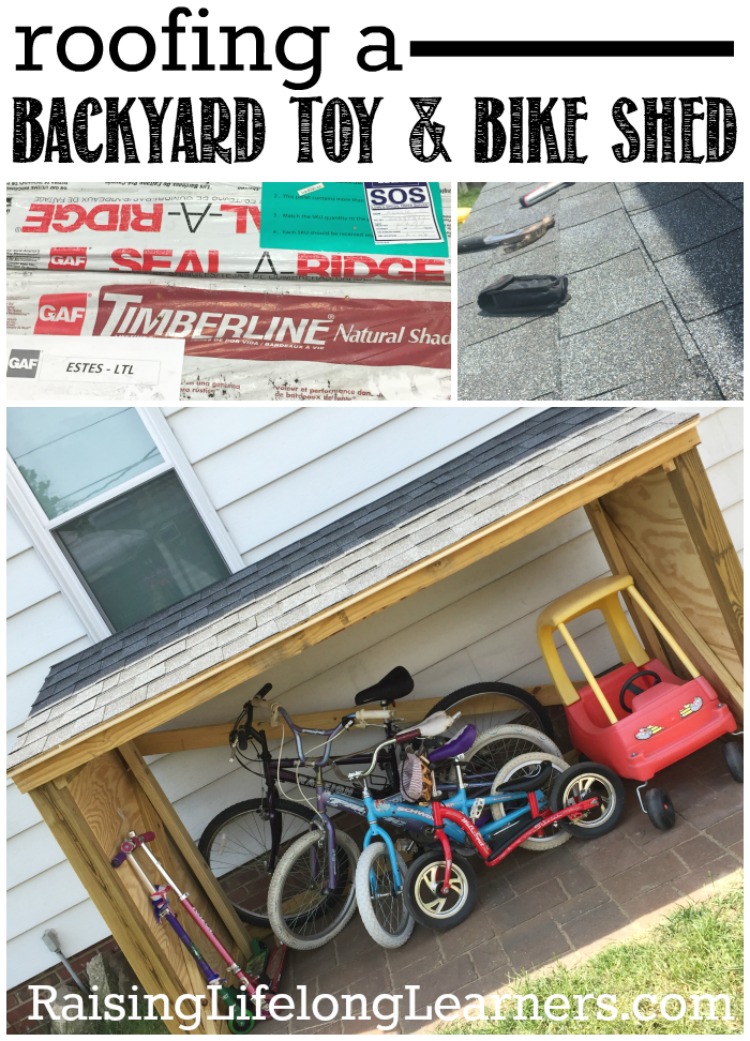 Late in the spring I asked him if he could do something about the piles and piles of toys in the yard and spilling out of the garage. I wanted something that could keep them all contained, safe, and dry. And, he agreed that it would be great to have a designated place for the kids to put them each evening before they came into the house for the night.
His only condition? That the toy and bike shed be dual purpose so that we could eventually store the trash cans and other supplies in them once the kids were done.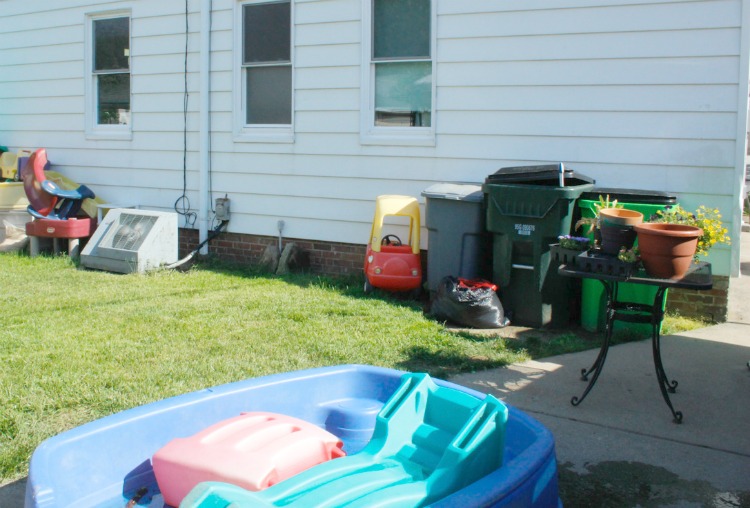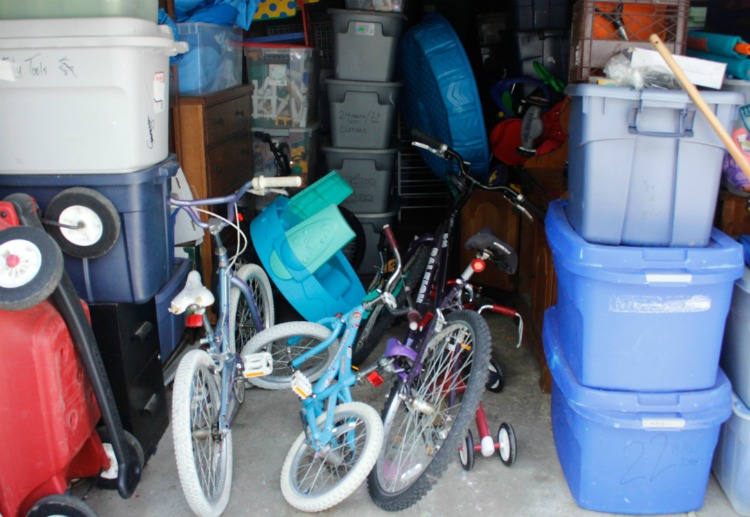 So, he set out to build an epic backyard toy and bike shed using wood we had leftover from other projects.
And then the rain came…
And the simple weekend project ended up taking two months. For real. It rained and rained. Then our yard flooded. Then the materials we ordered ship to store were delayed, arriving after we'd left for a 3 week road trip across the country and back), and then it rained again. Sigh.
It's done and my kids have a new toy and bike shed thanks to my very handy husband.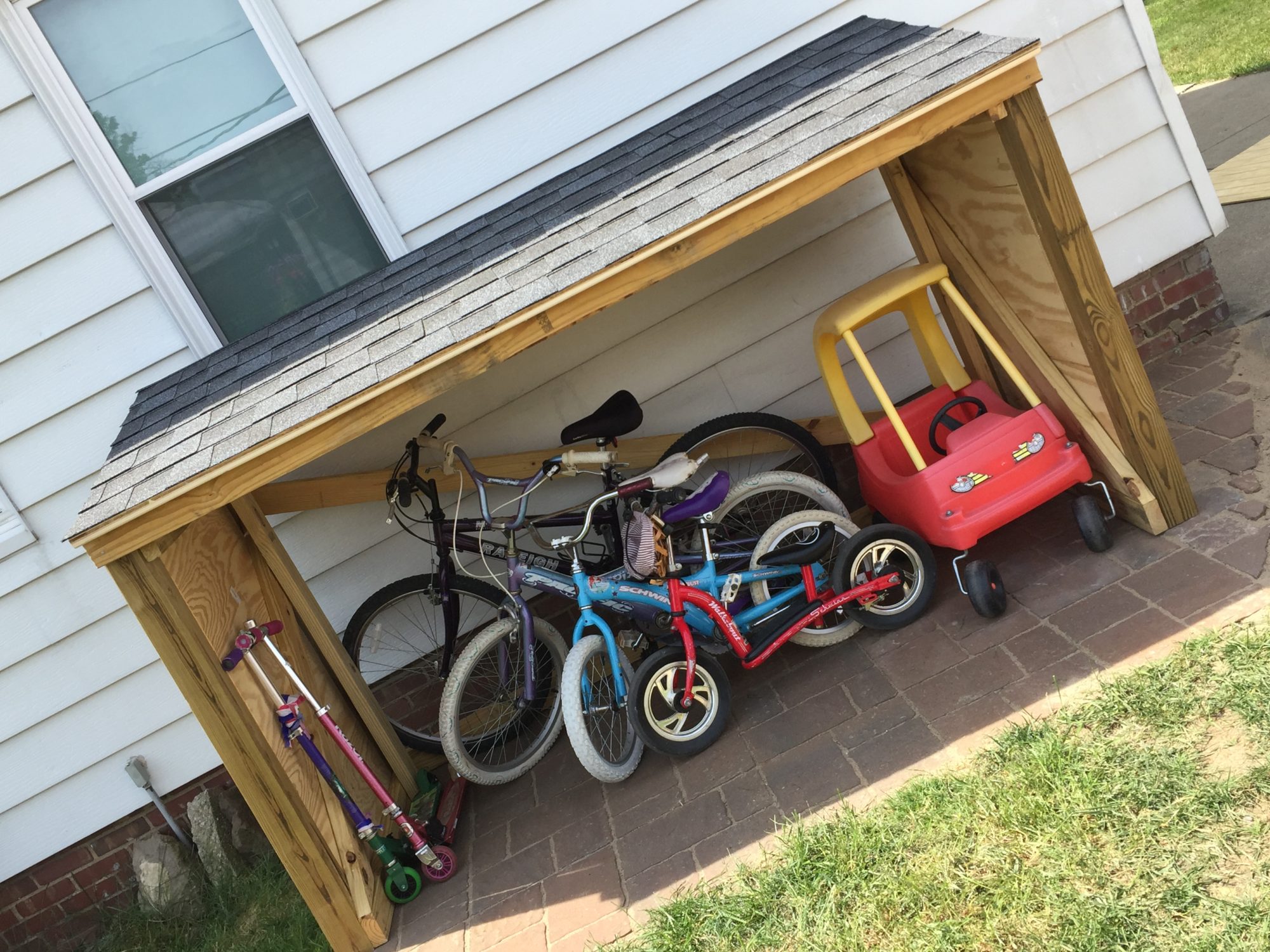 I'm not very handy, but I can pick up materials with the best of them, so I went to Lowe's to pick up the supplies for the roof. I bought: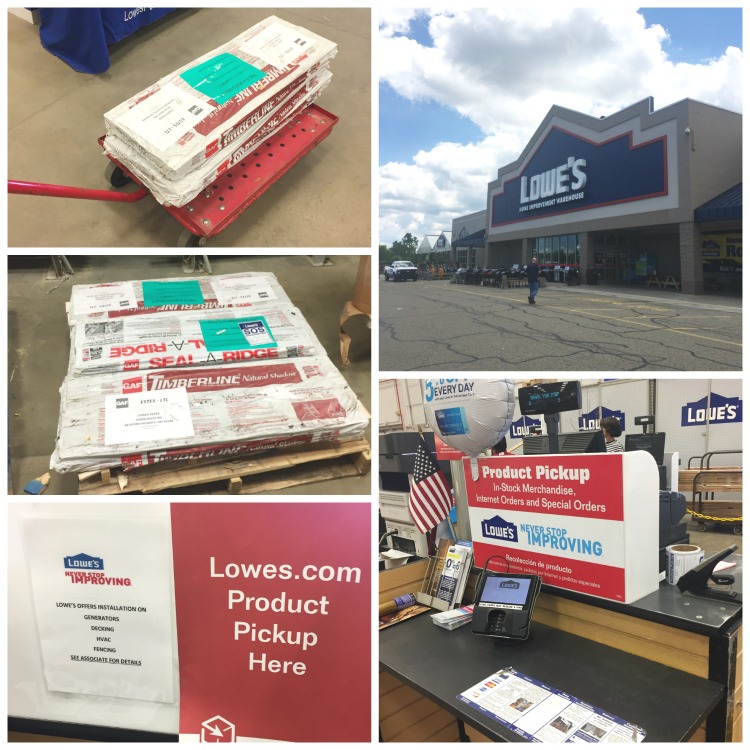 My husband set to work building the frame of the shed around the dimensions of the trash cans that will eventually move into the toy shed once it belongs to mom and dad.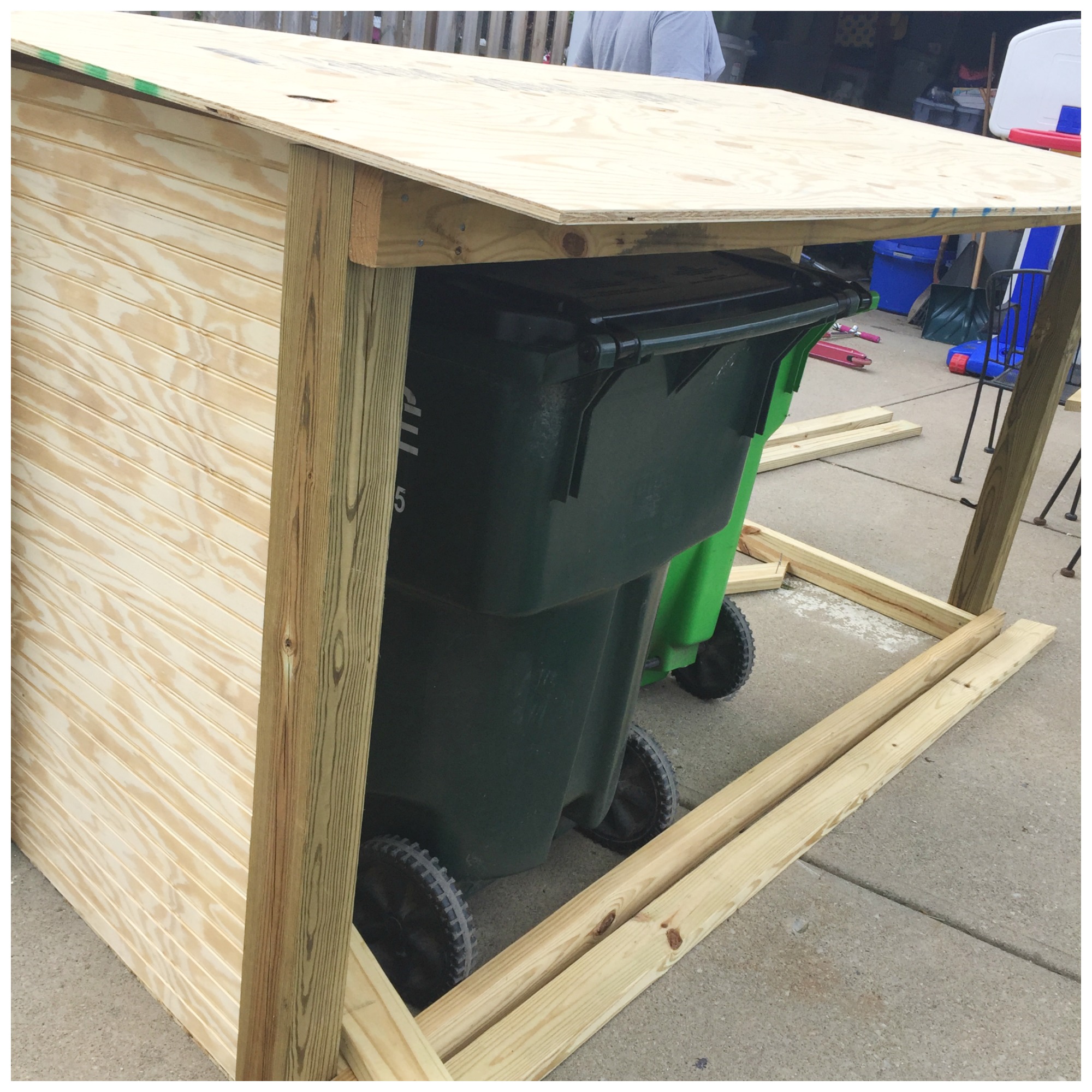 He set a small patio using brick pavers from Lowe's so that the bikes and toys would be easier to roll in and out of the finished shed. And then he built it. I won't begin to pretend that I understand how he thought it out, came up with the plans, and finished to create a beautiful and functional shed of his own design.
Because I'm totally and completely visually-spatially inept.
But I can tell you how we (yes — WE) put a super cool real and functional roof on the shed.
For most projects, you should install an aluminum or metal drip edge to keep out moisture and to finish the edges. Since this is such a small project, we opted not to do that. We did use the FeltBuster® Underlayer as it makes a great moisture barrier — much more effective than traditional tar paper. It was easy to measure and place on the flat roof with rund plastic capped roofing nails as the underlayer is labeled with circles telling you where to nail it down. (Need help? GAF has great videos so you can make sure you do this right –> https://www.youtube.com/watch?v=XWBRFaxmSSU)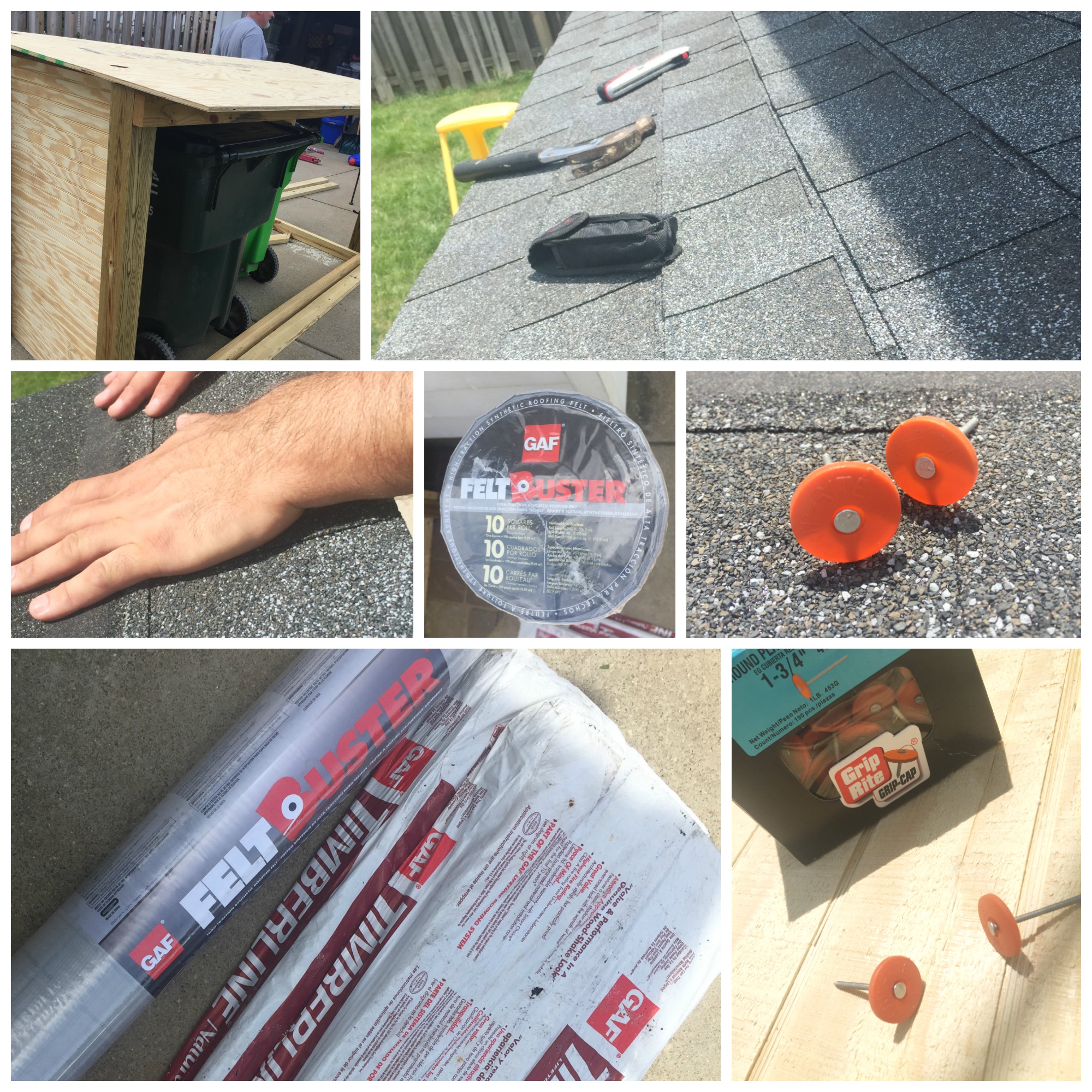 Cutting the shingles to fit the roof was easy using a utility knife. It's important to cut on the backside of the shingle — makes it so much easier and safer. On a larger project, I would have used  the Starter Strip: Pro-Start™ Starter Strip Shingles before the shingles. We just started the roof with the regular shingles though, since it's a small project.
My husband and I watched the GAF how-to video explaining how to nail the shingles and overlap them to prevent leakage and blowoff during high winds before using galvanized roofing nails to attach the shingles to the roof.
Easy-peasy.
I love the organization in the backyard and that, while the shed will be the kids' bike and toy garage for years, we have a great space for trash cans and yard tools when they're out on their own. In fact, it was so easy that maybe I can convince my husband to make a second one next to it specifically for the trash cans and tools… Maybe next summer.
I've never worked with shingles before, and while I don't think I'd re-roof the garage or the house myself, I think I could manage to shingle the kids' playhouse or a rabbit hutch with the GAF host of products at Lowe's. GAF is loved by contractors, but easy enough for DIYers. Many Lowes stores have displays that show you exactly what you need. We used the website and their ship-to-store option to get the right roofing supplies for our shed project.
Do you have a project that could use some of these fantastic roofing materials? Get inspired by these DIY roofing projects from DIYers around the country, and check out GAF on Facebook.