True story — even though I wrote a book about backyard creepy-crawlies, spiders still freak me out a little bit. They are unpredictable and move way too quickly for me.
They're perfect for Halloween, though.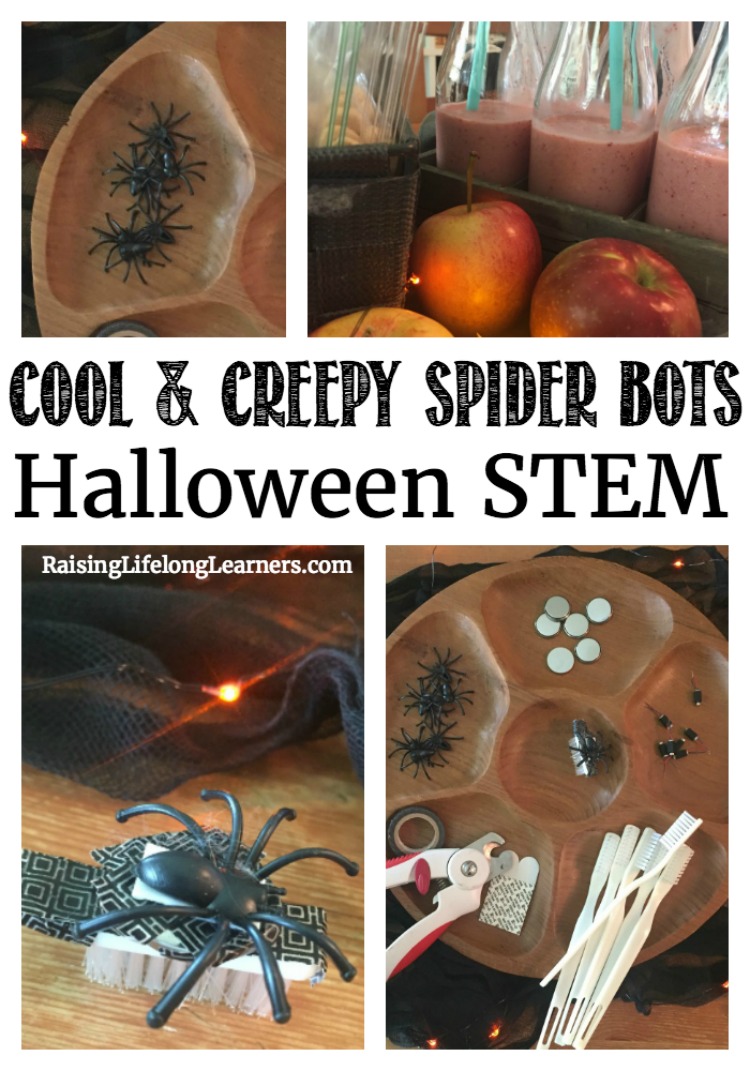 Our creepy spider bots are sponsored by At Home Stores. I went there the other day to search for a new rug to warm up our family room and was side-tracked by all the cool seasonal decorations, and just had to pick up a few fun things for Halloween. I was super excited to find the teeny spiders because we had a young friend staying with us for a week, and figured it would be fun to set up a kid-friendly breakfast bar with a STEM activity to start the day.
The kids loved it so much!
Kid-Friendly Breakfast Bar (with a side of STEM)
For the breakfast bar, I picked up these super cute glass bottles. It came with lids, straws, and an adorable wooden carrying case. I grabbed a little basket, too. My kiddos LOVE smoothies, so I knew they'd adore this fun way to drink them and their visiting friend would have a blast sipping from the bottles.
Because my four kids will plow through a whole large bag or box of cereal in a morning, I have learned to ration it and let them know what else they can have for breakfast — instead of a second, third, or fourth bowl. When we get home from the grocery store, I take some time to portion 1-cup servings into plastic baggies that we reuse a few times. I do the same for oatmeal. I let the kids know if I've made smoothies, hard boiled eggs, or want them to take a piece of fruit to go with their cereal or oatmeal.
This time, I set out cereal and oatmeal packets (store-bought) in the basket, fruit, and smoothies in the super-cute wooden case. I knew they'd help themselves to a smoothie (because who could resist) and grab some cereal or oatmeal too.
Then I set out the materials for the cool and creepy spider bots and decorated with some of the spider web and other decorations I picked up at At Home.
Cool and Creepy Spider Bots
I'd been planning to make brush bots with my kids for awhile, so I already had the motors and batteries on hand, but the spiders just made them so much cooler!
To make yours, you'll need: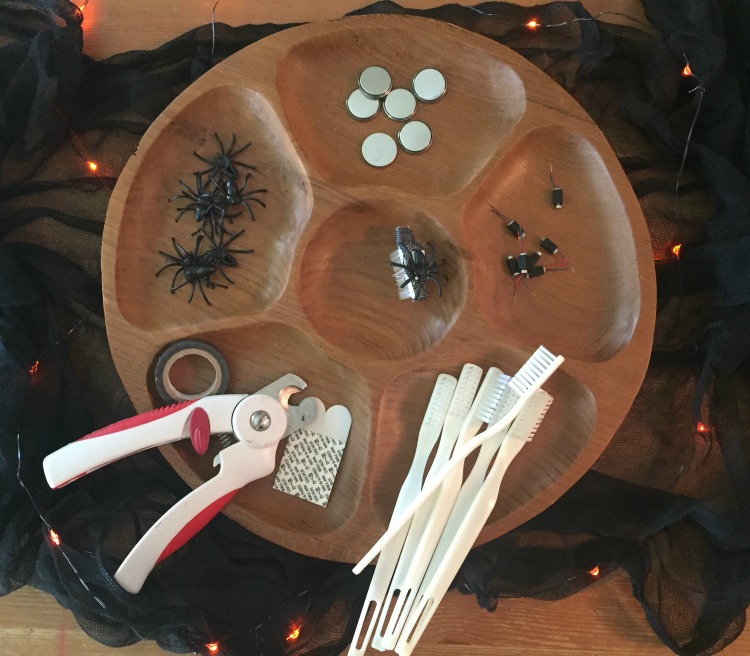 First, cut the handle off a toothbrush.
Cover up the top of the brush head with washi tape to match or stand out against your spiders.
Tape one of the motor wires to the bottom of your button battery.
Tape the battery with the wire side down to the top of your toothbrush head with the same tape you used to cover it.
Put double-sided tape on the underside of your spider and tape it to the button battery, leaving a bit of battery exposed for the other wire.
Tape the second motor wire to the top of your battery near the spider, covering the rest of it with the same tape you used on the toothbrush.
Let your spider bot loose on the table or the floor and repeat with the remaining materials.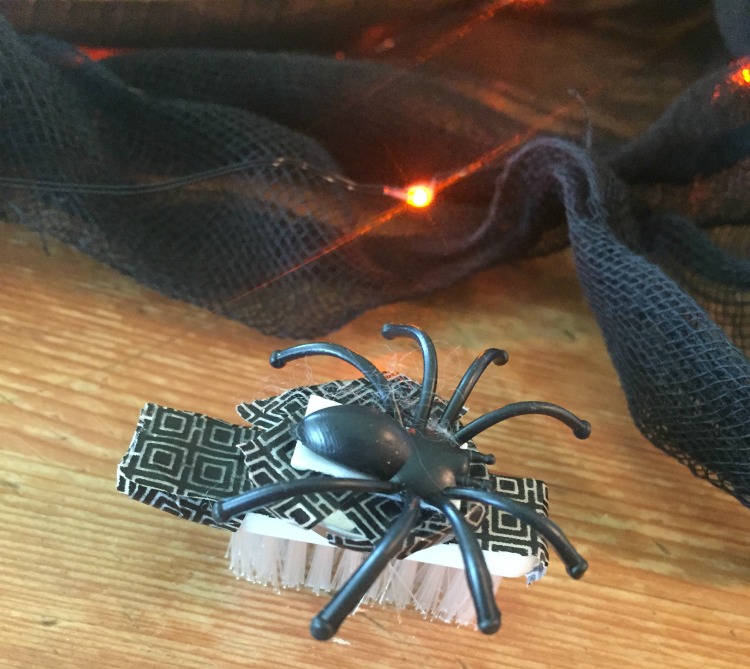 Have fun! These creepy spider bots are fun and addicting. That tiny motor works just hard enough to shake the bristles of your toothbrush, turning them into a bunch of little legs.
There is so much inspiration for things like this kid-friendly breakfast bar and creepy spider bot STEM activity at your nearest At Home store, and it won't break the bank. I got the cute bottles, spiders with a web, black gauze, spooky lights, and a skeleton with plenty leftover to buy that rug I wanted for the family room. Now our guests can be all cozy and warm on the family room rug while watching their spider bots dance a jig across the nearby hardwood after they've enjoyed a yummy breakfast.