Spooky Unit Studies For October Interest-Led Learning
I remember the year October tried to kill me: over-the-top excitement, hyped up intensity, and nonstop energy. The frenzied anticipation leading up to Halloween means that homeschooling can be challenging. Add in three birthdays within a span of 14 days and my kids tend to be rather unfocused. At my wits' end I decided to try something different a few years ago in the hopes that October and I could be friends again.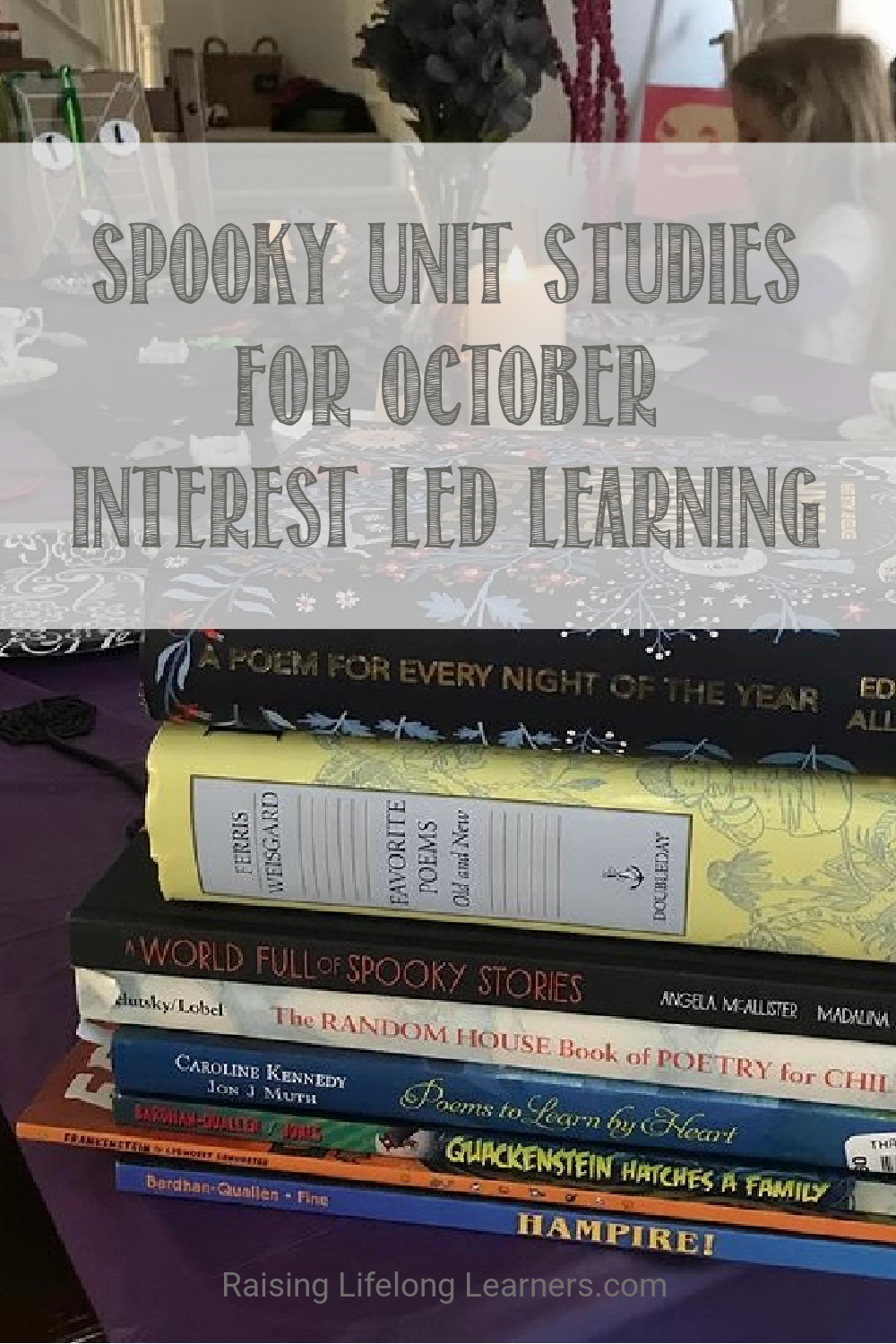 My children are highly creative and love channeling that creativity through art and making things.
Create Your Own Halloween Costume
So I gave them a challenge and a $20 budget each. Their task was to design and create their costume for Halloween. But this wasn't to be a simple cut-some-eye-holes-in- a-white sheet type of task, but more of an in-depth costume designer project. If you could buy any costume at a store, what would it be? Make that. I asked questions like, what could they make with what we had at home? What did they think they could find thrifting? And of course, I asked them to think about what were they willing to sacrifice should it become necessary. This costume challenge has not only become a beloved tradition, but a creative outlet for their imaginations, energy, and artistic talents.
Over the years, they have made every vision come to fruition to produce top notch hand made costumes. By problem solving, budgeting and prioritizing, and creating stunning costumes using thrift finds, art and craft supplies, plus a good dose of recycling they've created the minotaur from Greek mythology, Bigfoot, characters from the world of Harry Potter, Edgar Bergen and Charlie McCarthy, Dr. Strange, Sobek the Egyptian god, Einstein, and da Vinci with his painting of the Mona Lisa. Often, their choice of costume comes from what we've been learning in school or a personal passion. But the month (or months as we now often start in August) leading up to Halloween, they have a project on which to channel all that excited energy and attention during their free time. It's a chance to challenge their artistic skill and push it to the next level.
While this is now a mostly independent project, it wasn't when they were younger. But it was worth partnering with them in order to help them gain the confidence in being able to manage and execute their vision.
We often work together to problem solve or think about design in order to make it actually doable. When they were younger, I was the glue gun master, either operating it completely or supervising as they learned. I've helped to undo mistakes and brainstorm better options. I stood with them in the store as they agonized over a purchase because their budget wouldn't allow for everything. One exception to their budgets is if they need something for a costume that they would otherwise wear or have outgrown, I don't count it against them. I've bought khakis for a costume because he'd outgrown his and long underwear for renaissance tights because he'd need them anyway for the winter. But, for the most part, it's up to them to decide what's necessary and what they can do without.
They love the artistic freedom and opportunity to let their imaginations run wild and I love how it focuses their energy into something more productive and gives them experience as a project manager, learning to balance and keep track of all the things. And boy, do they work hard on these costumes.
While I'm exceedingly proud of the outcomes, I love even more watching them work hard at creating something they are exceedingly proud of.
They learned to manage the project and budget their time, sew and consider different materials, purchase something just to destroy it and put it together anew in a way fitting to the costume, think outside the box, come up with a plan B and even C, and be discerning in their purchases. This isn't just a costume for one night, but real-life lessons in an artsy and creative project is a fun experience rather than a lesson in business.
When you can present hard things in a fun and creative way, not only is there more buy-in and ownership but the lessons learned will stay with them forever.
Themed Days For Spooky Learning
Along with the long-term costume project, I decided to ditch our usual routine for the week leading up to Halloween and instead learn about all things "spooky." We weren't as productive anyway because they were too excitable, so the new plan was to create novelty each day along the lines of spookiness. Each day would have a theme: spooky animal, spooky art, mad scientist, spooky games, and spooky literature and poetry tea time. I keep my choices for each day top secret and they anticipate our "Spooky Week" of learning like no other.
Spooky Animal Study
For animal day, we've studied bats, spiders, owls, and ravens. When studying a spooky animal, we discuss why they're considered "spooky." Where did that association come from? Ravens not only brought us to read Edgar Allen Poe's "The Raven" but they also took us back through history to the Tower of London. We also take the opportunity to look at animal science draw their anatomy. When we learned about owls, we dissected owl pellets. And because we love including art in our school, I find projects for us to incorporate it. With spiders we painted watercolor spiderwebs by blowing through straws to push black watercolor all over the page. For ravens, we worked on negative space by using the scratch off black paper to draw our own ravens and for owls we created a collage of our favorite owl. By focusing on one animal, we cover history, literature, nature, art, pop culture and more.
Spooky Art Study
Spooky Art Art day can include the artist and a few pieces of their artwork or it can just focus on one painting. We delved deep into the life of Edvard Munch and focused on his painting, "The Scream." We learned about his life and birthplace, what influenced his painting it, its meaning, and how it has influenced pop culture over the years. And then, after studying it and discussing the use of color and lines, we created our own small scale version using oil pastels.
Another year, we learned about Salvador Dali and a few of his (more appropriate) paintings. We read a picture book biography, watched a video on surrealism, and did our own painting inspired by but not a copy of his painting, "Elephants." We also checked out his masterpiece, "The Persistence of Memory" and used clay to mold our own "melting" clay clocks. We've learned about Picasso and cubism. We made our own cubist collage of Frankenstein, which was so much fun!
Art day is an opportunity to focus on art appreciation, art history, and hands-on art but it often goes beyond to geography, history of the time, and culture of the artist. It's a chance to dive deep and study a painting or style closely and then create your own masterpiece in by copying the masters and learn different techniques and styles. They get to expand and challenge themselves to go beyond their comfort zone and try new and hard things.
Mad Scientist Day
Mad scientist day is a chance to be free to do all the experiments with all the curiosity and wonder and none of the lab reports. And while this is a day to play with experiments, we've also read biographies on famous scientists and explored what it means to be considered "mad." Where did the term "mad scientist" even come from? This is a great day to do some research and find out!
For experiments, we have used subscription kits that I hoarded as well as simple kitchen experiments found online. Anything with polymers is usually gross, so I highly suggest making slime and oobleck and learning about why they act the way they do. We've also dissected frogs and learned about germs through experiments. It's messy, it's a lot of work, but for one special day, it's completely memorable. You could explore monster science, movie science and add in the TV shows, "Mythbusters" or "DIYSci" to keep the fun going without the mess. To review or introduce color theory, do plenty of color based experiments and draw the color wheel. There are really so many creative ways to make mad scientist day memorable and work for you.
Spooky Gameschooling
By the 4th day, I'm exhausted! So over the years I've collected games that we consider "spooky" and we just play those all morning. Clue, Ghost-Fighting Treasure Hunters, Murder of Crows, Gnomes At Night and Cauldron Quest are great options (but certainly not the only ones) for game day. And while they are having fun playing games, they are also working on logic, critical thinking, cooperation, reading, and a myriad of other subjects.
One year I was really energetic and created an escape room for them to work through and solve. Another year, I bought an Escape Room game. No two years are the same and frankly, it's better that way! Make it as elaborate and complicated as you'd like or keep it simple and just grab your favorite
games off the shelves. Last year we started out by reading The Eleventh Hour, by Graeme Base, and then they scoured the book for clues until they solved the mystery and decoded the answer. The kids and I have a blast playing games together all morning, simply enjoying our
time together.
Spooky Tea Time
Spooky Tea Time is our Spooky Week finale and everyone's favorite day. I set a fancy tablescape with mostly Dollar Store finds that I've collected and used for years, adjusting to the theme of that year's spooky tea time when possible. We set festive paper plates atop the plastic tablecloth, use the week's projects as additional decorations, get out our fancy tea cups and kettle and focus on picture books or poetry or literature.
Over the years we have read Shakespeare, Edgar Allen Poe, picture books such as Hampire and Quackenstein by Sudipta Bardhan-Quallen, listened to the Headless Horseman of Sleepy Hollow, and read an abridged version of Frankenstein. The options are endless! Some years, we only read picture books or a a variety of poems, other years we dive deeper into one book like Frankenstein and discuss ethics and plausibility of the story. Sometimes we learn about the authors and sometimes we just enjoy the stories on their own.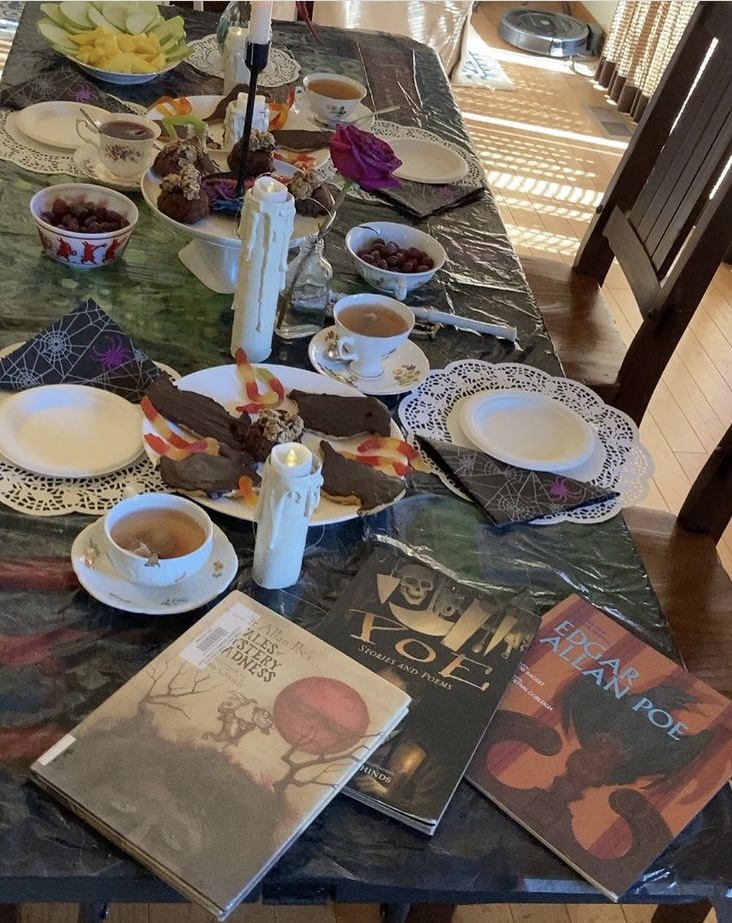 Reading "spooky" stories together is the goal. No matter what we do my children are inevitably inspired by our reading and ask to write a spooky story or poem. For the younger ones or struggling writers, this means dictating to me and illustrating their story while the others go off on their own to write. Before leaving our tea time, they all come back for seconds and read their spooky tales with relish, proud to have contributed to the festivities.
After tea time, we clear the food and decor and I dump a selection of odds and ends, craft supplies, and recycling onto the table for spooky monster craft time. Much of these items carry over from year to year and I add a new things as necessary. Googly eyes, fake teeth, styrofoam balls, straws, pipe cleaners, ribbon, glue, paper, muffin liners, cardboard—anything will do and they get creative after a week of out of the box, fun, spooky learning!
When they're finished creating, put all the salvageable items into a bin for next year and wrap everything in your disposable tablecloth and throw it away. The mess can get intimidating but for creatively inclined kids, it's just part of the deal.
The Flexibility Of Interest-Led Learning
While we have found what works for us in our themes, I don't feel tied to any of it.
Some years, we have veered from the usual themes to include pirates or skeletons, each have tons of possibilities for art and creative learning. When I find a movie that fits the theme, we snuggle up together and watch it.
Music is another fun addition to any day: Grieg's "In the Hall of the Mountain King" is a fantastic piece to add to your tea time or listen to a compilation of spooky songs while creating monster crafts. Sometimes, friends join us for a day or two, other times, we're on our own all week. We finish the week with a spooky movie night (Frankenweenie, Pirates of the Caribbean) and enjoy a spooky meal of worms and blood, troll's foot or rats, and witches' fingers with desserts such as dirt and worms. Nothing super fancy just a rebranded dinner of spaghetti and sauce, meatloaf in various shapes, and breadsticks marketed as spooky to spice up our dinner.
The best part: it's fun. Like really really fun. For them and for me.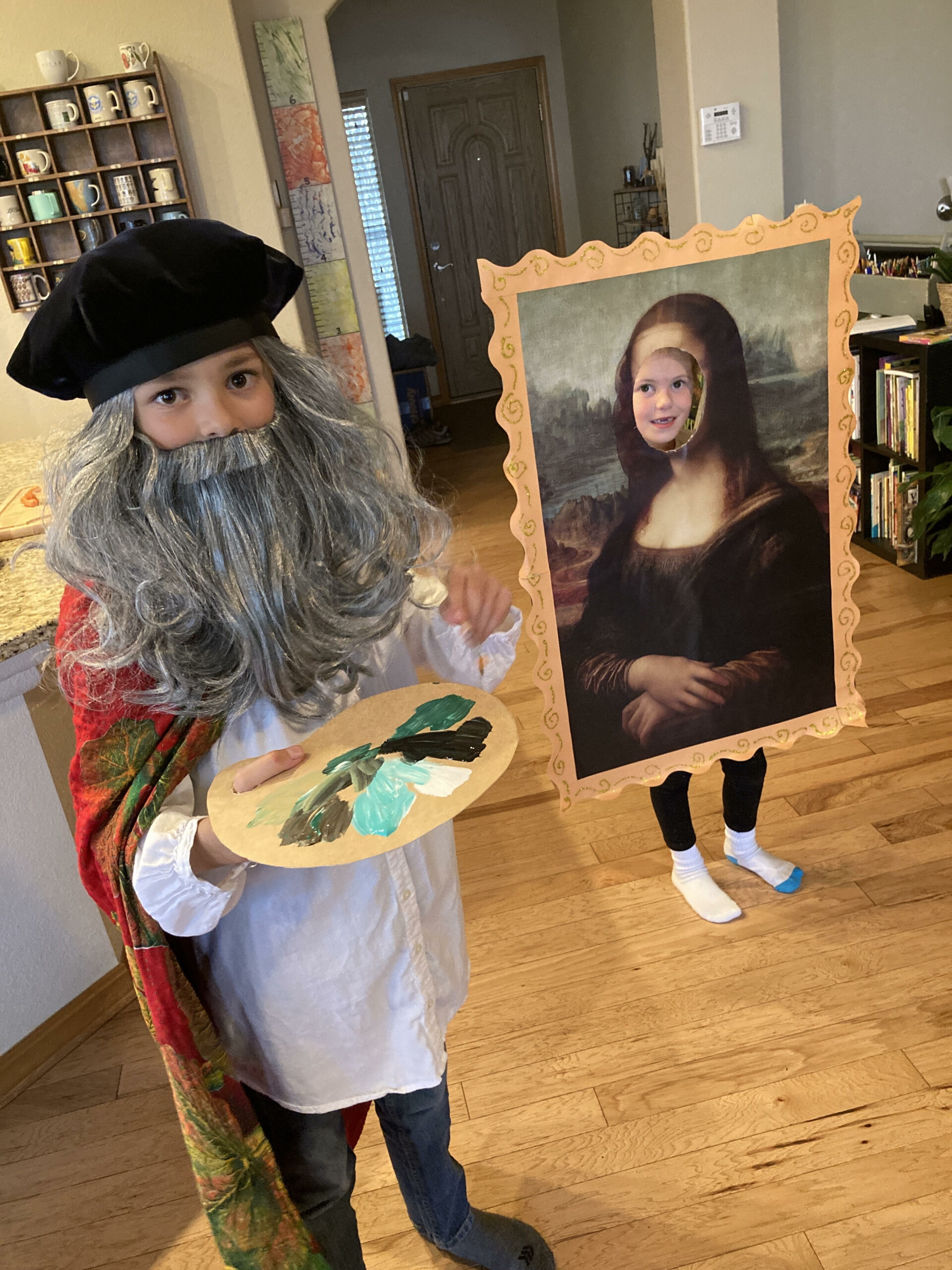 The creativity unleashed that week far outweighs the extra work. It's a break from the norm and a way to channel the excitement and enthusiasm into something more manageable. As my kids have gotten older, they still love Spooky Week but I do require them to complete their daily math and any other assignments necessary, but for the most part we let go of the "norm" for that week. I've stopped fighting against the energy and learned to lean into it. We continue with what works for us: art, creativity, hands-on making of all the things folded into every theme, every subject, every day.
By the end of the week, we've covered history, science, language arts, art, nature, mathematical thinking not to mention all of the problem-solving, budgeting, real-life skills, and creativity.
October has made amends and I can happily say that I now look forward to the manageable mayhem it brings.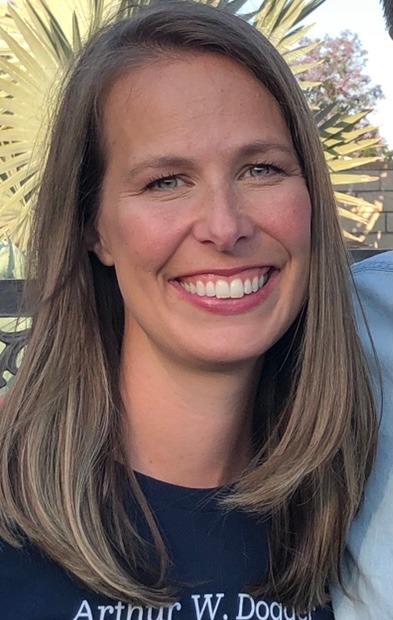 Lydia Rosado is a partial nomad (a hazard of being an Air Force wife) and homeschool mom to 4 wonderfully creative kids. She's a curator of her home library, adventurer wherever God has put her, and a homebody who loves a good nap. You can find her on Instagram @happilyevercaffeinated sharing fun unit studies which include creative art projects, good books, and ways to layer hands-on learning.
Special thanks to Lydia for sharing her brilliant ideas and creativity with us. Her children are so lucky to learn from her each day!