Incorporating Timelines in the New Year
Have you ever felt that things weren't going as smoothly as you'd hoped they would? I have.
Often.
We need to lighten up and change things up in our homeschool around here and will be doing that over the next few months. One of the first things we're changing up is our approach to History. We'll stick with Mystery of History as our spine, embrace the rabbit trails along the way, then finish off each lesson by adding to our new timeline notebooks.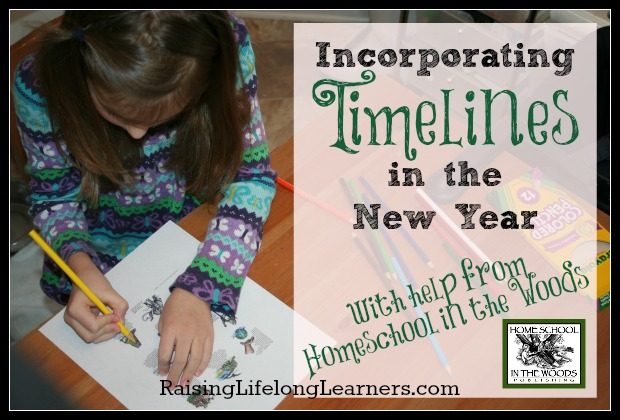 I was provided with a History Through the Ages Complete Set of Timeline Figures on CD and a Composer's Activity Pak, along with compensation for my time by Homeschool in the Woods. All thoughts, opinions, and content are my own. Please see my disclosure policy for more information.
A few months ago, I was blessed with the opportunity to receive a complete set of timeline figures on CD from Homeschool in the Woods. Unfortunately, it mostly sat there for a bit as we battled one set of illnesses then another — all throughout the holidays.
But, it's out now, and we're all so excited to use the beautiful figures in lots of different ways. Sticking with our love of lapbooking and hands-on learning is going to be super easy with the artwork on these CDs.
First up — create timeline notebooks for Trevor and Molly. I've dreamed of these for a long time. It makes my scrapbooker's heart go pitter-patter to see creative work and learning displayed in beautiful ways, and timelines do that and so much more. In fact, before we moved to teeny house we had begun a slightly unorthodox wall timeline climbing down the steps to our basement playroom where it then circled the room. The idea was that the kids could see and review their learning all the time.
It worked…and then we moved.
The timeline was torn down, and the kids have forgotten about some of those early people from their history lessons. I've been looking for an easy way to bring back their learning, and keep moving it forward, while creating a beautiful keepsake along the way. I just haven't had the time to search out images again, though. Some days, it's hard enough to get three meals on the table… and between planning our lessons, teaching two co-op classes this coming semester, and all of my regular work, writing, parenting, and house keeping. There's no way I have time right now to search out images of every historical figure we plan to learn about. Enter these CDs.
What I love about Homeschool in the Woods
First of all, I love that Homeschool in the Woods is a family company. The kids are involved in the business as well, and I adore that. We're working hard here to instill the value of hard work, too, and so it's important to me to support other small businesses — especially family ones. But there's more:
The detail that goes into each illustration is fantastic. They are truly works of art.
You can choose to print your timeline figures with or without text.
They're available to print in two sizes — for the wall or for a notebook.
It's a comprehensive set. There are over 1260 illustrations on the 2-CD set I have. Don't need that many? They're sold in smaller sets as well.
Talk about easy — insert the CD and print. I don't have to search out images for people and events, size them, then print. It saves me several steps. AND I can use them for years and for all my kids.
Take a look at this example:
Isn't it awesome? I just adore the and the fact that it's in black and white so my kiddos can personalize their timelines in any way they want.
What is the Point of Keeping a Timeline?
When I first started homeschooling, I said that to myself often. What's the point? The kids are doing projects and work related to the things they're studying, why keep a timeline too? And then I fell in love with lapbooking and notebooking as two ways to keep my interest-driven, kinesthetic kids motivated. I think timelines are awesome for so many reasons:
Kids can take ownership of their learning in a tangible — they display the figures and add interesting notes or illustrations to personalize their books.
It's one more way to cement the learning. Reading about a time period, then doing a project, and watching a movie followed by adding to a timeline. So many modalities used, making it more likely to sink in.
A timeline notebook — or "Book of Time" as we're calling ours — is a keepsake of learning. A record that your child has created. And something to  show visitors and family as it's always changing.
It's safe to say I'm a timeline convert. I just wish we'd started ours sooner.
Other Ways to Use Timeline Figures
I'm so excited to have these figures on CD. Having them on CD gives me the chance to get creative. There are so many ways to use these figures:
to decorate lapbooks
for posters and other history projects
file folder games
matching games
reports
and so many more
In Conclusion
I'm kicking myself for not having ordered this CD ages ago. I've wanted it, and can see so many ways that I'd have used it already. If you and you're kids enjoy history as much as we do, I'd highly encourage you to pick up the complete CD like I have. It's an investment that you'll use for as long as you homeschool. This is a great product, a fabulous company, and a lovely family. You can't do much better than that.
And — they're so wonderful, they're offering a chance for one of you to win a pre-printed timeline pack of your choice OR if you'd rather study composers, you can choose a download of the composer study instead. We have that on CD and are looking forward to diving into it next month — and sharing some pictures and  thoughts along the way. Either would make a great addition to your 2014 homeschool.
a Rafflecopter giveaway
Good luck!