Visiting Castaway Bay in Sandusky, Ohio
We have a lot of fun traveling in our little corner of our state. Northeast Ohio is jam-packed with great family-friendly fun, and as a homeschool family, it's easy to take advantage of exciting destination during the off-season.
Thank you to Castaway Bay for providing my family with an overnight stay to facilitate this post.
Just last week I secretly packed the van with everything the kids and I would need for an overnight, and surprised them by driving past the exit we usually take for our homeschool gymnastics class and kept on going.
The kids were beyond excited when we pulled into the parking lot of Castaway Bay – the indoor waterpark at Cedar Point in Sandusky, Ohio. Since my husband wasn't able to get away and come with us for this overnight, I'd packed minimally, so the kids were able to help me bring the suitcase, stroller, and duffel in as soon as we arrived.
I love visiting Castaway Bay with my family. Compared to some of the other indoor waterparks we've visited, it's on the mid- to smaller side, so I can easily manage four kids on my own. We checked in, and since our room wasn't ready yet, hit the waterpark.
Expert Tip: Pack swimsuits, cover ups, goggles, and life jackets in a separate duffel bag so you can leave your suitcase with the front desk while you and the kids get to enjoy the waterpark while you wait.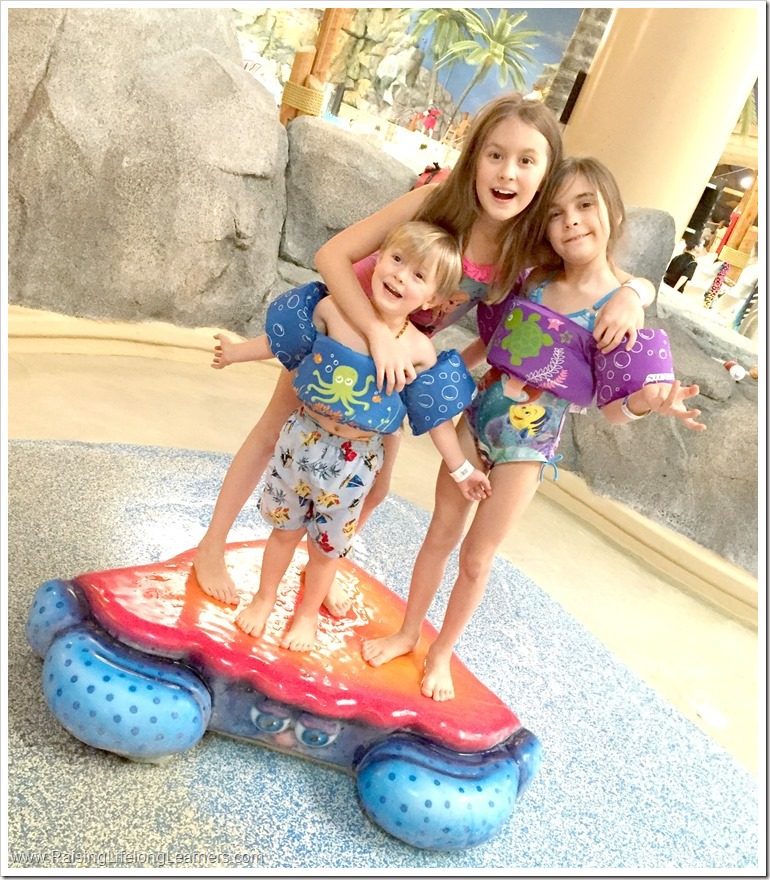 The waterpark is perfectly set up for a family like mine. There's only one entrance into the park, and it opens right up to the preschool/toddler area. I can let my two older kids run around to the slides together while I hang out in the kiddie area with the littles. Since I'm right by the doors when I'm watching the littles, I know that my bigger kids won't take off and head into the arcade to get lost among the video games.
Even better, since we visit during the off-season, my kids have most of the big slides to themselves. They can get all their thrills in, one after another.
We spent a few hours in the waterpark, then went to check out our room – the Tarpon Suite – which is perfect for larger families like mine: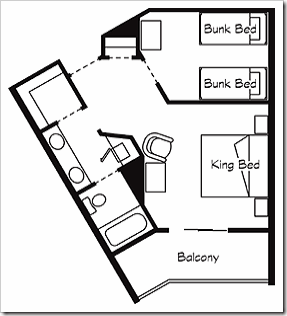 My kids loved having their own room with a TV and two sets of bunk beds. I liked having a king-size bed all to myself. We stocked the mini-fridge with yogurt and fruit for snacks and breakfast, and enjoyed the view of the frozen bay.
Besides the waterpark, there are loads of fun activities the kids can take part in. We enjoyed a dinner buffet at the Quaker Steak and Lube that was connected by a hallway. After dinner, the kids went on a scavenger hunt.
Expert Tip: Look around the front desk. Your kids can grab souvenir maps of the waterpark (that look like pirate maps) and scavenger hunt forms. If they solve all the clues on the scavenger hunt (they're all answered in and around the lobby), they can take their completed hunt to the arcade to win five free credits for game play. Even better – by completing the scavenger hunt and being awarded the credits, your kids get their arcade cards, and loading it up with credits is less expensive than buying a new card with credits.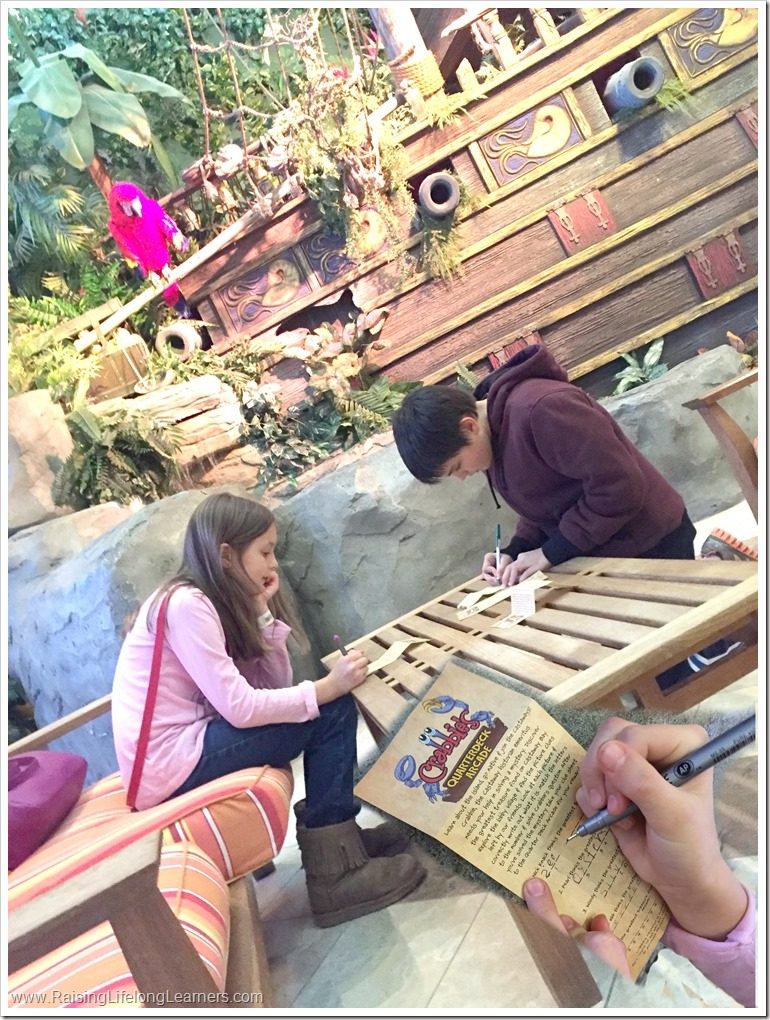 Of course, once the kids redeemed their completed scavenger hunts for game credits, they wanted to play around in the arcade. We had a lot of fun playing the games together. The night was completed with a Peanuts dance party in Club Castaway. We saw Linus and Lucy, and the kids hopped and bopped until they were ready for bed.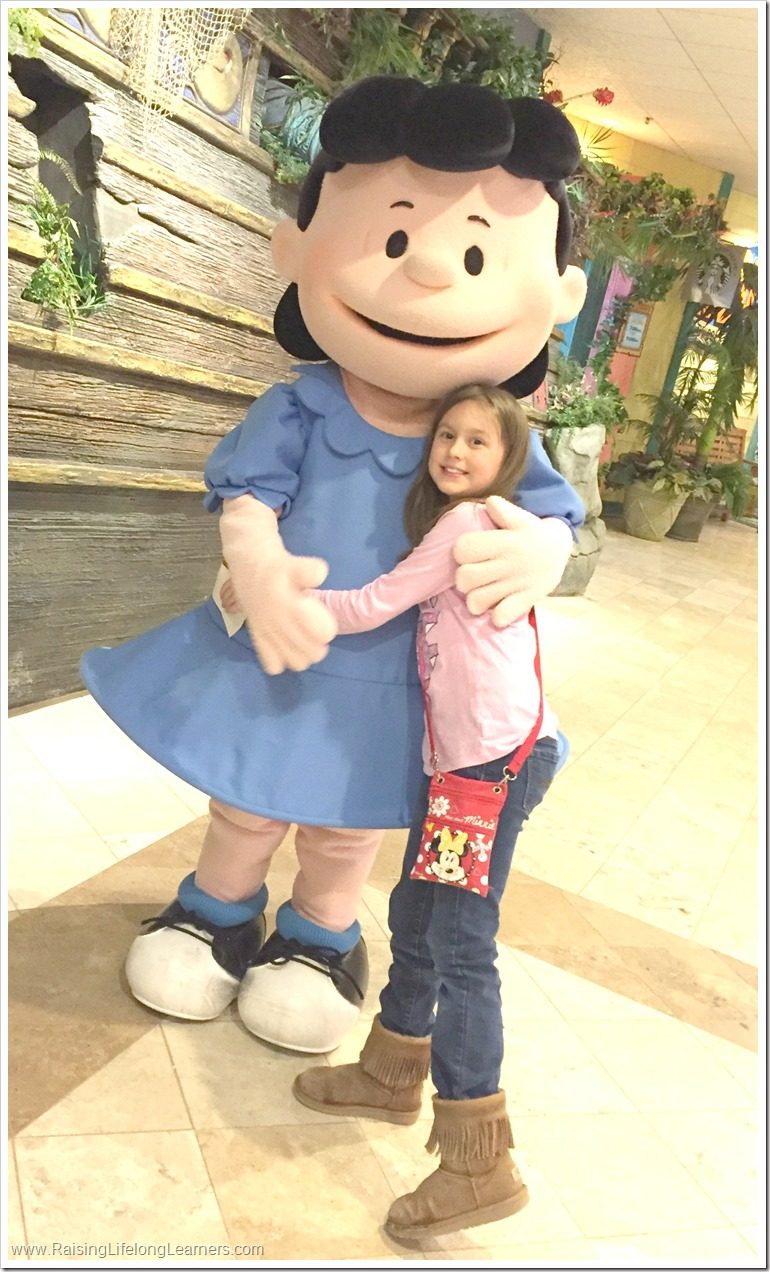 Since waterpark passes are good for both the day of your arrival and your departure, we took a little bit of time to pack up and check out the next morning before heading back to Club Castaway where the girls spent some time decorating color-your-own T-shirts. The boys weren't interested, so they explored and danced instead.
We headed back to the waterpark to finish off our stay. All four kids wore themselves out, but were already asking when we could return as soon as we pulled out of the parking lot. It's a great place to visit.
Do you live within driving distance of Sandusky, Ohio? The folks at Castaway Bay gave me four day passes to give away to one lucky reader. Enter to win below! Good luck.
a Rafflecopter giveaway