Throughout the year we are met with a list of loved ones to buy gifts for…. this takes thought, time, and creativity to find that perfect gift. The goal is to find that meaningful gift that they will love and use. This list of gift ideas can help you do just that.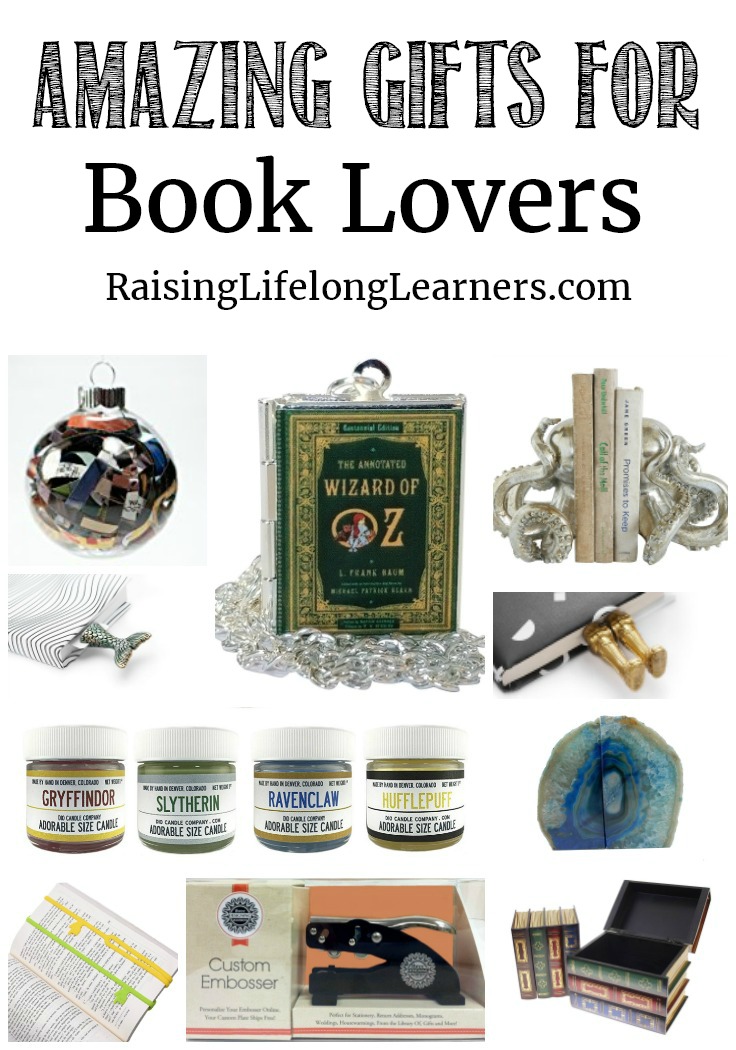 There are a variety of items for every age group. There are some ideas for kids and you'll even find some ideas for moms, teachers, and maybe even a neighbor. Just keep in mind that all of these gift ideas are for the bookworm on your list.
There are so many creative and unique bookends out there. Take a few minutes to check out the ones that caught my eye. You might find some that you love too.
Octopus Bookend: Now this bookend resembles a sculpture much more than a book prop.
Blue Agat Bookends: These beautiful polished stones make great bookends thanks to their weight.
Gear Bookends: Use machine parts to keep books straight on the shelf.
Superhero Bookends: It appears as though a superhero is preventing a stack of books from tumbling over. There are also Superhero Girl Bookends!
Keep tabs on the spot you left off with these fun bookmarks.
Zipper Bookmarks: I love these bookmarks! They make it look as though there is a zipper on books!
Finger Point Bookmarks: Keep track of the exact spot you left off with the help of a pointer finger.
Handmade Wicked Witch Bookmark: The ruby slippers will keep your place in any book.
Mermaid Tail Bookmark: For all of the mermaid admirers who also happen to enjoy a good book.
Robot Bookmark: Beep. Bop. Boop. This robot is kept tucked away inside of the book while his feet dangle just to keep your place.
Amazing Gifts for Book Lovers
The items below include a little bit of everything. From silly bookworm socks to Hogwarts candles. You will find something for book lovers of all ages to enjoy.
Kindle E-Reader: Pick out a Kindle and give the gift of millions of books. These new versions are waterproof.
Knee-High Bookworm Socks: Too cute! Sport your reading obsession through socks!
Wizard of Oz Book Locket: A miniature book keeps two photos inside of a locket.
Professional Bookworm Mug: Use this to snuggle up with your favorite drink….. don't forget
Comic Book Ornament: This ornament is filled with strips of a comic book! Very creative. You could also customize these by writing the year, or maybe even a name with a permanent marker.
Personalized Custom Embosser: Makes a perfect personalized embossed mark on the inside of a book page! You create your plates online, and they ship for free. You could also use it to make labels and other personalized stamps.
Secret Storage Book Box: Create a secret hiding spot within a few stacked books!
My Quotable Kid: Make a memoir of all the rememberable quotes that come out of kid's mouths.
Rechargeable Booklight: Don't let lack of light keep you from reading. Kids of all ages would love to have this gadget!
Library Tote Bag: You can fill this canvas tote with several books all while showing your love of reading.
To add a little extra to your book lovers gift you could include a Gift Box of Hot Chocolate Sticks along with a box of Gourmet Oreo Cookies to really make reading time a treat!
If you're shopping for a kiddo and would like to include some books with your gifts, visit our Book Lists Page where you will find a ton of kids books.
How do you spoil the bookworm on your list? Share your favorite book gifts with us.
Latest posts by Colleen Kessler
(see all)