The Best Homeschool Typing Program | Typesy Homeschool
I cringe every time I sit near my kids as they use their chromebooks or the shared desktop computer. Hunt and peck. Hunt and peck.
It's excruciating.
In fact, since typing takes them so long, in most cases my kids just use talk-to-text when they need to search for things, so they're not getting any practical, hands-on practice with their touch typing. As clever as that feature may be, it won't come in handy once they're in a working office, taking notes in a college class, or really doing any kind of work on a computer. These kids have to learn to type.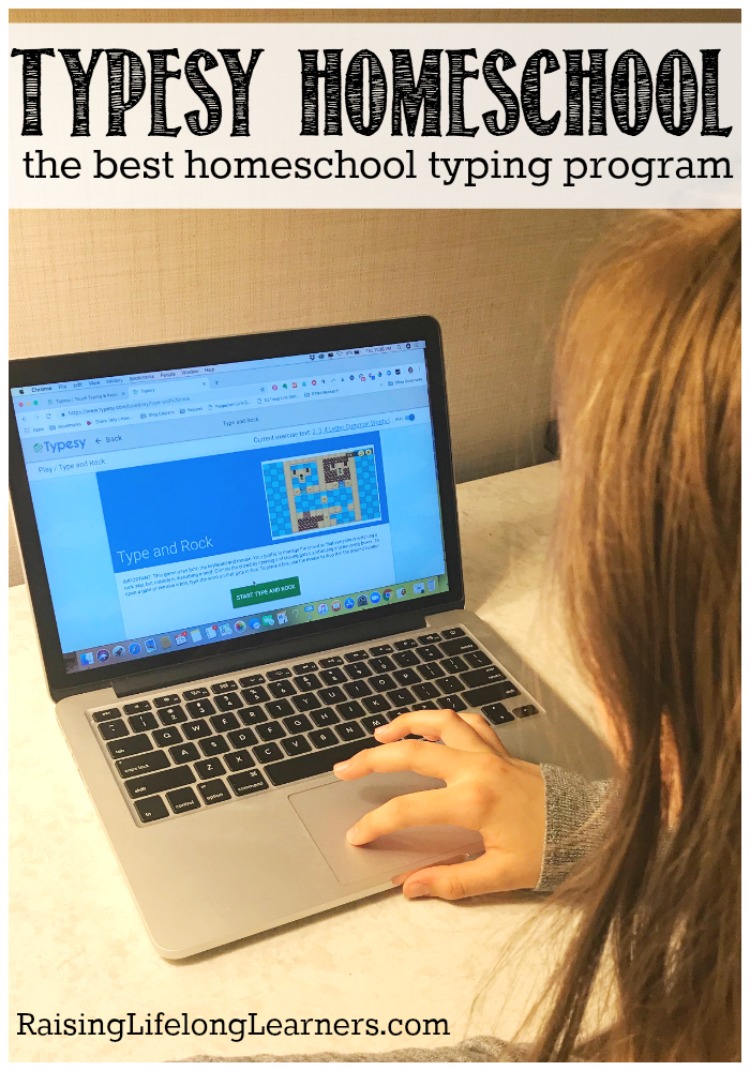 Note: I received a family subscription to Typesy Homeschool and was compensated for my time in writing this post. I only share things I find valuable and my opinions are always my own.
As hard as it is to focus on handwriting and penmanship, especially with some executive function issues that tend to pop up, our society also demands competency when it comes to computers and typing. When my kids recently participated in online testing it became clear that it was time to take their typing skills up a few notches, and I could not have been more thrilled to hear from Typesy.
Typesy is an online typing program that offers several different options, including homeschool family and co-op plans, boasting over 1500 lessons and an unheard-of 12-month satisfaction guarantee. The courses are available with unlimited downloads on all of your devices, so if a kiddo starts out on her Chromebook in the morning, she can pick up right where she left off on my MacBook later that afternoon. Not only will her work transfer, but the program adjusts and adapts to each learner's needs so that she will begin to work on weaker areas as they emerge.
My kids are a bit of a tough sell sometimes. They need buy-in, crave novelty, and are hard to motivate if the work isn't something the deem valuable or exciting. Typing hasn't always been at the top of the excitement list so it's been a struggle getting them to improve their skills. With the Typesy games, however, my two youngest kiddos actually ask if they can practice their typing! The homeschool program we're using comes with an interface I can use to keep track of all of my kids' progress as they learn to type, and those games are working. The hunt-and-peck method they've been using has begun to evolve into a method using precision and memory, and this course is turning my kids into typists. My mama heart sings to hear the tap-tap-tap of well-placed words.
Each lesson is presented by an actual person, a video with explanations and instruction, a feature my kids seem to appreciate and pay attention to. There are accompanying games and exercises, and as each child works the practice adjusts to meet their needs while reporting back to my parent interface with their progress. Having four kids take different levels of a single course could easily become confusing and disorganized, but every kiddo has their own profile set up that reports to me in one place what they've done, what remains, how they're approaching their goals, and where they need some extra work. It's user-friendly and organized with bright graphics and real-time results. This is so much more than simple memorization and muscle memory, it's a program designed to engage and educate learners. Really, there's not much more a homeschool mom could ask for!
What I most appreciate, apart from the fun games, organization, and multi-device usability, is how Typesy actually teaches homeschool typing. The programs are designed to make students proficient in touch typing, a skill that will serve them well in any area where they ever find themselves working on a computer. There are no ads that pop up in the middle of games and Typesy offers unlimited 24/7 support – the focus really is on strengthening the typing skills of students of all ages. In fact, Typesy is so focused and successful when it comes to teaching touch typing that it is actually the same curriculum offered by many top schools. This is a program that is committed to doing what it says it will do, and I've seen the results.
If you have got a kiddo who has struggled with their keyboarding, have been looking for a more engaging way to instruct your homeschooler in typing, or maybe just want a program your kids can use on their own that you know you can trust, Typesy is an absolute homerun and has multiple options to choose from to best suit your family's needs. Sign up now and enjoy years' worth of lessons for your whole family!