Surviving Different Weather Conditions | Think Outside Boxes
"I see a bulldozer!"
"I see a dolphin!"
"Well I see a jet ski being ridden by a rabbit."
Cloud-watching is almost a childhood rite of passage. Lying back on the plush grass or looking through a car window, there is just something peaceful and whimsical about letting your imagination take over as the shapes above take form and tell a story that's totally unique to each perspective. But of course, knowing my kiddos – and many other gifted kids like them – clouds hold much more interest than just what they look like. Just knowing the water cycle isn't enough, they want to dig into the atmospheric changes and the differences in pressure systems that actually form these fluffy wonders. This month's Think Outside Weather Box was absolutely perfect for exploring just what's going on up there!
No matter where you live, we all experience weather. Our closets, plans, even our moods all depend on the weather. Sunny days have us outside and polar vortexes make pretty much everyone grumpy, April showers bring May flowers, wind and rain and fog and snow all have their various effects on our lives. No matter what the weather man says, it's guaranteed that what happens outside will somehow affect our days inside, especially with four kiddos who don't always appreciate being cooped up all day!
Being at the mercy of the weather means that being prepared for weather is a necessity. This month's Think Outside box came with tips and education on more than just rain or snow, and was absolutely packed with information on the actual science behind weather events and how they're predicted. Each page of the information booklet is a fantastic jumping-off point for any number of weather-related rabbit trails. This box is perfect for anyone planning a weather science unit or to encourage strewing in your homeschool and has several activity ideas for hands-on learning and understanding.
We've loved every Think Outside box we've received so far, but being science lovers this box was particularly fun for us! The DIY Barometer activity was especially intriguing, helping us understand not just how weather changes are measured and predicted, but seeing for ourselves how quantifiable the changes really are.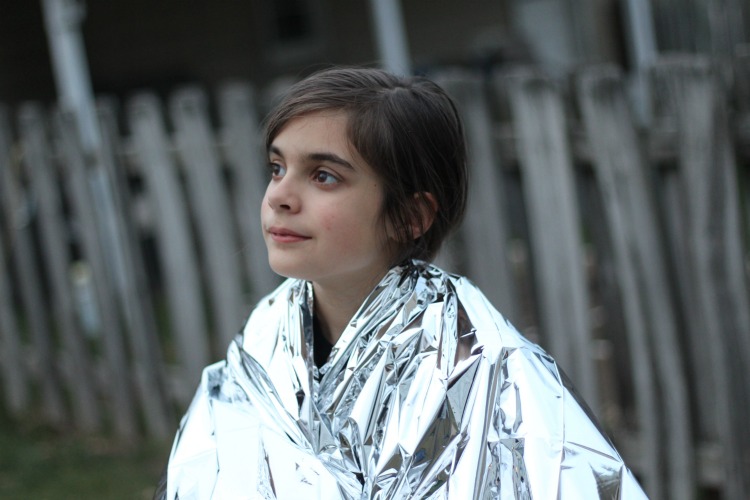 This particular box was also a favorite because the activities and included items are able to include a wide variety of ages. 6-year-old Isaac got really into identifying the different types of clouds and recording them in his journal, while 16-year-old Trevor took over making his own weather vane. Everyone enjoyed making our own lightning!
We really enjoyed this month's Think Outside Weather Box and learned so much about weather, weather prediction, and how to best prepare for inclement weather. The emergency blanket and neck warmer were especially great additions to our backpacks and first aid kits, and we can't wait to put the old-fashioned weather prediction methods to the test as spring and summer bring more rain.
If you've got a weather unit coming up or are wanting to get your own subscription to Think Outside Boxes, make sure to use the code RLL10 at checkout to save $10!
More About Think Outside Boxes:
More for Kids Who Love Weather: