Fire Up Your Kids to Take Risks | Think Outside Boxes
Some of the best gifts we can give our kids are the freedom to take risks, try hard things, get hurt, and attempt seemingly impossible tasks.
Really.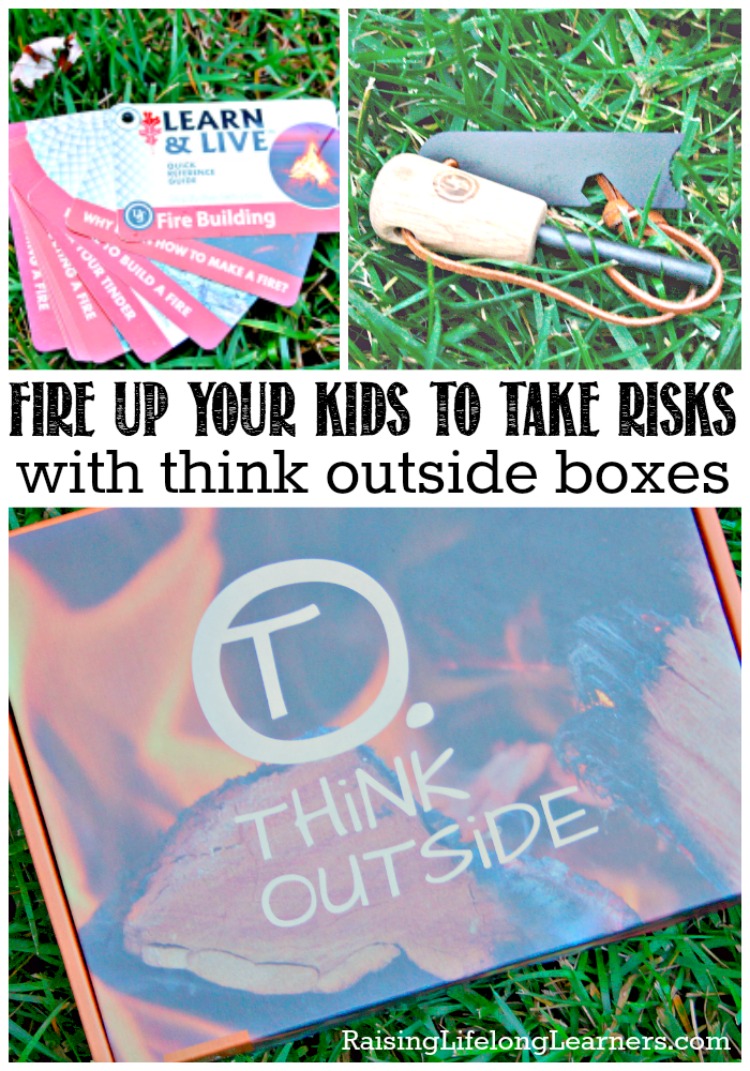 According to the Anxiety and Depression Association of America,* anxiety disorders affect over 25% of children between 13 and 18 years old. Research shows that untreated children with anxiety disorders are at higher risk to perform poorly in school, miss out on important social experiences, and engage in substance abuse. We can help though — and it's not that tough to do.
We just need to change our mindest a little bit and focus less on keeping our kids away from any harm, and instead, encourage them to take risks. Researchers from England, Australia, and the Netherlands studied groups of preschoolers* and found that parents who encouraged risk-taking behaviors had children who were less likely to show symptoms of an anxiety disorder.
When we received our All Fired Up box from Think Outside Boxes (you subscribed, right? And used the coupon code RLL10 to get $10 off?) the kids were so incredibly excited to jump in and risk lighting the house up. I moved them all out into the backyard pretty quickly.
The Fire box included some fun survival tools:
Fire Starter Kit: cotton tinder pieces in a tin, kindling logs, fire striker
Fire-Building Quick Reference Cards
Activity Supplies: make DIY waxed cotton fire starters
Empathy Postcard to Mail
We've been having some not-so-great weather, so most of the gear we've gotten so far from our intro box, stargazing box, water box, and now this fire box has been tucked away inside the kids' color-coded daypacks until we can hit the trails. But not before the big guy took to the backyard, dried out the fire ring, and used his fire striker to kick off a chilly weather campfire for some quick s'more making.
Risks don't have to be huge to be effective, friends. Using simple tools like a fire starter kit and some survival cards can help our kids see themselves as capable of solving problems, being autonomous, and growing up. I know that I need to be more intentional to not step in and solve problems for my kids or warn them away from impending doom as quickly as I want to.
Anxiety is a problem right now for so many kids. They're stressed in record numbers, feeling incredible pressures about the world and their own place in it, and shutting down in record numbers. Taking them on outdoor adventures, letting them head out back to start a fire in your iron fire pit, encouraging them to climb up the slide… these are all simple things we can do — safe risk taking we can enourage — to help them develop confidence, security, and a sense of their place in this world.
Grab a subscription to Think Outside Boxes ($10 off with code RLL10) now, and share in as many adventures as you can this year with your kids.