16 Apple & Pumpkin Science Activities
Science doesn't have to be difficult or use expensive materials – especially in the early years. It's fall, and there are plenty of pumpkins and apples at nearby farm stands and orchards. Use the things kids see all around them and ask questions like:
Why do apples turn brown?
Did you know you can make pumpkin seeds grow, just by filling a pumpkin with soil?
Can we turn an apple into a volcano?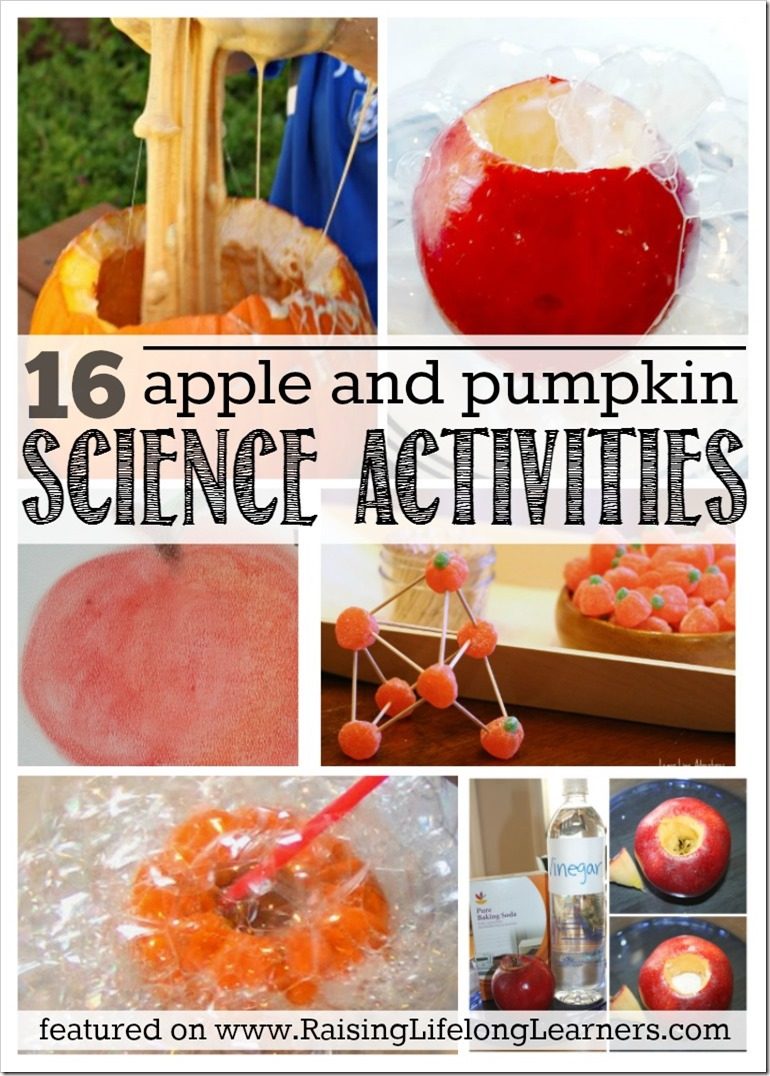 Then, pull up some of these fun activities and experiments and let your kids have a blast exploring every day objects and their properties.
Apple Science Activities
Apples are yummy – and fun to explore. Check out these fun experiments and explorations after a trip with your kiddos to the nearest apple orchard.
I love these erupting apples from Little Bins for Little Hands. Anything that goes fizz is a hit around here.
This edible bubbles activity from Preschool Powol Packets is a new twist on exploring with apples.
Little Bins for Little Hands comes in again with this great collection of apple activities showing kids how apples grow.
My little ones loved this apple oxidation experiment when we did it (and there's a free printable, too).
Watching how things rot or decompose is fun for little scientists, and this experiment from Gift of Curiosity is a great fall science activity.
Have your little scientists test gravity with this fun apple experiment.
Baking soda and vinegar eruptions are always crowd pleasers, and this fun twist with apple cider vinegar from Kids Play Box looks fun.
This great experiment – another oxidation test – from Pre-K Pages is fabulous for getting kids to observe critically.
Observation is an important scientific skill for little ones to hone, and this apple taste test from Gift of Curiosity is perfect for young scientists.
Pumpkin Science Activities
Try this cool activity and grow a pumpkin plant from the seeds inside that last pumpkin hold out at the store up the road.
I love classic engineering projects like this pumpkin building one from Lemon Lime Adventures.
When you're done building, use those pumpkin candies for this simple science experiment to see how quickly they dissolve in different liquids.
Volcanoes are always a hit, and this pumpkin-cano is no different. Your kids will love it.
Blowing bubbles is fun for all ages, and this pumpkin bubble activity is sure to appeal.
Pumpkin slime is such a fun idea – especially when it's mixed right in the pumpkin with the seeds included!
Do you have any fun apple or pumpkin science activities to add to the list? Share them in the comments – I'd love to see what you've done.