Mini Banana Streusel Muffins
One of my greatest homeschooling accomplishments has been teaching my nine year old to make breakfast. I'm not really a morning person, and she and the youngest two kiddos are. The oldest is very much like me in the morning… slow to get going and lagging behind.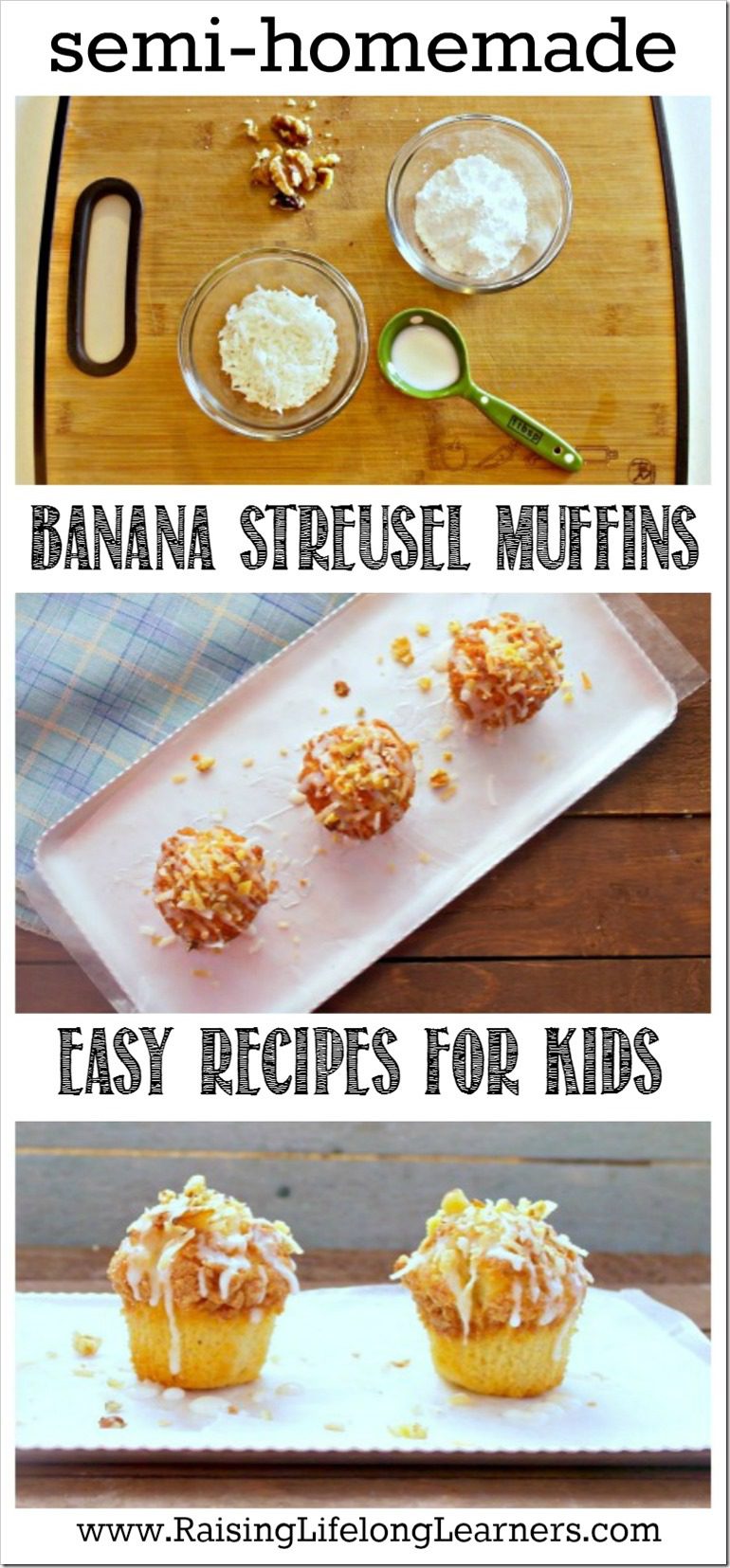 Molly, though, loves getting up and nurturing her little brother and sister. And I enjoy the smell of coffee that wafts from the kitchen from the pot she's made for me. It's a win-win.
A few years ago, I started letting her do simple things on the stove and in the oven, and now she pretty much rules the kitchen in the morning. There's a lot of cereal, instant oatmeal, and fruit on most days, but several times a week she pulls down the cookbook and whips up a batch of from-scratch muffins or pancakes for the family.
Have I mentioned how thankful I am for Molly?
These semi-homemade mini banana streusel muffins are always a hit. And they taste just perfect with a hot cup of coffee. Give them a try – you won't regret it.
Mini Banana Streusel Muffins
Easy-peasy, and so yummy, these muffins use a boxed banana bread mix. I'm sure you could tweak the recipe to make it completely homemade, and we do that from time to time, but this way is pretty fail-safe.
Ingredients
1 Box Banana Bread, prepared
1 Over Ripe Banana, mashed
For the streusel:
1/2 Cup Shredded Coconut
2 Tablespoons Butter, softened
1 Tablespoon Flour
1/4 Cup Brown Sugar
For the glaze:
1/2 Cup Powdered Sugar
2 Teaspoons Milk
1/2 Teaspoon Vanilla
Chopped Walnuts (optional)
Instructions
Preheat the oven according to package directions
Mix the mashed banana into the prepared banana bread batter
Fill a mini muffin tin 3/4 full with the batter
In a small bowl, use a fork to mix together the streusel – butter, flour, brown sugar and coconut
Sprinkle on top of each muffin and bake for 10 minutes or until raised and golden brown
Allow to fully cool before removing from the pan
Mix together the glaze ingredients and drizzle over the muffins, top with walnuts (optional)
That's it! Fantastically delish muffins that everyone will absolutely love, and that almost anyone in the family can pull together. Now it's time to get that girl preparing dinner…
Do any of your kiddos cook? What are some of your kids' favorite recipes to make for breakfast?
More recipes your kids can make: