Finding the perfect birthday gift is a breeze with the convenient Hallmark aisle at Walmart, and I was thrilled to share our ideas through this shop, compensated by Collective Bias, Inc. and its advertiser. As always, all opinions are mine alone – enjoy this easy birthday gift idea hack for penpal-loving girls. #SendSmiles #CollectiveBias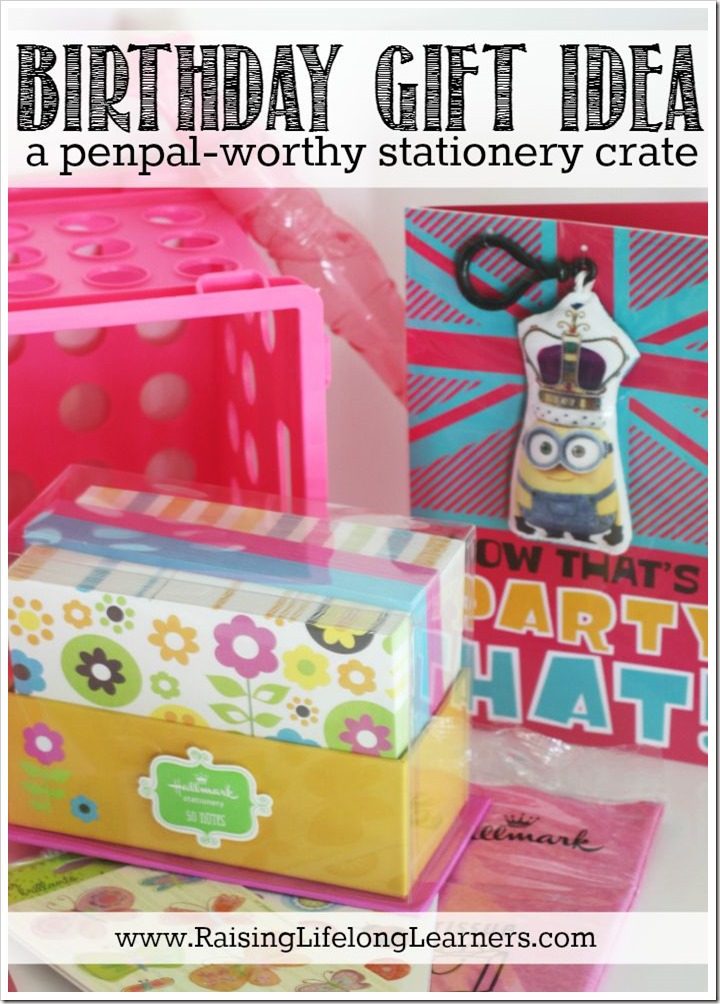 Are your summers as busy as ours? While we try to spread things out throughout the year, we can't change when birthdays happen, and we seem to have a twice-annual clump of them to deal with – one being in the middle of summer camps, vacations, and home improvement tasks.
I love being able to find fabulous things to pull together a creative and fun gift on a budget using things available right in the Hallmark aisle at Walmart – especially the wide variety of birthday cards starting at just $.47!
I'm already there often anyway, since the prices are good, and they carry absolutely everything. With four active kids, a home-based business, and all the things associated with homemaking and homeschooling, getting all my errands done in one stop is crucial.
And, seriously, how cute is this gift idea?
This bright pink birthday gift crate, filled with stationery, fun pens, stickers, and a bubble wand was easy to put together for my little letter-writing gal. My daughter's best friend moved from right across the street here in Ohio to Washington DC last year, and she still misses her. Between that kindred spirit, and two other out of state friends (my blogging buddy Dianna's daughter and my other blogging buddy Ashley's daughter), she has plenty of pen pals to keep in touch with.
The inspiration for the gift was the adorable Minion cards we found on the end cap display with their super-fun plush clip-ons that can be attached to a backpack. We grabbed a few cards to add to our stockpile because there are several kid birthdays coming up in our household and in our neighborhood, and really, what kid isn't into the squeaky-voiced Minions right now?
My daughter's a bit of a princess, so we chose the "royal Minion" card for her and built a gift crate fit for a letter-writing lover of pink. The Minion cards stashed in our cart, my son and I zipped up and down the two Hallmark stationery and party planning aisles. We grabbed a cute boxed set of stationery, glittery stickers, a pink pencil pouch, multi-colored pens, and a photo album we'll repurpose into an address book. We also grabbed a pink bubble wand to add a little whimsy.
Putting it all together was a snap with the pink Hallmark tissue paper we grabbed at Walmart, too. Check out how simple it is to pull together this adorable letter-writing gift crate for your birthday girl, too.
Want more inspiration from the Hallmark aisle at Walmart? Check out some here – and tell me… How do you pull together a great gift quickly and on a budget?