Football season is one of my favorite times of the year, so I was thrilled to participate in a #GameDayPizza sponsored opportunity on behalf of Collective Bias, Inc. and its advertiser. All opinions are mine. #CollectiveBias
Just so you don't misunderstand, let me clarify… I'm not a football fan. I don't really have strong opinions one way or the other, it's just that football is not my favorite sport.
The tailgate and game day parties — and party food — that's a different story. I love game day snacking, and I enjoy testing out new recipes or ideas to make things a little more special.
I love that football season falls in autumn, and the aide becomes crisp and cool in Northeast Ohio where I live. It's pizza season. And fun finger food season. And let's-get-together-for-fun-and-treats season. My favorite.
And, with a busy homeschool family of six, we prefer staying at home and either enjoying each other with a "family tailgate" party, or inviting a few friends over to play at home during halftime and watch with us, instead of going out. It's so nice to snuggle in at home in festive ways during the crisp fall weekends. Especially when you're on the go all week long like we are.
Making Game Day Special
This past weekend, all my kids were excited about watching the game with Daddy, and we all needed some downtime, so when I was at Walmart snagging snacks and easy breakfasts for the coming week,  I grabbed a couple of Red Baron Frozen Pizzas.
Have you tried these? Seriously, one bite and the whole family will be asking for more. They're delicious and convenient.
And, football tailgating at home is supposed to be fun, so I grabbed an Edward's Cookies and Cream pie from the frozen dessert section. Pizza and pie are the start of a super fun game time celebration, and since the kids are inheriting both Daddy's love of football and my love of party food, it seemed like the perfect thing to have on hand while watching the game.
Right now you can enter the Tailgate at Your Place Sweepstakes simply by locating the Red Baron products with the on-pack promo and entering the code on the contest website to see if you win. There are great prizes too, including a check for $8000, a $2000 electronics shopping spree, and 6 months of pizza! There some fun instant win prizes too.
Setting up a fun and festive game day spread for the whole family is simple and fun. We started with a recipe experiment that turned out amazing – Spicy Marinara Sauce.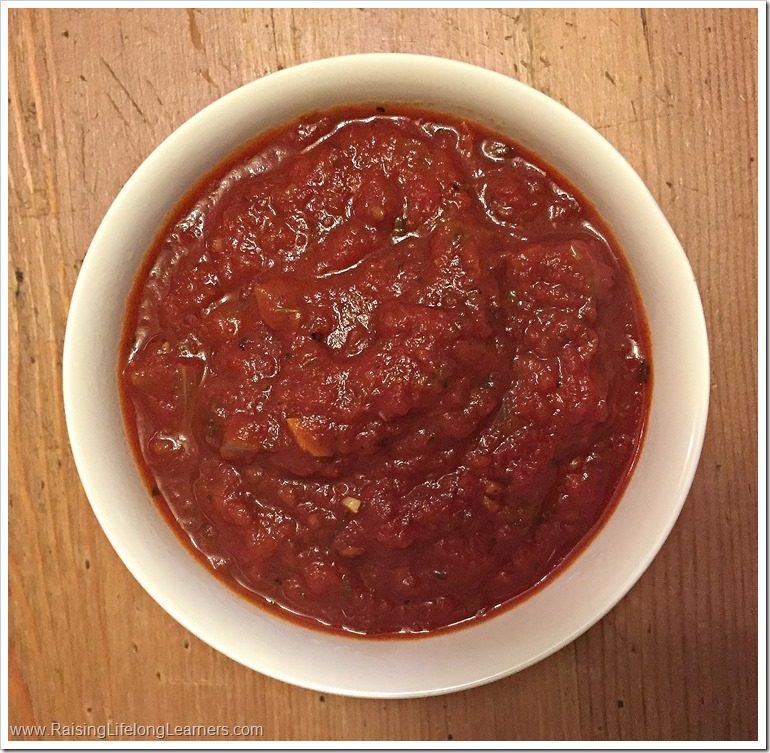 Making Spicy Marinara Sauce
This sauce is the perfect balance of freshness and spice. The best thing about it though is how easy it comes together. For busy mamas like me, this makes Spicy Marinara Sauce a go-to recipe to have on hand.
You'll Need:
4 tablespoons of olive oil
1 onion, chopped up
6 minced garlic cloves
2 1/2 teaspoons Italian seasoning
3/4 teaspoon crushed red pepper
2 – 28 ounce cans of crushed tomatoes
1/2 cup wine (I used white, but you could use red, too.)
Directions:
Heat up the olive oil in a pot, then add the onion and garlic.
Let those warm for a few minutes, then add the dry spices and simmer gently for 6 or 7 minutes – keep stirring though! Spices burn easily.
Add the tomatoes and wine and simmer for an hour and a half, stirring from time to time.
Ladle some into a ramekin and get ready to dunk the pizza strips into it! (It tastes great on pasta, too!)
Putting it All Together
The final stage was set with Red Baron Frozen Pizza cut into dipping sticks with some marinara to dip them in. I loved the crispness of the pizza. It holds up perfectly to dunking in the warm sauce.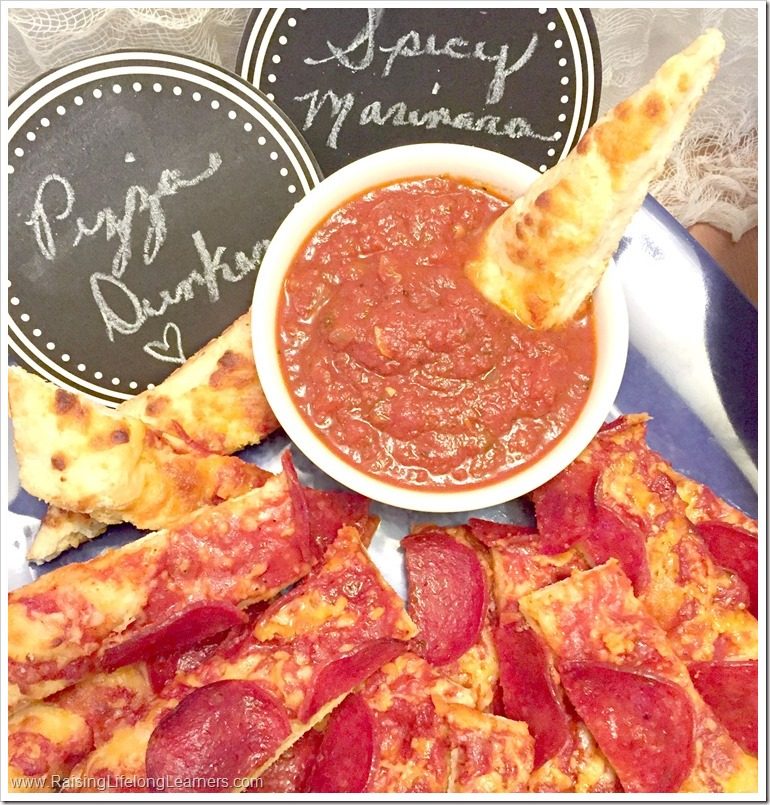 Everything's better when you can carry it around with you, so I made yummy whole wheat pita spinach salad pockets to go along with the dunking sticks. These are another easy thing to pull together. Simply grab some whole wheat pita, cut them in half, open them and stuff with spinach mushrooms, and other veggies. We topped ours with a bacon ranch dressing I found at the store.
Fall is filled with fun family traditions around here, and these football game day snack ideas  are just the tip of the iceberg. You can find more great ideas online, but I'd love to hear about some of your game day traditions. What do you do with your family to make football season special?