Great Gifts for Backyard Scientists
These gifts for backyard scientists will keep your explorers on the path to discovery.
From bird guides, rocks, gems, telescopes, and cooking on a stick all of these ideas foster a love for learning about nature and all it has to offer.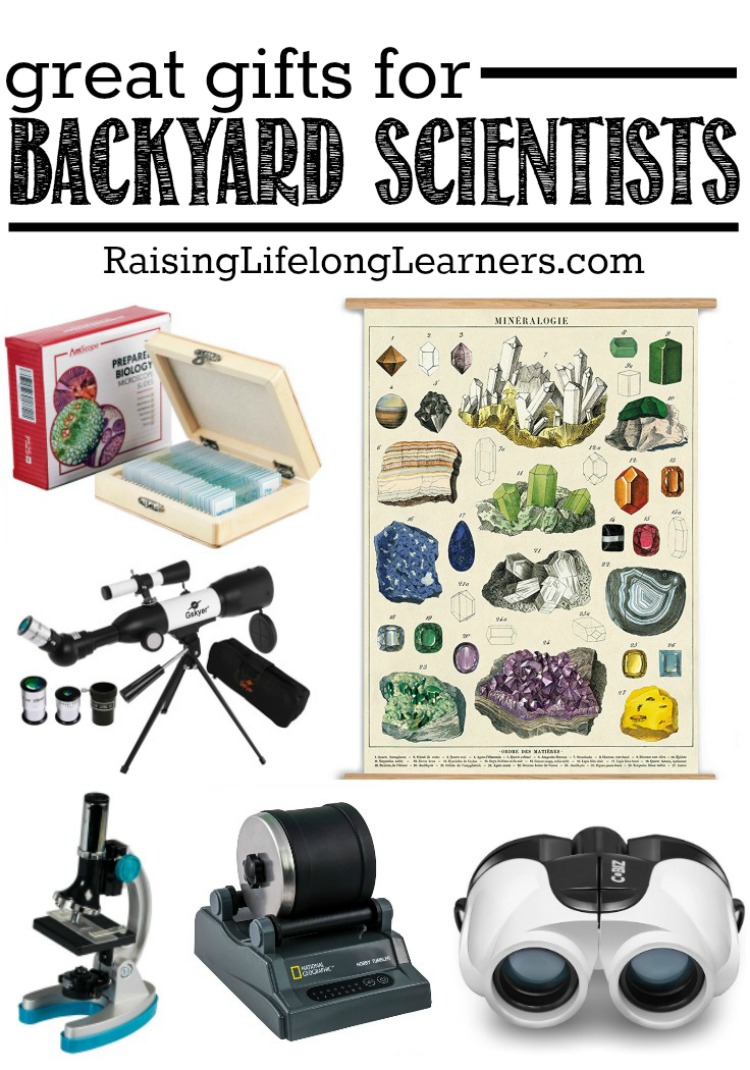 When gifting gifts of discovery, make sure you are prepared for those kids to take off on an adventure shortly after opening said gifts!
Gifts for Backyard Scientists
100 Backyard Activities That are the Dirtiest, Coolest, Creepy-Crawliest Ever!: Okay, of course I had to include my book in this list. If you haven't grabbed my backyard science book yet, you need it! It's a great hand-it-to-your-kiddos-and-let-them-at-it book if you're looking for something the kids can do and enjoy on their own.
Raptor! A Kid's Guide to Birds of Prey: Learn about the birds of prey in this fantastic bird guide. Owls, vultures, hawks, and more take center stage in this book that is full of colorful photographs that capture these incredible birds.
National Audubon Society Field Guide to North American Birds: The backyard scientist will love this gift. It is full of facts about birds including habitats, nesting habits, and the bird's song.
Kid's Binoculars: These are perfect for the great outdoors. With a clear view and folding feature, kids are sure to get a close-up look at birds, landscapes, and more.
Mineral Study Kit: This set comes with 19 minerals, magnifying glass, activity guide, and a nice gift box to keep it all safe.
Mineralogie Decorative Poster: A fantastic decorative poster displaying drawings of minerals including gems.
National Geographic Rock Tumbler Kit: For the rock hound on your gift list. These rock tumblers are so much fun to use. They shine and polish gemstones and rocks.
GeoSafari Micropro 48-Piece Microscope Set: Taking a close look at all of those backyard discoveries is essential to those budding scientist. I love this gift idea because it comes with a set full of tools including slides, guide, tweezers, droppers, and so much more.
Prepared Microscope Slide Set: These biology slides are the perfect addition to a microscope. The slides include cells from insects, animals, and plants.
Gskyer Telescope: This telescope was made with students in mind. It comes with a focusing tube, telescope tube, optical coating (to protect kid's eyes), tripod, and even a carrying case. The perfect way to star gaze, up close.
Guide to the Stars: Use this map to name and locate all of the constellations and stars in the night sky. You can include this map with the telescope listed above for even more backyard discoveries.
3D Domed Glow in the Dark Stars: Unlike other glow in the dark stars, these stickers are in a 3D shape which makes the end result look very realistic.
50 Things to See With a Small Telescope: In addition to all of the valuable information in this book, it also includes a telescope view to show kids the view of stars and planets behind the lens of a telescope.
Star Cluster Poster: Stargazing doesn't only take place at night…. you can use this poster to hang on the walls for stargazing anytime.
Cooking on a Stick: Camping is essential to the backyard scientist. Even if camping takes place in the backyard, kids can use this book that is full of recipes to make some yummy food… all on a stick.
Walkie Talkies: Your great explorer can keep in touch over these walkie talkies while going out on an adventure.
If you have a backyard scientist on your list, consider gifting them items such as these to help them discover even more. This will allow them to explore, learn, and enjoy the outdoors even more.
How do you foster learning for your backyard scientist?