The Very Best Approach To Homeschooling A Child With Attention Issues
If you are homeschooling a child who struggles with attention, it can be frustrating. This is the very best approach to help your child focus on and retain learning in your homeschool.
When Your Child Struggles With Attention
You know what it's like. You're excited to just get started with your homeschool lessons for the day. Then, it takes almost an hour to even get your child to the table. Five minutes later, you've lost them.
This happens in my home every, single day. In fact, I've learned that for some of my kiddos, this is just a part of how their brain works. (I am also learning it may be part of how my brain works!)
Here are some additional traits that are typical in our children who struggle with attention:
Frequently interrupting in conversations
Lack of focus (especially in things they are not interested in)
Disorganized
Difficulty following through on projects
Forgetful
Fidgeting
Trouble waiting their turn
Difficulty reading social cues
Trouble with emotional regulation and intensity
Perseveration on specific topics of intense interest
Rigid thinking
Daydreaming
Lack of follow-through
Struggles in executive function skills
Not always hyperactive! Can also present as being inattentive.
When you look at this list, it's easy to begin to understand the struggle our kids face in sustaining attention in their learning.
My Best Tip For Helping Your Child With Attention Issues
The good news is, you don't have to fight your child's natural learning style and ability!
In fact, the number tip I have for you is this – Keep the lessons short.
Yep, that's it. If your child is already struggling with attention, work with them, not against them. Most experts agree that 5-10 minute bursts of learning are more than enough to help your child not only comprehend, but retain new learning as well.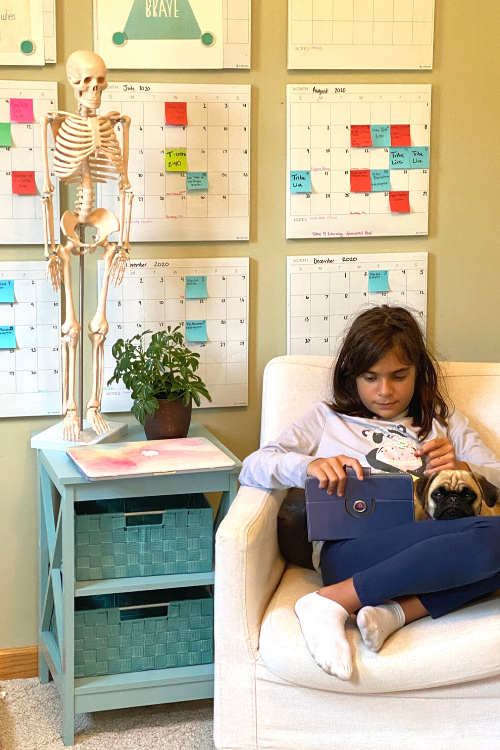 CTCMath Is A Perfect Example Of Short Lessons That Translate to Real Learning
This is one of the reasons why CTCMath has worked so well for us.
It's appropriate for all children, but is especially helpful for children who struggle with attention. Each of the 1,400+ CTCMath tutorials last around 4-9 minutes and presents the concepts of the math lesson step-by-step. Using synchronized audio and animation which harnesses both audio and visual learning styles simultaneously.
By employing this simple, but effective approach, CTCMath has proven to be a lifesaver in my homeschool this year.
CTCMath Overview
CTCMath is an online program developed by a father of ten children, with twenty years teaching experience. It is a subscription math service that provides learning from Kindergarten all the way through Calculus. CTCMath specializes in providing online video tutorials that take a multi-sensory approach to learning.
You already know I LOVE the shorter lessons approach. Here are some other key benefits of the program:
Access to all Levels
This is huge! CTCMath gives access to every single level, K – 12 at all times. It's perfect for the learner who is advanced in some topics and needs to accelerate quickly. It also works really well if your child is struggling and in need of review.
Placement Tests Are Optional
This is a personal preference of mine. Having placement tests as optional makes things so much easier. Although I understand the need for placement tests, in my experience, children with learning differences can feel pressure and unnecessary stress associated with them. No need to start a new program with an increase in anxiety!
Straightforward Interactive Lessons
The lessons themselves consist of 4 to 9 minute tutorials. Animated and interactive, each lesson is presented in an online format, and also has the option of a printable PDF with a lesson overview.
Options for Practice
In addition to a worksheet for each lesson, there are also options for practice included in the program. Times tables review, math facts, and even logic puzzles are accessible for extras throughout the program.
If you are looking for a math program to help your child with attention issues, I encourage you to give CTCMath a try!