Inspire Independent Learning with Fact Cards
I'm a nonfiction junkie. Facts – whether they're science-y, historical, weird, or wacky – make my geeky heart go pitter patter. I love using facts to inspire independent learning in my kids.
I was given a set of cards to build activities around and compensated for my time, but my thoughts are my own, and I only agree to share products I think are valuable resources you'll love.
Gifted children have an intense drive to make sense of their world. They need to learn. Yes, there are many, many unmotivated gifted kids out there who seem totally unwilling to learn anything other than how to install the newest mod for Minecraft… but I'm willing to bet they haven't yet discovered the spark that will inspire independent learning.
And we should be raising our kids to be independent lifelong learners.
If they are empowered to believe they can discover the answer to anything and everything, our bright kids will change the world.
That's where fact cards come in.
I was so excited to get my hands on the stunningly amazing Everything You Need to Know fact cards developed by Silver Dolphin Books in collaboration with experts from the Smithsonian. These beauties can spark an interest in learning in even the most disinterested kiddo.
Inspire Independent Learning by Strewing
Strewing, for those of you who are unfamiliar, is the art leaving interesting things around for our kids to discover. And it is an art. The best strewing happens after parents have observed kids and their interests, and have set up an inviting and learning-rich environment where kids feel safe to try new things and make lots of mistakes – a challenge for many perfectionists.
Strewing with the Everything You Need to Know fact cards has become a fun activity around here.
Just this week, I set out the Plan Toys Bee Hive my toddler and preschooler both love along with a honeybee habitat fact card from the Grades K-1 fact card set.
My three youngest have rotated through that activity again and again. The seven year old can often be found reading the card to the preschooler and toddler while the two younger ones build hives and sort bees.
Her interest piqued because of the fun fact she had now memorized (Beehives are made of wax and bee spit!), my seven year old pulled the rest of the tabbed "Animal Homes" cards out and started memorizing the other simple facts. And then she pulled out some nonfiction books we had on the shelf and started reading about animals and their habitats.
Strewing works – and these fact cards captivate kids with their crisp photography, engaging facts, and interest-piquing quirkiness.
Perfect for bright children.
Inspire Independent Learning with Hands on Fact Card Play
There are so many fabulous topics covered in both the K-1 and 2-3 Everything You Need to Know sets that the possibilities are endless. I pulled out some of the transportation cards and read them to my preschooler. She immediately lined them up and ran to get matching vehicles to place on top of each card.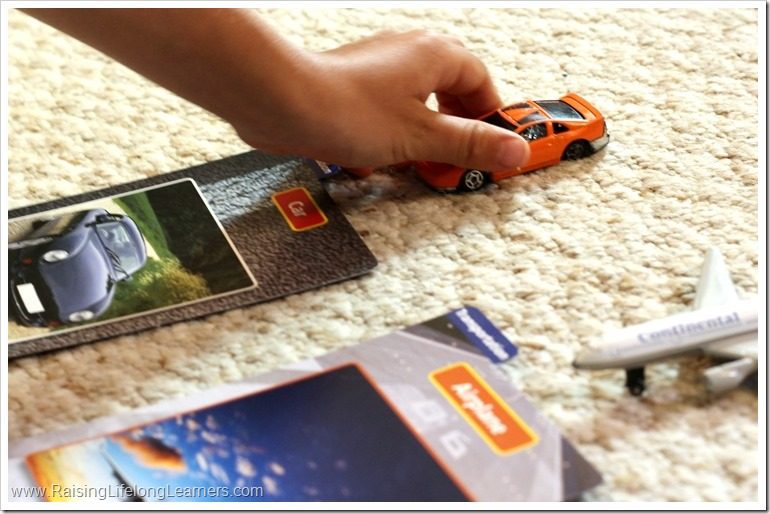 I plan to use our World Landmarks Toob pieces along with the World Wonders category cards to set up a discovery center for the bigger kids later this summer. I'll include a game or two, trivia cards, puzzles, an activity guide, project book, and nonfiction to read.
Open-ended learning activities like this are great for gifted kids because they are asynchronous and can be working at several different levels at once.
Inspire Independent Learning through Memorization
I know people have mixed feelings about memorization, but I think there's value in it. My husband and I joked when we dated that he was a "fount of useless knowledge" because he had a bunch of quirky facts at his fingertips.
But, not only does he always win at Trivial Pursuit, he is able to break the ice wherever we are. Being a great conversationalist is a wonderful skill to have, and memorized facts can be terrific conversation starters.
Memorization is empowering. It gives kids a chance to feel and sound smart. While two of my gifted kids seem like they're never at a loss for words, one struggles with conversation. In social situations, that one doesn't seem to know what to say, and reverts to goofy behavior that comes across as weird or disruptive.
Having an arsenal of facts at one's fingertips is particularly positive for that child.
And, honestly, these cards are fun to read, age appropriate, accurate, and beautiful. They're a pleasure to spend time with – as my daughter continues to demonstrate. I cannot count the number of times I have come across her curled up with a pile of discarded cards at her feet while she reads through each one. Another nonfiction junkie like her mama.
Fact cards like these Smithsonian Everything You Need to Know cards from Silver Dolphin Books are a great way to enrich your gifted kiddo and inspire independent learning – whether you homeschool or not. They're stunning and affordable.
And you can win a set of your own! Simply enter using the entry form below. Silver Dolphin Books is giving away 10 sets of cards – winners can choose which level they'd like.
If you had a set of these cards for your own, how would you use them in your homeschool or to enrich your traditionally-schooled kids? Leave me a comment because I'd love to collect more ideas.
For more fabulous ideas, check Silver Dolphin Books out on social media. Their blog is filled with great content (LOVE this collection of hands-on science experiments…must get my hands on that roller coaster science book!) and they're active on Twitter, Facebook, Pinterest, and Instagram.