Making Chores Easy for Your Kids
Don't you wish that getting kids to do their chores was easy? That it would just be a natural thing for them to want to do? (And if you have one of the rare kiddos that seems to want to work around the house, please don't tell me… I'm happy with my illusions that kids don't want to do chores.) That your home could become an organized and clean place – even if you live in a tiny house with lots of kids?
You can.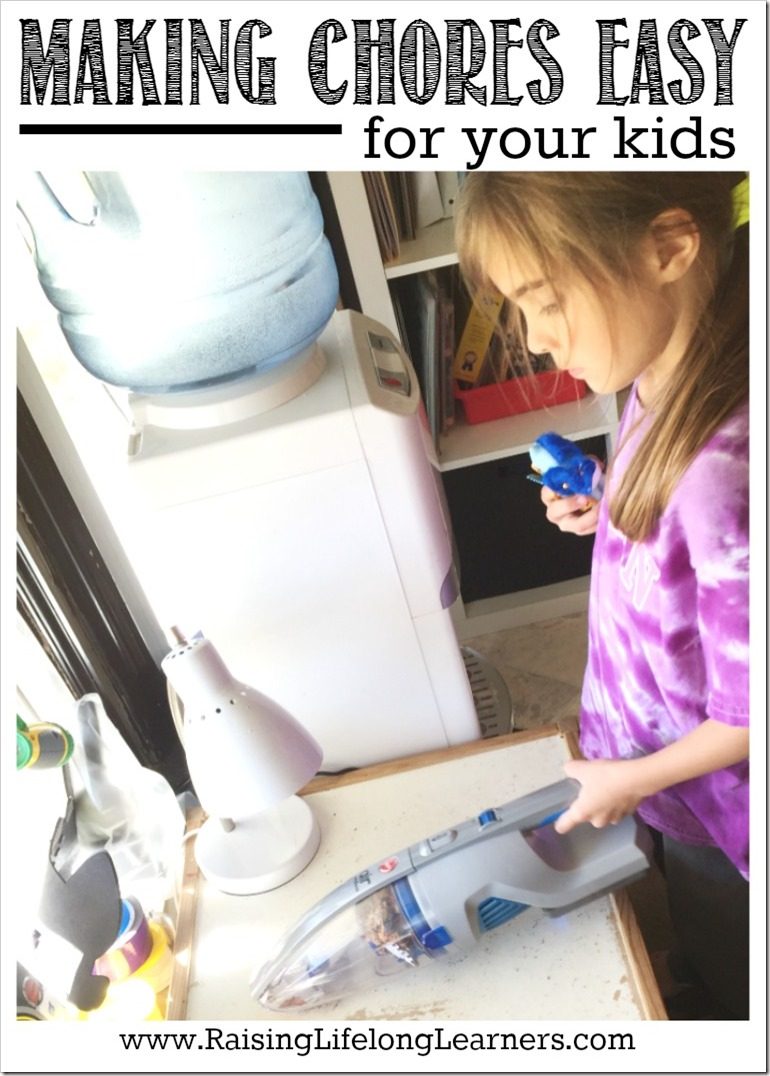 You just have to find the right ways to motivate your crazy crew.
Make it Fun
My kids like anything that comes along with a song. With the little ones, it's easy. All I need to do is start singing the clean up song from Daniel Tiger and they fall into line. Usually.
They also like to make cleaning a game. Non breakable toys become basketballs and their bins become hoops. I'll also mix up the toy bins in the basement and have them search to find the right ones for the right toys. They love it.
Get Them Proper Tools
My kids like having their own tools to do the jobs. Last year we bought a kid-size broom, dust pan, mop, and a dedicated bucket with sponges, rags, and dusters. The kids enjoy using tools that are their size when they're working.
The newest tool in our home is the Hoover AIR™ Cordless 2-in-1 Stick & Handheld Vacuum. It's lightweight super-convenient. The stick vacuum is the perfect size and shape for both my 12 and 8 year olds to use independently.
And, since it has no cord, there's no getting caught on furniture or toys, and the kids aren't tangling themselves up or tripping on anything as they clean.
We have a small house, and with four kids and pets, there are constant spills, dirt tracks, or dog hair clumps that need vacuumed up. Now that I can turn the day-to-day maintenance over to them with a tool like this, I can focus on other things.
And, my littlest two can get in on the action, as well. The Hoover AIR™ Cordless 2-in-1 Stick & Handheld Vacuum has a built-in handheld vacuum that even my toddler can handle to clean up the rice, beans, or sand he scatters from the sensory trays and bins I set up for him.
Praise Their Efforts
Let's face it… kids aren't born with the cleaning gene. They need to learn and own the need to keep their home clean. You're raising adults, so help them learn to take pride in a clean and orderly home.
It will help your whole family dynamic.
Try to praise your children as they work and do their chores. Don't just focus on the end product. Let's face it – the house will not look as it would if you did all the work yourself. But, if you work at instilling pride in your children by praising their efforts, they will improve and their work ethics will develop.
What are some of your tricks for getting your kids involved in household chores?
I was selected for this opportunity as a member of Clever Girls and the content and opinions expressed here are all my own.