The holidays are a time for family and friends to get together, and I'm pleased to share one of the ways we use Hormel for easy entertaining in this post sponsored by #CollectiveBias and its advertiser. The thoughts, recipe, and stories are mine. #ForTheLoveOfHam
Do you have family and friends over during the holiday season?
Years ago we decided to stop running around on the holidays themselves. We still go to plenty of holiday parties, and our extended families get together on weekends in between Thanksgiving, Christmas, and New Year's Eve, but we stick around the house on those actual days. The first few years of our marriage, my husband and I tried to make everyone happy, so we drove from place to place.
And then we had kids.
Since more than one of our kids can be intense and overexcitable in situations like holiday gatherings, those days became moments to dread. So, while we head to some of the family holiday parties still, we tend to snuggle in on Thanksgiving and Christmas days. Simple traditional meals, holiday movies, board games, story telling, and cuddles and silliness have replaced the hustle and bustle.
But we leave our door open.
Family and friends have open invitations to stop by, and we load up the refrigerator and pantry to be ready for them.
This time of the year is for family and friends, but that doesn't mean that everyone's holiday gatherings have to look the same. By leaving our doors open, and being ready to serve anyone – neighbors, friends, relatives, or co-workers – who drops by at any time, we make memories while accommodating the needs of our children.
One of our absolute favorite foods to have on hand is ham. Ham is so versatile. We can pick up a Hormel Cure 81 bone-in Cherrywood flavor ham at Walmart, bake it anytime, and have it ready for platters and sandwiches.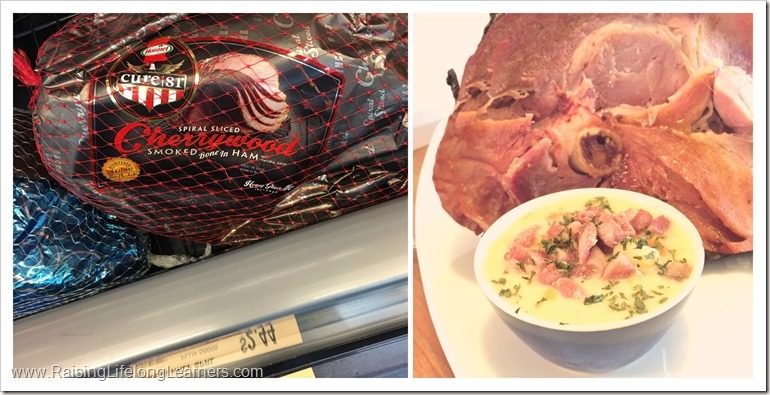 It's so perfect to have the ham available with a big pot of soup simmering on the stove.
Our favorite is a creamy potato soup that's easy to throw together at the last minute or to have hanging out on low for most of the day.
Easy Potato Soup Recipe
A super simple soup that pleases everyone – from the tiniest food critic to the biggest. We love whipping this up anytime we have ham in the house. The recipe below serves four, but it's easy to double or triple if you're expecting a crowd or want to make extra to freeze.
Ingredients
4 large potatoes, peeled and cubed
1 cup chopped celery
1 cup chopped onion
1 cup chopped carrots
chicken stock
2 cup half and half, milk, or cream
salt and pepper to taste
Instructions
Put potatoes, celery, carrots, and onion in a pot.
Add enough chicken stock to just cover the vegetables.
Bring to a boil, then lower the heat and simmer for 25-30 minutes, or until the vegetables are tender.
Add the half and half slowly while stirring.
Using a potato masher, crush the potatoes, leaving some chunky so there is texture to the soup.
Season with salt and pepper.
I like to serve this soup in bowls with some diced ham on top and sprinkle a little parsley on it, but it tastes yummy right out of the pot, too. It just warms you up, and is the perfect side dish for holiday leftovers.
I love that I can buy a big ham, cook it for a delicious holiday meal, and then have it handy in the refrigerator to make hospitality easy during the hustle and bustle of the holidays. And I love that our friends know that they're always welcome.
What are some of the things you do to welcome others into your home during the holidays?