Engaging Online Dance Classes Your Entire Family Will Love
I love the idea of dance classes for my kids but have had trouble finding options that work for our homeschool lifestyle, budget, and family interests. Is it possible to find engaging, online dance classes the entire family will love?
As my oldest daughter has become more and more interested in musical theatre, her younger siblings are also developing an interest in performing arts. One element of this interest that has been tricky to navigate has been dance classes.
We need an option that is appropriate for their various levels and also interests (i.e. ballet for my daughter vs. hip hop for my son). Frankly, we also need a program that is affordable so that the entire family can learn.
The Benefits of Adding Dance To Your Homeschool
Whether or not your child is interested in performing, there are significant benefits to adding dance to your homeschool education.
Not only does dance provide exercise and movement for growing bodies, it also contributes to social, emotional, and cognitive development.
"Dance helps children develop emotionally, socially and cognitively, and the dedication, discipline and focus children must learn and practice are important life skills that will transfer over to school, work and other aspects of their lives." – Washington Parent
Research shows the benefits of dance education include:
Strengthening memory and cognitive skills as choreography is practiced
Sensory input and development
Brain-Body connection (i.e., I can make my body do what I am imagining in my mind)
Nonverbal communication skills strengthened through dance interpretation
Increase in self-confidence
Even if my children were not interested in performing, dance would be a valuable option for P.E. in our homeschool.
Online Dance Classes For Homeschool Physical Education
Because of these benefits and my desire to provide dance education in our homeschool, I have been looking for options that satisfy our family's needs. Most importantly, I wanted to make sure that any program would provide high quality instruction.
I am so happy to have found YouDance.
YouDance is an online platform that offers over 1,000 video dance classes for all dance genres and ability levels.
It was founded by Courtney Sabin (a homeschooling mom of three, so she can relate!). She recognized the need for a family-friendly online environment for learning dance at home in a fun, convenient, and affordable way.
YouDance currently offers classes in Hip Hop, Ballet, Contemporary, Jazz, and Clogging. You can begin any class at any time, and you can choose between beginner to advanced options.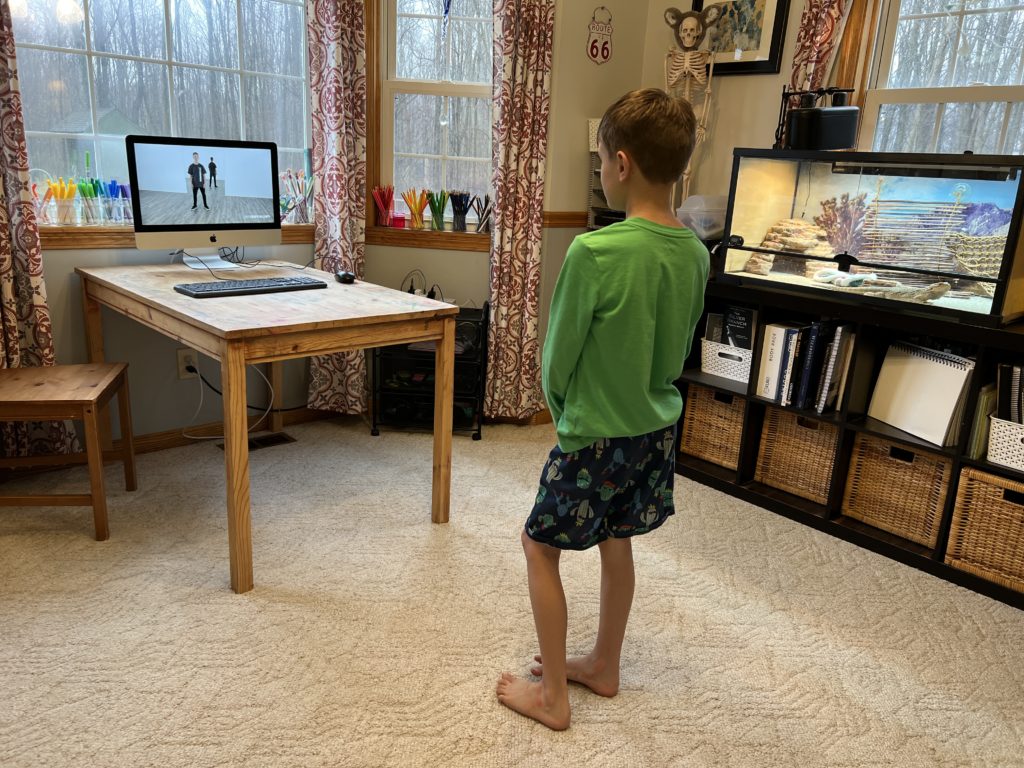 YouDance For All Levels And All Interests
The classes themselves are very well done and the instructors are excellent.
One of the most impressive aspects of YouDance is just how much you have access to as part of the program. Here is a quick overview of what has been of the greatest help to us.
Family Account
Each one of my kids can choose the classes they want, without any additional cost. This is a significant benefit for homeschooling families!
Beginner to Advanced
YouDance is not your average online learning platform. Although I love how easy and accessible the classes are, the reality is that they offer just as much, if not more, than your local dance studio.
Take a look at their current offering:
Ballet – novice, beginner, intermediate, advanced, and even pointe
Hip Hop – basics, house, and breakdancing
Jazz – beginner, intermediate, and advanced
Contemporary – beginner, intermediate, and advanced
Clogging – beginner and other flex options (see below)
Flexibility
This is actually what I find most interesting and fun about YouDance. In addition to dance lessons in the various genres, YouDance offers even more opportunities to engage your learner.
Follow- Alongs
This section offers a kind of Dance Dance Revolution feel. An instructor dances to a piece of music and the idea is your child can simply follow along.
There are cues on the screen to make it learner-friendly. Even better, there are follow-alongs for all the genres.
You'll also find a Kids Dance Along option for each genre, which are short (about 10 minute) introductory lessons to clogging, ballet, jazz, and hip hop. There are also Dance for Exercise classes in this section, which are short videos that help squeeze a quick workout into your day!
Choreography
In this section, your child can learn a short dance to a specific song. The dance instructor breaks down the choreography, move by move, and teaches it in small segments.
The end result is so fun as my kids can dance through an entire routine.
YouDance For Moms Too!
Confession time. My kids were having so much fun, I decided to try it too.
It's hard to get in exercise between homeschooling my three kiddos and working from home. This option is perfect for me too.
I don't have to leave the house and dancing is so much more fun for me than any other exercise activity. (I also learned that I am really NOT flexible!)
Incorporate Dance Into Your Learning
I encourage you to
take a look at YouDance in action
. It's an excellent addition to our homeschool and something the entire family can enjoy.