High School Science Without a Lab | Paradigm Accelerated Curriculum
When we first started homeschooling, I hadn't planned too far into the future. We were accidental homeschoolers, thrust into it rather than inspired by it, and I was focused on the immediate. I had no idea that we'd still be home educating this many years later, let alone loving it, so to be honest, I hadn't thought much about high school level classes.
Now that it's apparent that we're in this for the long haul, I've had to shift my brain a little more towards the future and take stock of what we can actually do. For a while I felt the rush of insecurity and uncertainty all over again, just like when we first started. Will I know enough? Will I have enough? How will I know he's learning enough? And is he missing out on the classroom experience because he's at home, not in a lab? Fortunately, Paradigm Accelerated Curriculum came to the rescue and calmed all my fears.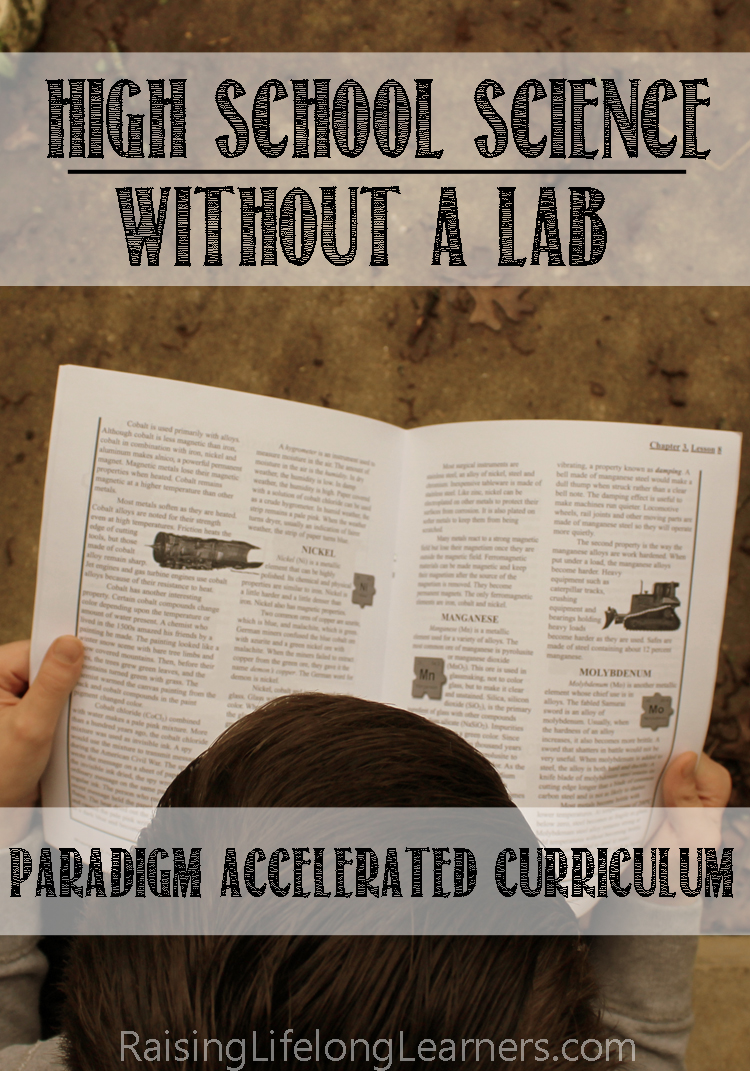 I received a copy of Paradigm Accelerated Curriculum's Integrated Physics and Chemistry curriculum and was compensated for my time spent reviewing this product. However, my opinions remain honest and my own.
I am not a science-y person. The thought of mixing up chemicals in the kitchen doesn't get me excited, trebuchets don't do it for me, and experiments just make me anxious thinking of all the mess. My son isn't too fond of mixes and messes, either, preferring more literature-based learning instead. Up until recently, we've been able to do more unit studies and interest-led science, learning about whatever currently interested him and embracing rabbit trails more than lab coats.
The time has come, however, to start taking real science. High school science. The kind of science that goes on a high school transcript.
Gulp.
We're not co-op people and we don't have a lab at home, so I felt pretty inadequate and ill-prepared for what he was going to need. That was until I came upon Paradigm Accelerated Curriculum and their Integrated Physics and Chemistry course.
Related: Falling Unexpectedly in Love With Homeschooling My Gifted Child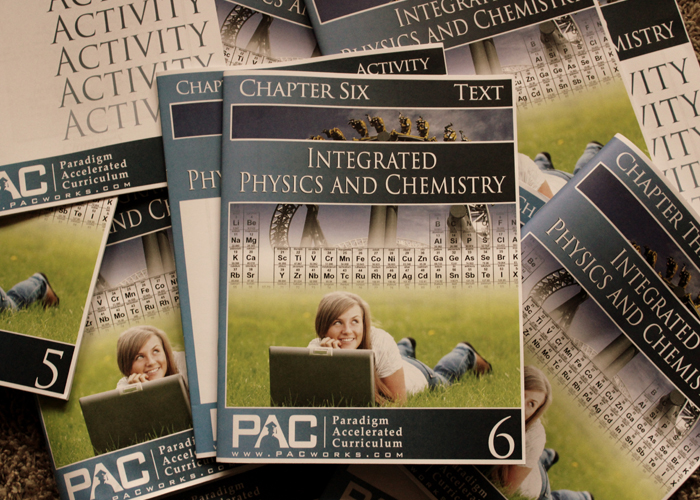 The course is designed to be equivalent to two high school science credits and is planned out to cover two years' worth of lessons. Much to my delight, it even includes a high school transcript planner, an academic contract, and even inspiring quotes to discuss and share with your student.
Much to my son's delight, this course is not packed into a stale, thick, heavy textbook. Instead, the course is broken up into 12 separate soft cover booklets and 12 accompanying softcover activity books, giving him a sense of accomplishment as he works through, rather than a sense of dread at seeing what all is left.
The teacher resource kit is a loose leaf packet, so you'll need a notebook to keep it all organized, but it is refreshingly simple and free of the redundancy that so many teacher's manuals seem to have. In fact, the program is so student-friendly and simple that it could be almost entirely self-taught, with parents stepping in to proctor the exams and tests that are included.
Paradigm Accelerated Curriculum's text is written in a more narrative form than most IPC courses, and doesn't crowd the pages with loads of distracting colors, info boxes, or images. The pages are in simple black and white, allowing the information to read more like a story. History, principles, and concepts are heavily focused on, rather than loads of complex formulas, which has greatly helped my voracious reader understand the information from an angle he can appreciate. A course I was terrified to teach has turned into one of the easiest and most tear-free subjects we have now!
Related: Nurturing the Non-STEM Gifted Kid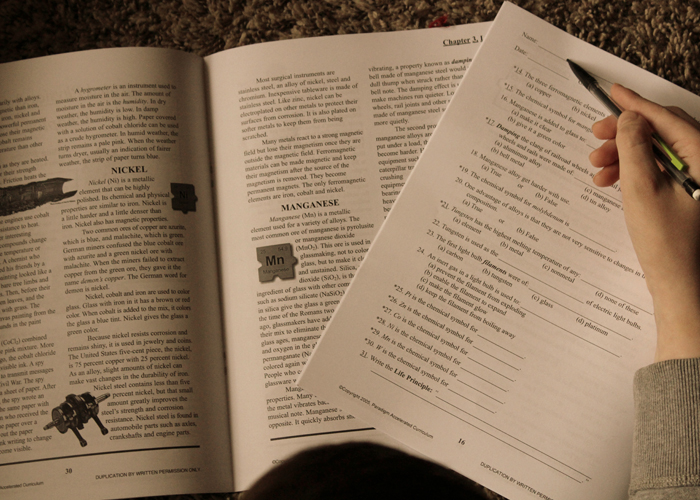 My son would technically be considered a 7th grade student by traditional school standards, but the 2-year plan that the Integrated Physics and Chemistry course is organized into is just ideal. If he speeds through it, as many gifted kids tend to do, there is still plenty to learn. If a concept is a little tough for him, we can take our time and he'll still have high school credit in time for high school. The quizzes especially give me peace of mind, a way to quantify what he's learning to so I know that we're on the right track, and a way to track progress for his high school transcript.
I genuinely feel like he's learning and absorbing all of the information of a traditional IPC class, without the need for a lab, a co-op, a classroom, or even much of me! The courses offered by Paradigm Accelerated Curriculum are perfect for gifted learners… and the less organized homeschool parents. In fact, I enjoy the format so much that I fully intend to try out more of their courses, and soon.
Speaking of, from now through June 31, 2020, you can use the code 15ANDFREE to receive 15% off and free shipping on all full course kits from Paradigm Accelerated Curriculum!
We are incredibly happy with this course, how organized it is, how easy it is for me to implement, and how word-rich it is. Who knew you could learn so much science without a lab?! Be sure to check out all that Paradigm Accelerated Curriculum has to offer your homeschool!