There was a time when I looked forward to poring over the ads and mapping my conquests out in a post-turkey haze, gearing up for the bargains I would snag on the Friday after Thanksgiving.
Now, my bargain-hunting tends to be restricted to tapping away at the keyboard, surfing my favorite homeschool resources to get stocked up for the winter funk I know will come my way in February. I like to order subscription boxes to tuck away, join online memberships and programs, and find the best audio books, stories, documentaries, and unit studies to put away so they're ready when we need a little change of pace.
While I was gathering them for myself, I thought I'd put together my favorites for you, too. Let me know which you've tried and loved — and hurry to take advantage of some of these deals. They only last a few days.
---
Around the World Stories
Everything in the store — story sets, subscriptions, and gift certificates — are 30% off. This is a great way to introduce your kiddos to the world through audio stories and support materials. With a subscription, you get:
A new 30-minute original adventure delivered to your inbox every week.
A parent guide with each story full of discussion topics, recipes and activities to connect your child with the culture.
A new country and culture introduced every four weeks.
Culture, geography and history woven into the stories in exciting ways for organic learning.
Engaging characters that bring young listeners into their lives as they solve mysteries, celebrate holidays, go on adventures and make a difference in their community–all of which inspires children to learn more about that culture and country.
You can also just try it out with a set of six artist stories. Your kids will LOVE these stories!
---
Art History Kids
We are LOVING our subscription to The Studio at Art History Kids and YOU can sign up for a free taste of this membership right now! Beginning on December 9th, there will be a free 12-day workshop in The Studio featuring four artists: Georgia O'Keeffe, Andy Warhol, Edgar Degas, & Pablo Picasso. There's no cost, you don't need any specialized supplies — just normal stuff you already have handy, and you and your kids will get FOUR great projects related to these artists to help enhance your holiday homeschool. Hurry, though. This workshop will fill up! I'll see you there!
---
Masterpiece Society
These mixed-media art classes are on our list to dive into this year, and now is a great time to snag some of the classes because they're 30% off through December 2nd. I'm grabbing Playful Pet Portraits and the Winter Wonderland Mixed Media Workshop. There are so many great courses, though, it's hard to choose!
---
Sensory Theraplay Box
This just might be my 10 year old daughter's favorite thing ever. Logan has sensory processing disorder and generalized anxiety disorder, and the resources (that seem like toys!) that come in this box each month have helped us build up an incredible store of meltdown-mitigating tools to help during times of stress and with self-regulation needs. This weekend you can get 25% off single boxes OR subscriptions using the code BLKFRIDAY. You don't want to miss this!
---
Morning Time with Pam Barnhill
If you've hung out with me at any of the Great Homeschool Conventions, you've likely met my buddy Pam Barnhill, and heard about her amazing Morning Time Plans. If you've been curious about how they'd work in your homeschool, or if you're already in love with them, pop over and grab a few bundles to score a 25% savings. This sale is only offered once a year!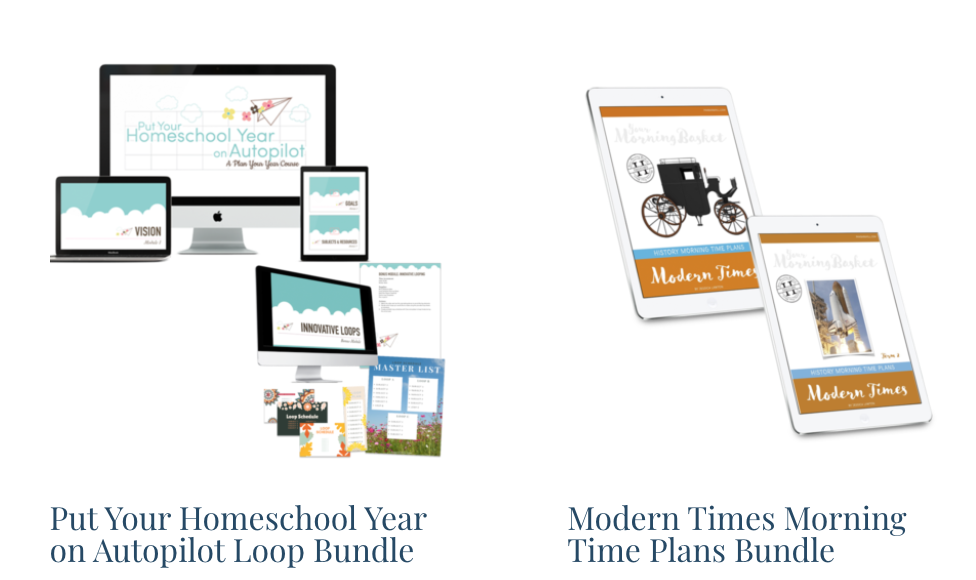 ---
Curiosity Stream
Are your kiddos as crazy about documentaries as mine are? You NEED to grab this deal because it's ridiculously good — only $11.99 for an entire year of Curiosity Stream! This deal only lasts through next week, but the truth is that I think the subscription is well worth the $2.99 a month we've paid for the last few years. Curated documentaries, organized by themes and subjects, all streaming on any device… it's a steal!
---
Green Kid Crafts
Looking for a great subscription box to sock away for those cabin-fever days that WILL come up in February? Green Kid Crafts is a fun option and is running incredible deals now through Monday. Use the code BLACK70 to get 70% off your first month os ANY new subscription and the code BFGET40 to snag 40% off past boxes and other items in the shop.
---
Wonder Crate
We LOVE this subscription crate! Each month features one of the "Who Is" or "Who Was" biographies, information about a character trait that person posessed, and activities to go along with the theme of the book and trait. It also features a real-life kid doing amazing things. They've just released a junior version for younger kids, too. This is such a great way to introduce kiddos to real life role models and to show them that even kids are capable of great things. You can get $10 off a 6-month subscription with the code HOLIDAY10 or $20 off a 12-month subscription with the code HOLIDAY20.
---
You ARE An Artist — Chalk Pastels and More
We've been long time fans of Tricia and Nana's work, and have used their chalk pastel tutorials for years in our homeschool and just for fun. Between now and December 2nd, everything is marked down 25% in their shop except for memberships to the Clubhouse (because that's already a steal for what you get!). If you've wanted to try a few tutorials, now is the time to grab some. We've loved the Shark Week, Space, and Inventors lessons, but there are SO many to choose from!
---
KiwiCo
We've been subscribing to KiwiCo off and on for about ten years because there are just so many fun options when it comes to theme choices. If you sign up for a new subscription between now and December 2nd, you can get 60% off — no code needed! That's like getting FOUR months free! I personally LOVE both the Tinker Crate and the Doodle Crate!
---
Groovy Lab in a Box
Groovy Lab in a Box is a fun science themed subscription box that contains everything you need to complete several experiments all centered around a theme. It's one of the boxes that kicked us off into our student-led homeschooling journey in the beginning. We'd pull one of these boxes out, dive into the activities, then follow the rabbit trails where they led us. So much fun and learning packed into a handy little package. This weekend you can get your first box for only $7.99 when you buy a 3-, 6-, 9-, or 12-month subscription using the code TISGROOVY. This would make a perfect gift from the grandparents for the holidays!
---
Big Life Journal
We absolutely love these growth mindset journals! Each kiddo has one, and we love looking back at past entries and talking about the things we have learned from each of the stories and prompts in the journals. This weekend, you can stock up for your family because Big Life Journal is offering their journals at a buy one, get one for 50% off! That's an incredible deal for these beautifully bound books!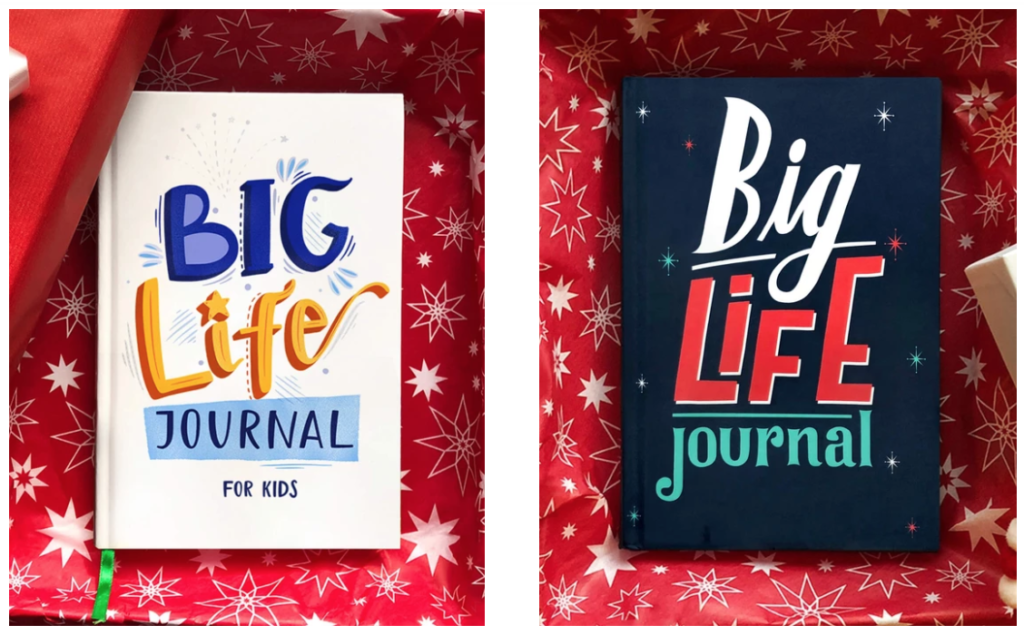 ---
NatureExplorers & No Sweat Nature Study
If you're not already following my friend Cindy West over at Our Journey Westward, you're missing out. Cindy is an amazing teacher and writer of nature study lessons (and mama to several gifted kiddos of her own). Her entire store is on sale for the weekend — no coupon needed! Just pop on over there and fill up your cart with downloadable NaturExplorer guides and No Sweat Nature Study books. The discount will be applied. And, while her new No Sweat Nature Study LIVE isn't included in the sale, it's a steal at $10/month as it is, so you might want to subscribe to that while you're there. My kids LOVE when "Mrs Cindy West" teaching them live, and don't want to miss a lesson.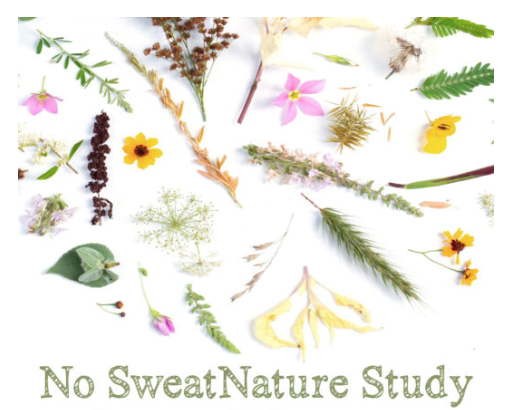 ---
HelloFresh
Okay, this one might seem like it's no for homeschoolers, but I was sharing about it on Instagram the other day… I used a coupon from a friend — the same one I'm sharing here — to get $40 off our first box, just to try it out. I wanted to challenge myself to break out of the cooking rut I'd gotten into, and try a few new recipes, so I ordered the smallest box and serving size, planning to supplement each meal with salads and other sides from our pantry, and was so surprised at how excited the kids (the older ones in particular) were to try these new things. In fact, my 12 and 17 year olds have taken it over from me, asking if I'd continue the subscription and count it as part of their homeschooling. So, they're now using HelloFresh as a cooking class (it comes with all the ingredients along with photo-filled recipe cards) and they're stretching themselves and rating the foods. PLUS, they're tag-teaming and making sides and salads to stretch the meal for six (we buy the 2-3 serving size), and explaingn what they've made to the rest of the family when they serve it! It's been so much fun — and so delicious!
You can use this link to sign up and get $40 off your first box, too. Ours came to about $20.31 after that discount for three 2-3 serving meals. You can cancel after your first box if you want to just give it a try.
---
Sixth Scents Essential Oils
Here's another deal for you moms. I JUST got my first box of oils from the Sixth Scents Essential Oil subscription, and am absolutely loving it. I have been using essential oils since before it was cool. ;) WAY back when I was a geeky college speech and debate team member, I competed in the informative speech category, and chose the obscure topic of aromatherapy, and was hooked. I'd read about oils being used for thousands of years, accounts of them used on the battlefield in Europe and throughout Asia and other countries in hospitals and homes, and was suffering from terrible migraines. I tried them then, and they helped, so I've been using them for various things ever since.
Because of my extensive research, I'm picky about which oils I use, with whom I use them, and in what ways they're applied. I'm extremely cautious when it comes to aromatherapy. These oils are fantastic.
They come in a curated six-pack, packaged in a pretty pine box, each month with recipe cards filled with suggestions for your diffuser. I'm loving the holiday-vibe this month's recipes are giving off, but also that they include powerful oils like frankincense and cinnamon, along with my favorite uplifting oild, sweet orange. If you want to try Sixth Scents Essential Oils out, use the code COLLEEN10 for $10 off.
---
I'll keep adding more resources as I find them! Have a great weekend, friends, and happy shopping!