I love surprising my kids with fun treats on holidays and for special milestones. St. Patrick's Day is no different. These St. Patrick's Day Oreos are super simple to make, and the kids will love them.
Aren't they adorable? We're an Irish-Catholic family that gets together every year to celebrate the holiday, and these are the perfect treat to bring along.
The kids can even handle making them by themselves.
Ready to give them a try?
St. Patrick's Day Oreos
Whip up a batch of these this afternoon, and maybe do some random acts of kindness and share them with the neighbors.
Materials:
Directions:
Melt the candy melts as directed on the package.
Dip each Oreo cookie into the melted candy halfway, then place on a parchment lined cookie sheet.
Scatter sprinkles over the melted candy. **You might want to do a few at a time so the chocolate doesn't harden before you have a chance to add the sprinkles.
Allow the cookies to harden completely before serving.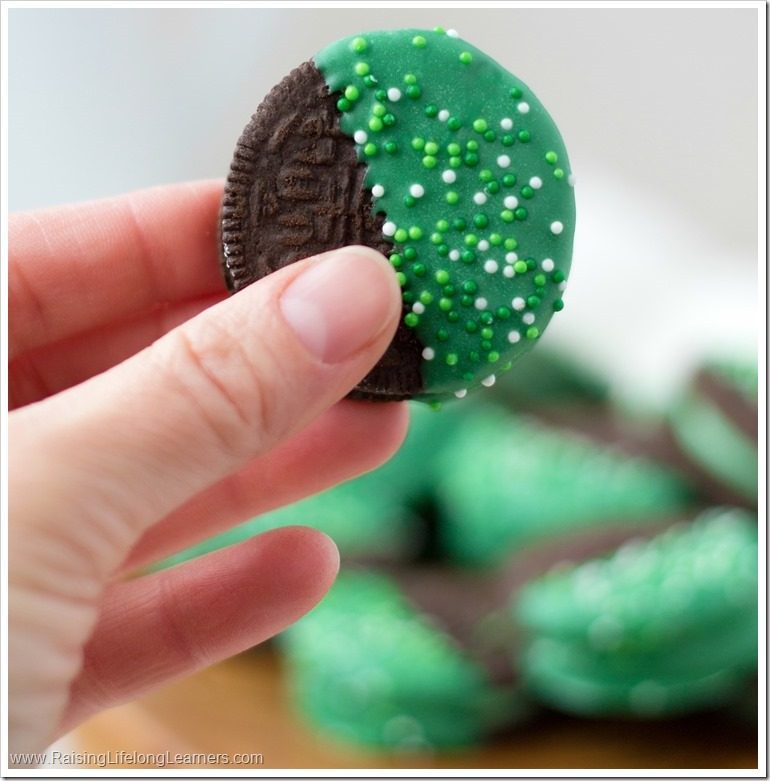 That's it! Really easy – and a fun family activity.
Why don't you make it more enjoyable? While you wait for the chocolate to harden, grab a few of my favorite St. Patrick's Day books, and curl up with the kiddos for an afternoon of reading.